When you are thinking of search engine optimization, there are two aspects of search engine optimization techniques: they are on-page and off-page search engine optimization. On-Page is nothing but what you do in your webpage and Off-page is what you do outside of your page.
Here we will discuss on some of the on-page search engine optimization techniques which will help you to rank high in search engines.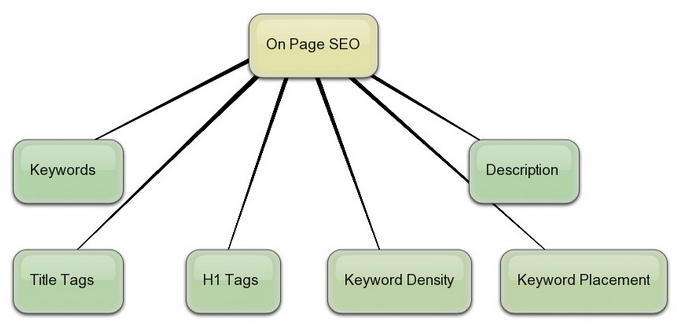 1. Use relevant keywords for the Domain Name:
Despite the presence of many websites performing well without keywords in their domain name, having the keywords is better to get noticed by the crawlers and also when you use social media like Facebook and Twitter for promoting your website. However, for SEO, this is a necessary that the domain name should contain the main keyword phrase of your blog which will help you to rank higher. All you need to do is a small SEO keyword research and some time to come up with excellent keyword phrases for your domain name.
2. Great Headline is Great SEO Optimization:
Apart from optimizing headlines, it is necessary to write great headlines that will be incorporated using the headline H1 tag, which could also act as the title for your Webpage. It is also highly advised to add primary keyword in the headline which will boost up the search engine ranking for sure. There should be no compromise on great titles for the cause of incorporating headlines.
3. Use Web analytics Tools:
It is very essential that you use web analytics tool software right from the beginning so that you can keep track of your achievements right from the scratch and the reports and graphs will tell you how and what techniques are working well for you to keep going up in the graph.
4. Permalinks:
This is the most important part of the SEO optimization as the use of keywords in the URL is going to make your article being easily recognized and fetched by web crawlers sent to the search engines and you will be able to thereby build higher ranking WebPages. The URL should contain the primary keywords as a must and also it is advised to have secondary keywords also if possible. Make sure it does not look spammy.
5. Usage of Keywords:
It is very necessary to know the appropriate use of keywords in the appropriate places. In the first instance, it is mandatory that the first and the concluding paragraphs contain the primary keywords, while the secondary keywords and their variations are spread throughout the rest of the article. Keywords used in the article should be natural and should not look like injected for optimization. Also make sure you add keywords only 3% and not more than that as anything more than that will look like keyword stuffing. Google has recently revised the SEO algorithm on this point as they are strictly against content farms now.
6. Make use of the Alt Tag:
When you are using images make use of the Alt tags. Make sure you give your primary keyword as Alt Tag which will help the image rank in the searches. Also make sure you add some relevant keywords in and around the image when you post it inside the post.
7. Commit and Focus only on your optimization Techniques:
Last but not the least, SEO keeps changing with time and you will find that search engine keeps changing their algorithms regularly and so what worked last year will not necessarily help you this season and also the competition out in this market is pretty much higher. To be successful in on-page SEO you need to be committed with a long term outlook of the end results. So do not think of anything just work and wait for your results.
Comments are always appreciated!!
Author Bio:
Praveen is a writer and blogger who is also running/associated with the blog Youlovecoupons.