UPDATE; OFFER EXPIRED
Good news for a all those who were planning to buy a domain. I've found a Godaddy discount coupon using which you to get a domain name as low as $1. Last month Godaddy released a coupon for new customer to buy domain with low cost ( under $2). But this coupon is valid for both new and existing customers.
I already own about a dozen of domains, and 5 of them are from Godaddy, so far I've had no issues with them. And they are much better than 1&1.com. So this time I'm adding up another domain http://ifoundmyfile.com/ to my name using this coupon.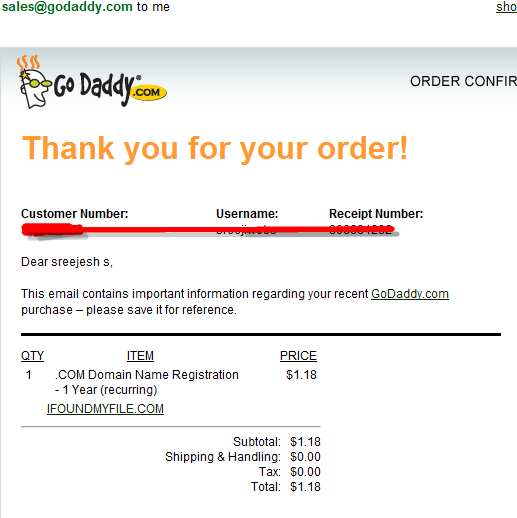 This coupon valid till May 23 2011 . To use this coupon code you need to have credit card and you can use this coupon code only once in your account.
So here is the coupon for $1 domain.
GoDaddy April 2011 coupon code: ACES1
Using this nice coupon code, you can grab any domain or transfer to Godaddy with only $1. In this event, Godaddy supports the following extensions:  .COM, .US, .MOBI, .BIZ, .NET, .ORG, .CA, .CO.UK and .IN
Additional info:
– The coupon code is available to the first year only.
– You can register a new domain to transfer from other retristrar.
– Only one order per user.
– Expiring after 10,000 redemption or at 11:59 PM on May 23, 2011
– Valid only on credit card or debit card payments.