Are you a chatting geek and want to try some new tricks to do chatting? Do you want to surprise your friends with crazy Upside down text? Here we came with some tricks to type upside down in the Android phone. There are some online sources, android apps which you can use to get a flipped text. These tricks will work on Android, iPhone, Windows etc. You can type upside down text and use it on your social media platforms like Facebook, Snapchat, Instagram, Twitter or wherever you desire. You can check our article on Cool Google Chrome Tricks.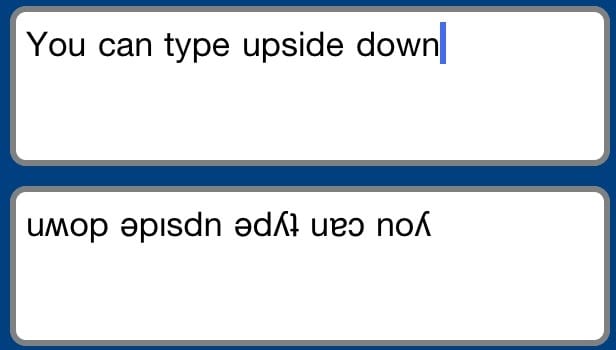 How Do Upside Down Text Works?
Basically, the flipped or upside down text uses special Unicode characters which look like the same letters as you type but flipped. We are going to list them online as well as the offline source to type flipped text on Android, iPhone or Windows phone. Also, check Awesome WhatsApp Tricks.
How To Type Upside Down Text Messages On Your Android Device?
Typing and sending the upside down text is as fun as it sounds. You just need to type the text in the text field and you will get the flipped text easily. The application is available for iPhone, Windows also. Also, check Photo Editing Tricks.
1. Upside Down Text Android App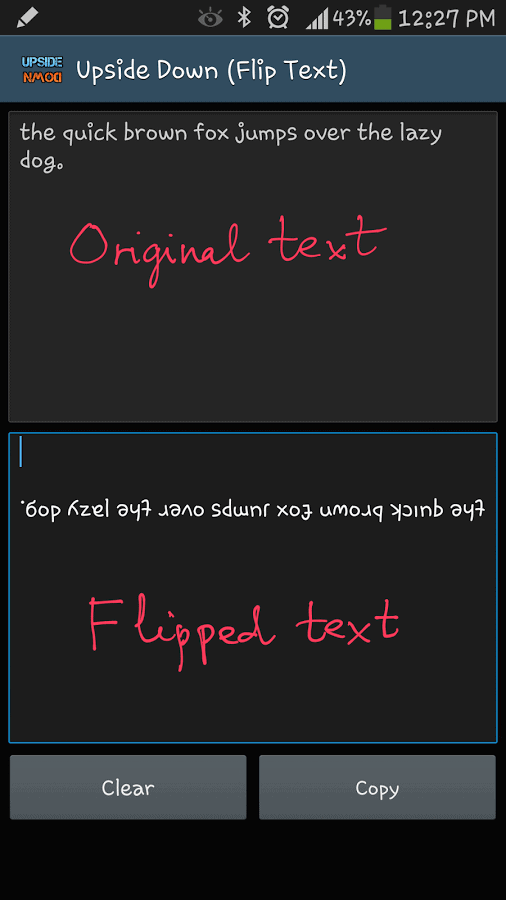 This is an Android app which you can install and get inverted text easily with some clicks.
First of all, install this app on your Android phone.
Now open the app, you will see a text box on the upper side and the result box on the downside.
Type what you want to flip in the text box. The result box will show the flipped text automatically.
Copy the upside down text and paste it wherever you want to send.
Here is how you can type upside down text with this Android app. You can use the inverted text to send your friends on social networks like WhatsApp, Facebook, create stories with funny flipped text on Snapchat, Instagram and much more. In this way, you can use your Android phone as an upside down text generator.
2. Upside Down Online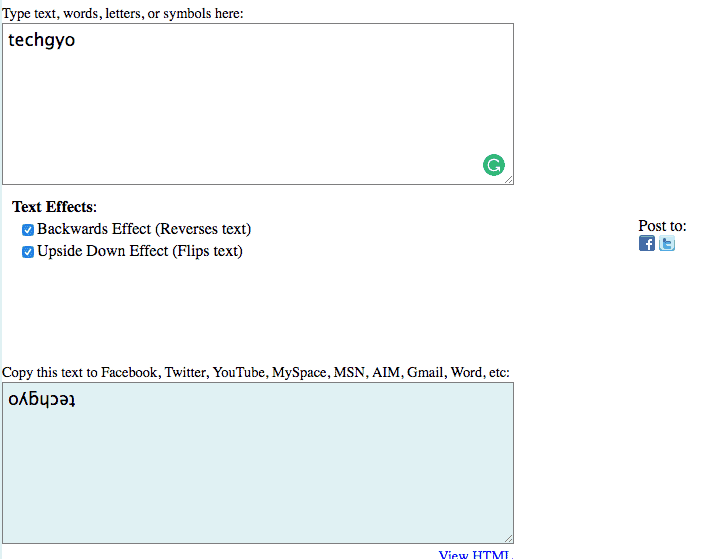 Upside Down is an online tool to convert your normal text into a flipped one. It allows you to make the selection to make your text either upside down or reverse or both. You can open the website from your phone or PC. We have an awesome article on computer repair tricks.
First of all, open the website on your computer or phone.
You will see a text box and a result box on the website.
Just type what you want to flip or reverse or both.
You will get the resulted text in the second box as shown in the screenshot above.
Copy the text and use it wherever you want to.
You can make the selection if you want to reverse or flip or both the text. Select only "Backwards Effect (Reverses text)" option if you want to reverse the text. Or select only "Upside Down Effect (Flips text)" option if you want to flip the text. Or select both the options if you want to give both effects to the text.