Asus launched the Zenfone 4 series in India, focusing mainly on the thriving selfie market of the nation. The three variants; Asus Zenfone 4 Selfie Pro, Zenfone 4 Selfie Dual Camera and Zenfone 4 Selfie, all three competitively priced, looks and feel the same but pricing and specs charge marginally. The Zenfone 4 Selfie Pro, with the prefix 'pro', being the top of the line and the Zenfone 4 Selfie being the most affordable one. Both the Pro and the Dual Camera variants come with dual selfie cameras, only the pro gets significant specs bump from rest of the both. The most affordable one among the pack, the Asus Zenfone 4 Selfie, is my review unit. I have been using the device for the last one week and here is a comprehensive review of the same.
Asus Zenfone 4 Specs
5" inch HD IPS Display with blue light filter for eye protection
Qualcomm Octacore Snapdragon 430 with Adreno 505 GPU
3GB RAM
32GB Internal memory expandable up to 2TB
Fingerprint sensor
13MP front camera with flash (portrait mode with bokeh effect, beauty mode)
13MP rear camera. 5P lens, f/2.2 and LED flash
3000 mAh battery
ASUS Zenfone 4 Selfie Review
ASUS Zenfone 4 and InFocus Turbo 5 Plus are the two devices I was reviewing this week. Though both the devices fall under same price range, the difference between them ends pretty much right there. One is a selfie-centric device with the slim profile, Snapdragon processor, normal sized battery and the other one, InFocus Turbo 5 Plus, is a beautifully crafted device with a huge battery, brilliant display, and average camera. Comparing both the devices doesn't make any sense as they are aimed at different crowds. Initially, I fell for the looks of Turbo 5 Plus but, after testing both the devices extensively, ASUS Zenfone made a great impression on me, both in terms of hardware and especially, selfie camera.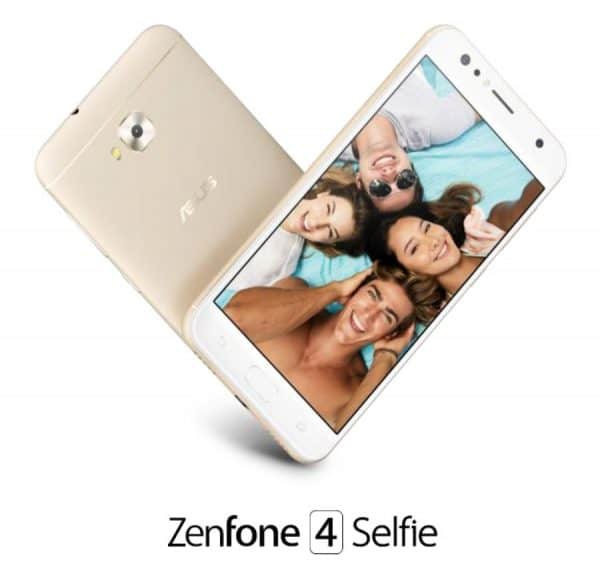 ASUS Zenfone 4 Selfie – Design
The Zenfone 4 Selfie is a light weight device, weights just 144g, with a sleek design. At just 7.85mm thickness, the phone feels perfect on the hands. The phone is available in three colors; Sunlight Gold, Rose Pink, and Deep sea black.
In front, 5.5 inch IPS display with a resolution of 1280*720. The brightness goes all the way up to 400nits, making it perfect even during sunny outdoor conditions. On the top, ambient light sensor, front flash, ear piece, 13MP front selfie camera and a notification light. The home button is touch sensitive with fingerprint scanner attached to it. The home button is not clickable and it takes some time getting used to it. The fingerprint scanner is ultrafast with a response time of 0.3seconds. It also supports up to 5 fingers and has 360-degree recognition.

Up top, a 3.5mm headphone jack, a microphone. On the bottom, speaker grill and the micro USB charging port. The speaker structure follows the new 5 magnet system. It offers decent sound out and is loud. There is no/less distortion even at high sounds.
On the right side, volume rocker and lock button. The buttons feel solid and the lock button has some pattern to it. On the left side, the SIM card slot. The SIM card tray has cutouts for two Nano-SIMs and one microSD card.
ASUS Zenfone 4 Selfie – Software
The Zenfone 4 Selfie comes loaded with Android 7.1 Nougat. The ZenUI may seem bit cluttered for many in the beginning but, thankfully, I got used to it. There are a lot of bloatware like; Mobile Manager, Themes, Weather and Go2Pay app.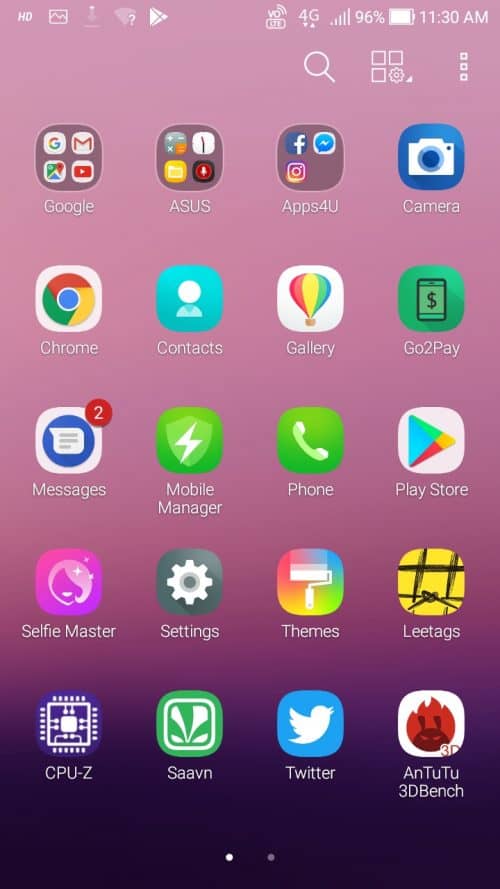 The built-in File Manager lacks basic features like rename, compression, unzip etc and I had to download EZ File Manager to carry out such operations. With Zen UI, you will get a completely redefined notification drawer and it looks neat and has some awesome options.
The Report location feature, if turned on, will make an SOS call to the configured numbers and sent out messages about your location to your close friends.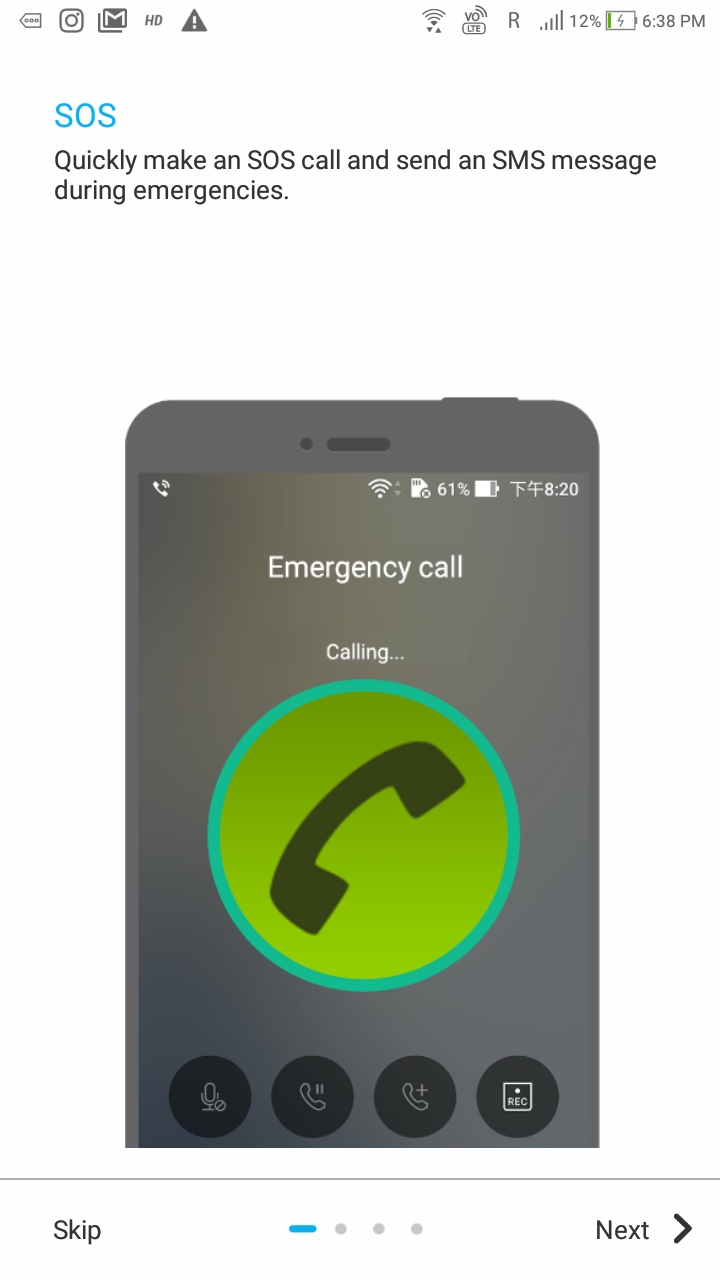 The Power and Boost option will clean up the memory occupied by unnecessary tasks.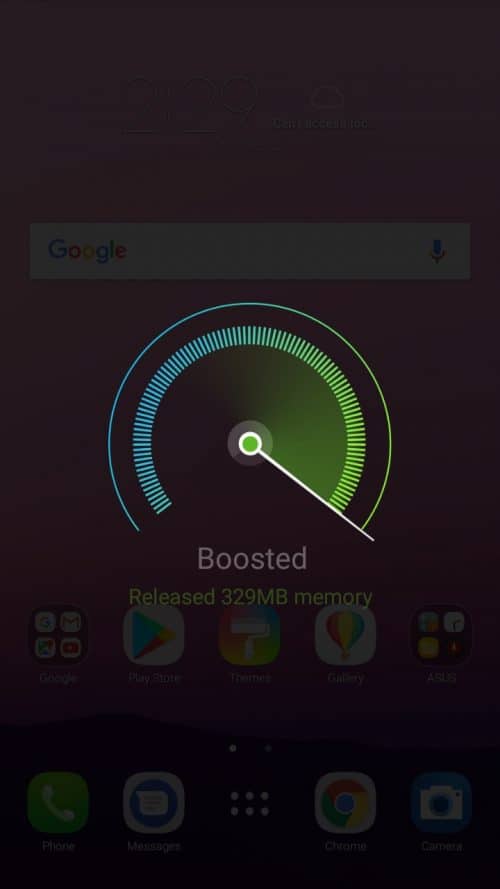 The Audio Wizard option is more like an equalizer. It lets you adjust the sound out as per the occasion. It has modes like; Movie, Gaming, Music, Outdoor, Vocal and Smart effects.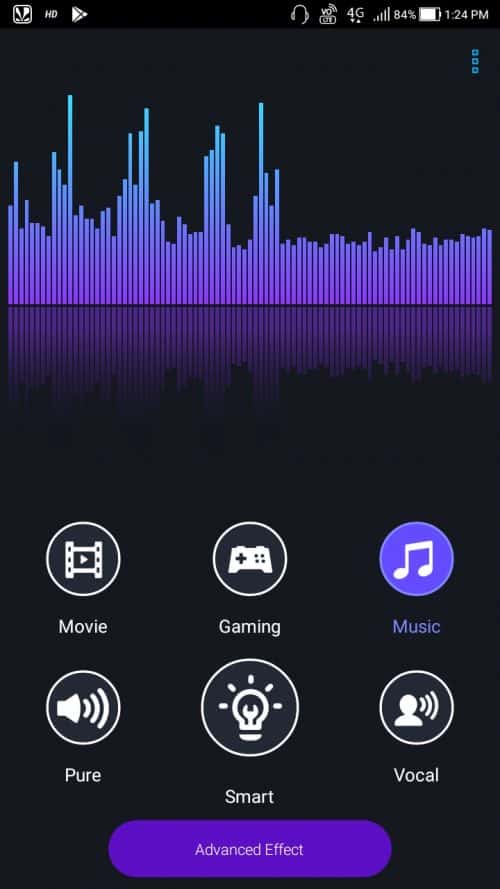 The Bluelight filter and data saver options also come handy at times.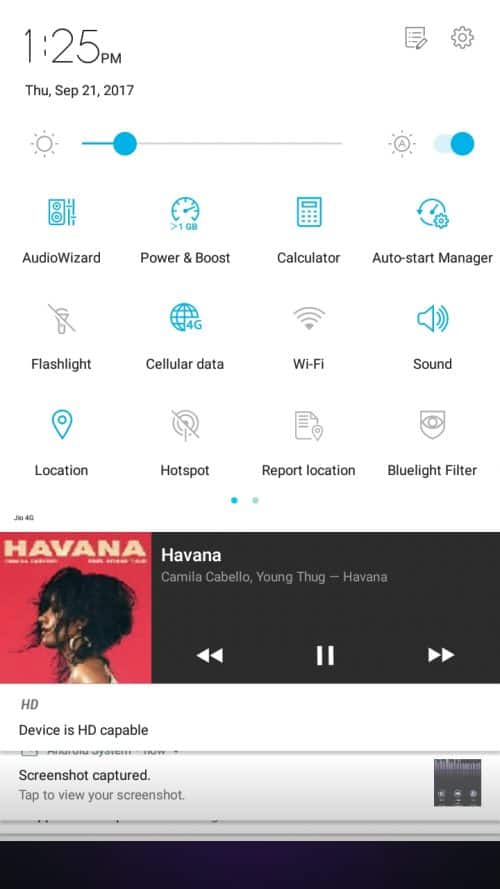 Selfie Master Technology helps you with Photo & Video Beautification, Live Stream Beautification, Photo collage. The Zenfone 4 Selfie has the unique beautification feature which will work on top of all the social media cameras. For e.g.; if you are planning to go live on Facebook, YouTube or Instagram the beautification feature will be applied to the normal camera to make you look even better. This applies to every camera app.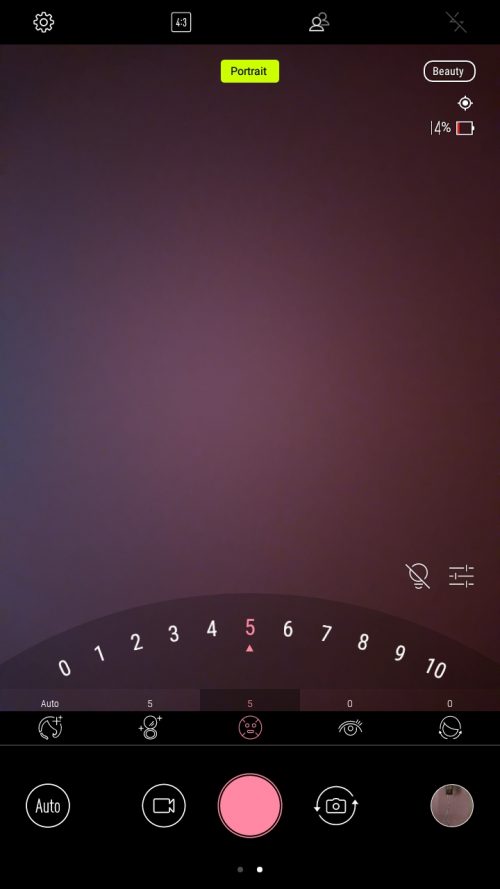 The selfie master mode has options like; Auto mode, soften skin, brighten skin, enhance eye and thin cheeks.
The Page Marker for Chrome: This allows you to save articles, not bookmark, and let you read it later. The contents can be synced across all the devices and can even be accessed offline.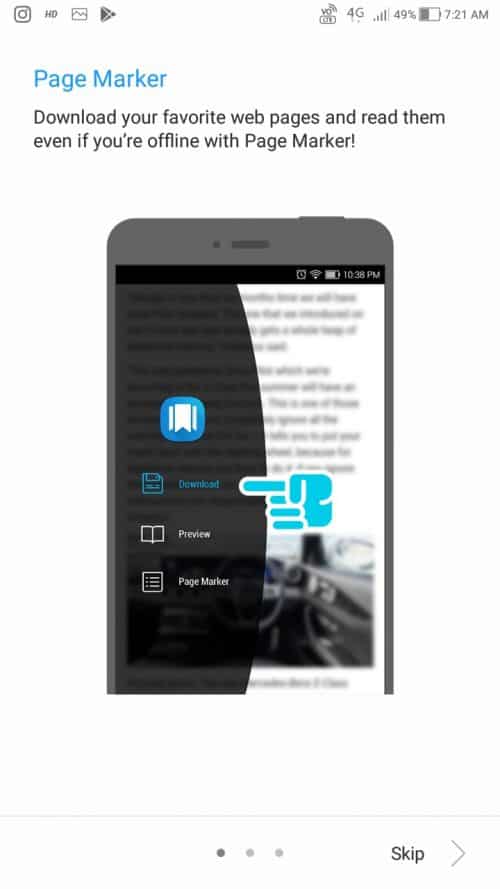 The Game Options: It has an option to boost the memory for quickly free up some memory. The Live and Record option will let you save your game or even live stream to YouTube or Twitch.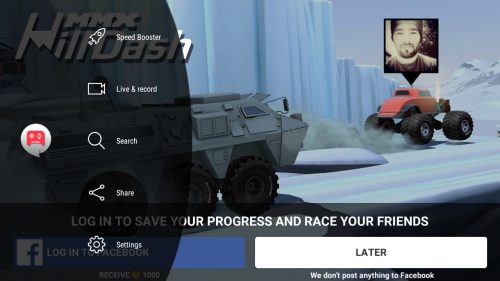 ASUS Zenfone 4 – Performance
The Zenfone 4 packs with Qualcomm Octacore Snapdragon 430 with Adreno 505 GPU. With 3GB of RAM, the phone performs well. There is no lag while switching between apps, gaming and even recording videos for a long time.
I played games like MMX Hill Dash, NFS No Limits and even subway surfer to test the phone performance. There is no jerk even during NFS gaming but, it takes a while to load the game. The Snapdragon 430 and the 720p screen has done a great job in power management and offers good battery backup. The complete battery review is covered in the battery session down below.
ASUS Zenfone 4 Selfie Camera
The Zenfone 4 Selfie feature 13MP sensors on both rear and front cameras. Since this is a selfie-centric device, the front camera boasts a better sensor and I am impressed. I use my phone for Vlogging and as part of review process I used this phone and the results were great.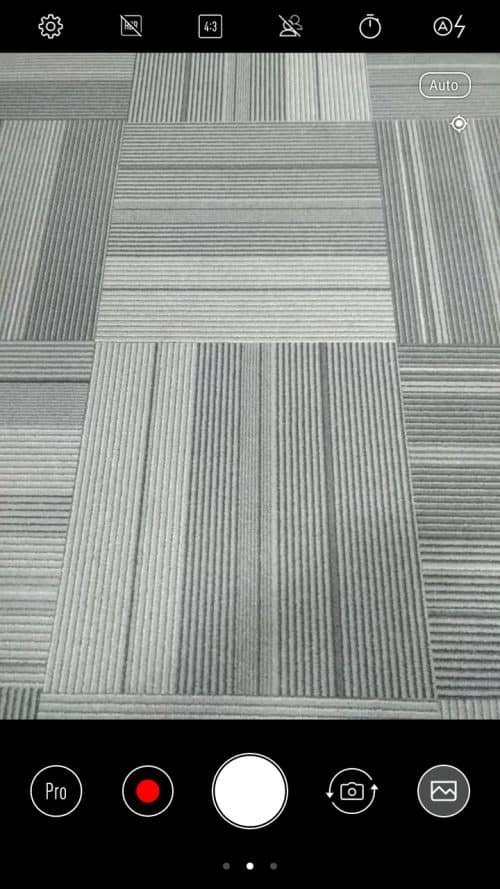 I love the camera interface. It's not gimmicky and is to the point. The options are aligned perfectly in order and are easily accessible. On the top, from left to right, the settings option, HDR on/off, photo ration 4:3/16:9, Portrait Bokeh effect on/off, Timer and flash. On the bottom; option switch mode to selfie master mode or auto mode, video record button, camera button, camera swap button and preview area.
Front Camera
The Asus Zenfone 4 Selfie features a 13MP, 5P Lens, f/2.0, 1.12um sensor with features like 140° Selfie Panorama, Portrait Mode (Bokeh), Beauty Mode. There is also an LED Flash for night selfies. The photos are sharp and of great clarity.
There is no dual front camera in this model but, there is a software portrait mode. It creates a bokeh effect around the face. The edges are not perfectly bokeh 'ed out but still managed to get some good shots.
Here is a normal selfie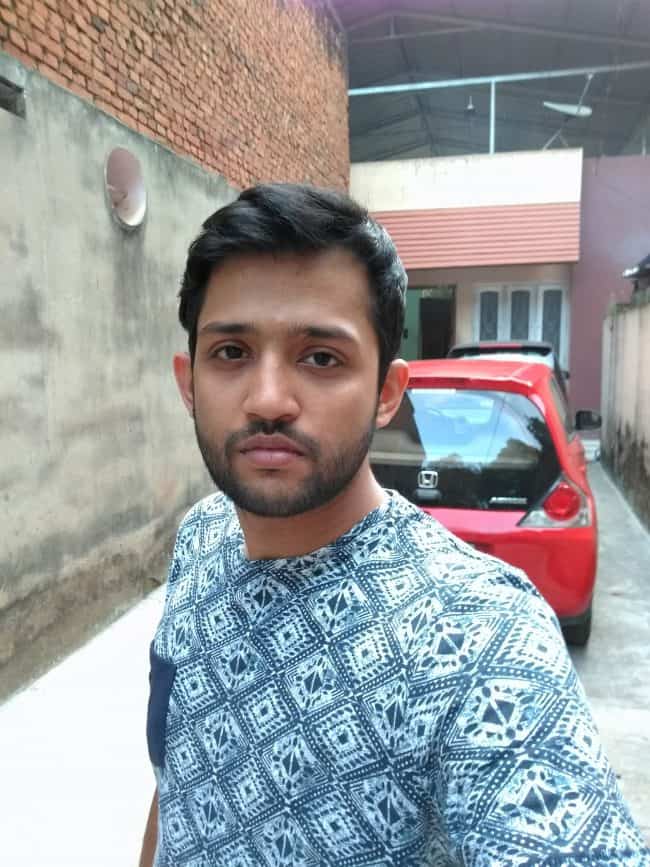 Here is the same with Portrait mode ON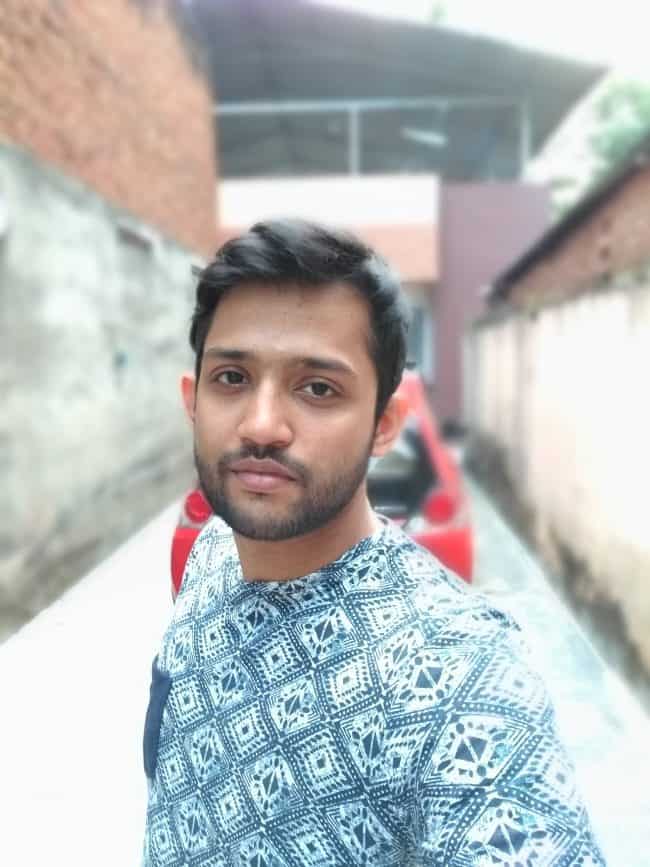 Rear Camera
The rear camera is a 13MP sensor, 5P Lens, f/ 2.2, 1.12um, LED Flash, PDAF, Portrait Mode (Bokeh), 52MP Super Resolution, EIS, Pro (32Sec Long Exposure). The 52MP Super resolution photo is a great feature which clicks 4 different pictures and combines it using the software.
The modes available are; Beauty mode, Super Resolution, Panorama, GIF animation and time-lapse.
The Pro mode let you play around with focus, shutter speed, elevation, ISO and white balance. There is also a histogram window when you turn on the Pro mode.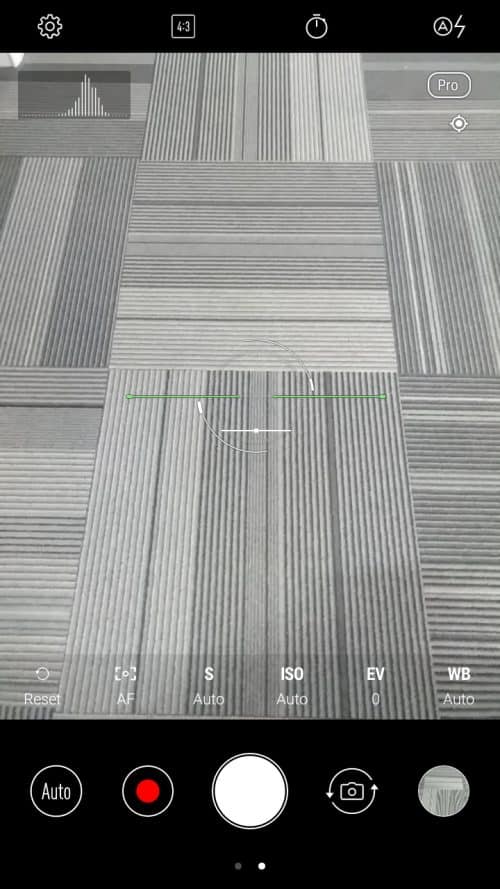 The photo out is good from a 13MP shooter like this. I used Auto mode for most of my clicks and the only issue I had was with the white balance. During recording videos on bright sunny days, the white balance went inconsistent and I had to manually click the subject to get back the focus.
Asus Zenfone 4 Selfie – Battery
The Zenfone 4 Selfie comes with 3000mAh battery. The thin frame of the device explains the small battery but, the battery test results surprised me. The fast charging is only supported by Zenfone 4 Selfie Pro variant and not by this one. The Snapdragon 430 has done a great job in battery management. The 720p screen is also a secret behind this awesome battery performance. The charging time is a bit high since there is no fast charging.
Charing Time
12:30: 0%
13:00: 15%
13:30: 30%
14:00: 50%
1.5 hrs to charge phone from 0 – 50%
14:45: 75%
15:00: 85%
15:05: 90%
15:20: 95%
15:35: 100%
3hrs to full charge.
Battery Discharge
I started by day with Zenfone 4 Selfie with a 100% charge at 11 in the morning. I lost a couple of digits in the battery bar while setting up the phone especially, downloading apps over 4G. The phone was connected to 4G during the entire course of my battery test.
Music Streaming over 4G
At 13:05: 86% Charge I started streaming some music using the Wynk app and after 1 hour, by 14:05, the charge dropped to 80%. 6% battery usage for 1-hour music streaming is completely acceptable.
Video Playback – With Full Brightness
17:30: 75%
18:30: 65%
10% battery per hour video watching using MX Player.
I lost another 5% during evening light usage. At 22:00, bedtime, I was still left with 60% charge.
Next day morning at 7:21, I had 49% charge remaining. I checked my emails, social media accounts and did some browsing.
By 10:22, the charge dropped to 32% with a total screen on time of 4hrs 4 mins.
At 11:21 : 20% – screen on time 4hrs 37 mins
By Noon 12, 10% – screen on time 5hrs 11 mins
At 12:34, I managed to completely drain out the battery leaving me with a screen on time result of whooping 5hrs 30 mins. Now, that is what we call a great performing battery.
To Conclude
The Asus Zenfone 4 Selfie is priced at Rs 9,999 and Flipkart has some great offers which will again lower the price tag a bit. The phone feature a great selfie camera which is even capable of doing some decent bokeh shots. The rear camera is an average performer but can't complain. The battery backup is fabulous with a 5hrs 30 mins of screen on-time. I have managed to play games, stream songs and even watched videos and still managed to great screen on-time.
The snapdragon 430 is an average performer with an AnTuTu bench mark score of 42529. The closest competitors for Zenfone 4 Selfie is OPPO A57 and Vivo Y69. Both the devices are priced 5K more than the Zenfone 4 and lack processing power and bokeh effect. If you are planning for a device to up your selfie game, then this is a perfect companion for you. The phone also offers very good battery backup even after extreme tests. There are no heating issues as well. Overall, I am pretty much impressed with the device and I highly recommend this to consider over Oppo's and Vivo's.