Small and medium-sized businesses may not have the budget to invest in expensive and sophisticated telecommunication equipment. This doesn't mean they have to offer less-than-perfect communication to their customers. Hosted PBX services allow companies to have a managed cloud PBX solution to deliver a state-of-the-art VoIP phone system to a business without a large investment and huge, ongoing communication bills.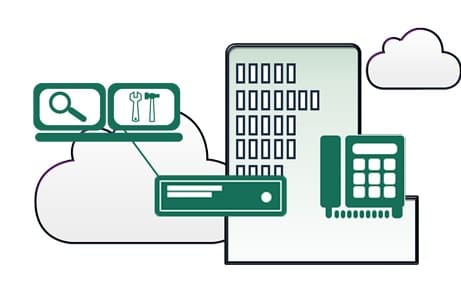 What Is Business Hosted PBX?
With traditional PBX, you would need to make a large and ongoing investment in equipment, training and maintenance of your PBX system. A hosted system is accessible through an IP network and completely managed off site. The host takes care of the hardware, software, maintenance, training and more. You will be provided with the ability to manage your own phone system with user-friendly controls.
The Main Benefits of a Hosted PBX Service
Lower Costs
A hosted service relieves you of the costs for repairs and downtime that are common with in-house systems. The system uses your Internet connection to deliver your telecommunications, so you don't need a complex infrastructure.
Grows with Your Business
As your business grows, your telecommunication system will seamlessly grow with it. You can add extensions, phone lines and connect to mobile devices because the system doesn't have the limitations of older phone systems. A small business has world-class communications giving it instant credibility with customers.
More Uptime
When in-house systems go down, your communications virtually stops until it is fixed. With hosting services, this won't happen. A hosted PBX service doesn't need to be taken offline for servicing, repairs and maintenance.
More Reliable
You can count on a hosted system to deliver quicker response times without lapses, lags or delays in call quality. Each call will have clear reception because Internet-based telephony has much better quality than traditional PSTN connections.
Protected Infrastructure
When disaster strikes in the form of unforeseen storms, fire or power outages, the conventional telephone connections are usually the first to go. This will disrupt productivity and immediately impact your bottom line. External communications with your vendors and clients are cut. With hosted services, your communications will remain open even during an emergency.
Work from Anywhere
Your employees will be able to connect with the office communication center wherever they are. You can get local numbers in Bengaluru or Los Angeles. They can work from home, other offices, other states and overseas. For example, an employee can be working from home in Phoenix and transfer a customer to technical services in Vancouver, Canada.
Advanced Features of a Hosted Service
The main primary features are caller ID, toll-free numbers, local and international numbers, to name a few. Group and user features include voicemail, music on hold, extensions, account codes, auto attendant and more. The voice services that are available are:
SIP Trunking
Hosted Call Center
Voice broadcasting
Mobile link
Interactive Voice Response
Video Conferencing
Your business can take the next step and become a partner with the PBX hosting service. This will allow you to stay in the forefront of technological advancements in business communication. Today, technology is driving the way most people do business, and this is the way to keep your business ahead of your competitors. If you have sales agents and consultants, a franchise organization, are an IT service provider or a value added reseller, you may benefit from becoming a partner. These are some of the solutions you'll get by becoming a partner with your PBX host:
Extensive sales tools
Sales engineering
Technical support
Sales order desk
Customer care term and partner portal
Dedicated account managers
Project coordinators
Implementation engineers
How to Find a Good PBX Hosting Company?
A good hosting company will provide fully managed virtual private network (VPN) that has reliability, speed and built-in security. It will offer serious competitive advantages that save you money while providing digital switching technologies across the continent and promise 99.9 percent uptime. You can count on custom-made solutions for your unique requirements. It will offer high-quality voice transmission, quality data services, a unified product for your whole company and video conferencing to cut travel time and expenses while maintaining face time.
A hosted PBX service is the best solution for a small or medium-sized business that doesn't have a huge budget to invest in top-of-the-line communications. The service will eliminate the need for software and hardware as well as training and equipment to maintain a communication system. It also promises to provide virtually continual uptime even during natural disasters, maintenance procedures and more. There is no one-size-fits-all. Your company can choose the services it needs to stay ahead of the competition.