Virtual Reality and Augmented Reality have touched all facets of life, with its magic-like bliss! Whether it be the Medical field, Engineering, Civil, or any Industry, you name it, VR and AR are seen playing a vital technology-cajoled part.
Well, VR and AR applications on mobile stores are nothing behind in the race. With reality postulated in almost every arena, these applications are good-to-have applications in your iPhone as well as Android.
Most VR & AR apps are found to be compatible with any Apple smartphone, but certainly, these games and apps are known to deliver better performance with the latest and fastest iPhones than the older ones. However, you may conveniently use most of them on any model starting with the iPhone 5 to the iPhone X and beyond, including the iPhone SE. A plethora of VR headsets and goggles, such as Google Cardboard, Merge VR, Noon VR Pro, and Homido headsets can be efficiently utilized with your iPhone and for that matter any of the latest Android mobiles, too.
Now, when you have an iPhone better get one virtual reality headset, in case you don't have it already, to explore the best VR/AR games in the list below!
There are amazing and very engaging VR and AR applications in the Apple as well as Android stores that can suit our tastes and encourage our explorations skill. We have an array of them over here for your ease. Feel free to exploit the different levels of each application and soothe your craving for knowledge and fun!
Best VR and AR applications on our list:
1. VR Space Stalker
The best sci-fi, 360 VR space simulator game on the Apple Store, on our list the number one is VR Space Stalker. A fascinating space exploration game as you will find it gives immense adventure to the player, who becomes a space stalker in here. The space stalker has to deal with a space full of danger and battle against the enemies with that fabulous VR glasses on!
You will find yourself lucky if you haven't already experienced enough space shooters on the Gear VR. Immerse yourself deeply into the war in space and become the best space shooter, without even leaving your home.
2. ORBULUS
Claimed as the first VR application created by VRCraftswork, Orbulus is a wonderful app that captures the true analogy of VR to teleport someone around the world. Sitting at the very comfort of your sofa, you can see yourself vividly sight and interact in the VR environment.
This app not only simplifies the user experience in VR and provides the best hands-free experience in VR, but also lets you visualize a 360-degree photosphere of several locations on the globe.
Orbulus is most popular among Cardboard users and for definite reasons.
3. DINOTREK
You can live your love for Dinosaurs, in this virtual dinosaur world. Explore the sometimes hostile life of these ancient creatures via Dinotrek, in the most convenient way with your stylish VR glasses.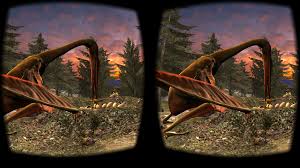 You can run this app as a virtual simulator or experience as being a part of this mysterious world in the form of a virtual reality film. Whichever way, you can immerse in your favourite world of dinosaurs through this Geomedias first creation using those vogue glares of yours!
4. INCELL
If you are action-game crazy, then here's a VR game for you! Venture into the very familiar but never traversed-world of the human body with Incell. It replicates a perfect merger of science and strategy, thereby providing an amalgam of fun and learning.
The best thing about this app is that you can have a fine experience even without a VR glass. Just tap and hold the screen to open it in ordinary view or trigger the screen with your VR glass to view in VR mode. Either way, the game encounters many challenges and is fun.
5. RollerCoaster
The tight turns and the steep slopes are very well depicted in the next game on the list. Receive all the fun of an amusement park in RollerCoaster with the open car and elevated railroads. Explore the wild and unpredictable changes in this very emotional rollercoaster game.
Next time you miss going to a fair, kill the bill with this very amazing game!
Also Read: The New INFINITE OFFICE With VR Is Opening Stunning Windows To Your Work From Home Experience.
6. VR TANK TRAINING
VR Tank Training is designed with an intention to provide the best realtime feel of the tank training to be experienced perfectly with efficient VR glasses. It is intelligently modeled based on the mesh blending simulation, which is quite similar to the Battlefield 3 and Battlefield 4 games.
You experience the complete feel with 360 degrees head movement, however, the focus is achieved only through your eyes. Tropical trees and all 3D graphics bolstered by natural sounds of war with stereo 3D and immersive audio features can be very well experienced with earphones. With no additional magnetic switch or NFC needed, this game gives a truly bold experience with the leaderboard and great level of challenges.
7. BOOKFUL
All the little book-lovers, here is a call for you! Bookful is the best app for you that brings books to life and ignites the passion for reading books in the tiny munchkins.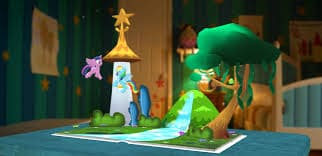 Turn that eye-straining screentime into funfilled interactive reading sessions with this AR app. The 3D graphics make the small library of books the fanciest journey towards knowledge.
8. Within
The best-handpicked creators, studios, and film-festivals are hand-picked as the best immersive stories on Within. Photo-real people and places depict the award-winning documentaries, horror, animations, music videos, and more in this app.
This VR game is presented with no charges and surprisingly no ads. This cinematic virtual reality game is a must-have app on the Apple and Android stores.
Thanks for the Read!
While there are a lot more VR and AR apps on the list, these 8 turns out to be the fantastic ones. Do try these apps and comment below for further such best-lists!