Facebook revealed its revolutionary product  Infinite Office, which is specially designed for those working from Home. The Infinite Office is designed keeping in mind the anticipated future, which so far hints at the work from home culture to grow in the coming years. According to Stanford research, work from home will be a boom for suburbs and rural areas. The Infinite office virtual reality software is designed to use with the Oculus headset. The product was launched at Facebook Connect, the tech firm's first dedicated AR/VR conference last week.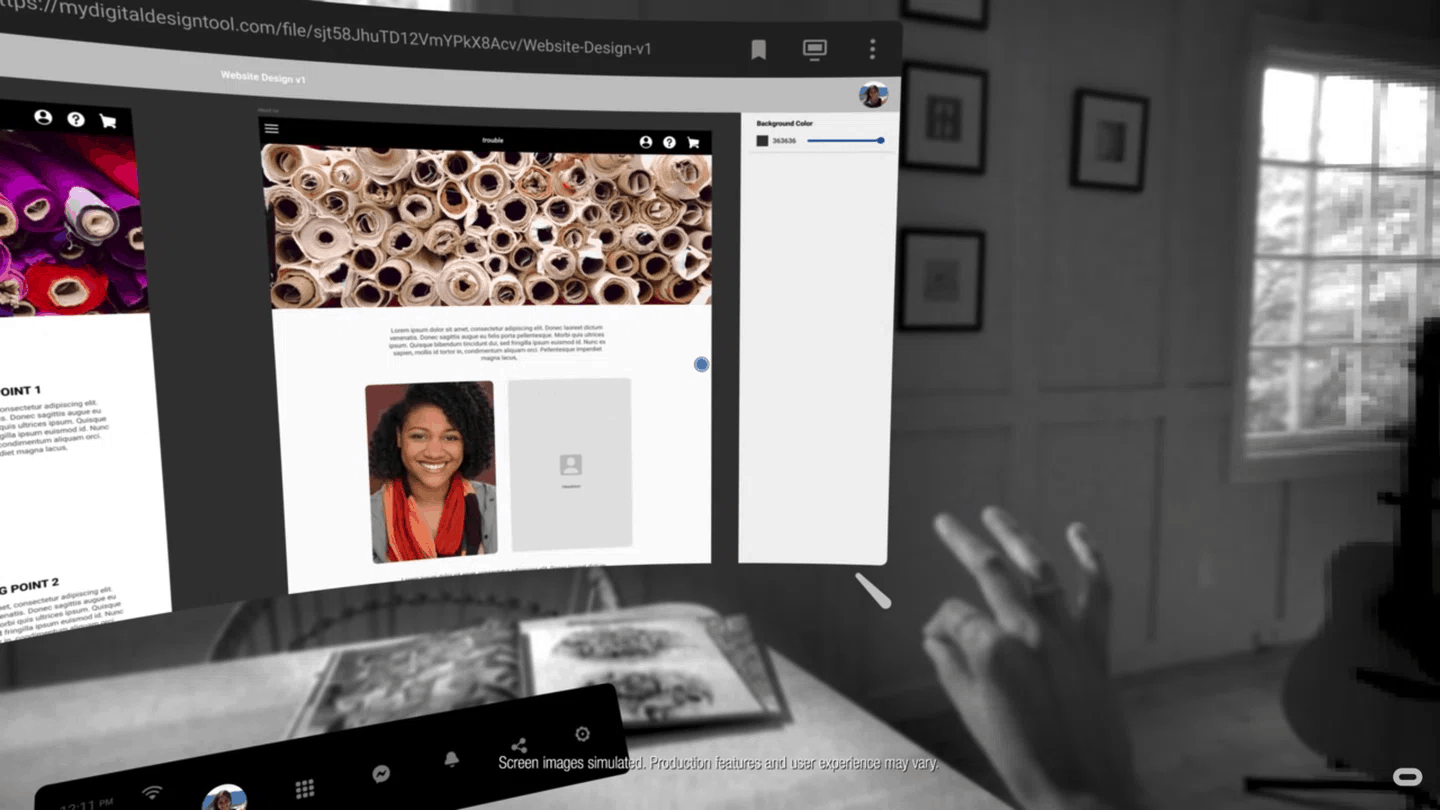 It brings the device into the productivity segment by promising a way to work from a virtual space rather than a physical one.
Oculus announced this exceptional product via twitter on September 16,
"Finally! We can say it. This is #Quest2. All the good rumours are true. It's our fastest and most immersive VR gaming system yet. The best part: it starts at $299.
The product is available for pre-order from the official website.
The VR company was taken up by Facebook in 2014. The company aims to create a real-time office environment by making most of the digital tools, for those indulged in the work from home activity owing to the current COVID scenario. The product got the capability to define persistent surface panels, like tables and couches.
The COVID left millions out of their offices. Many are missing the customized desk setups, easy IT support, and water-cooler chats of the IRL office. Aiming to provide a great working experience to those who're not enjoying the work from home, Google introduced the Infinite office. Facebook is hoping virtual reality (VR) can offer a solution, by bringing the office to the employees.
To add on, facebook wants to transform Quest into more than a gaming device.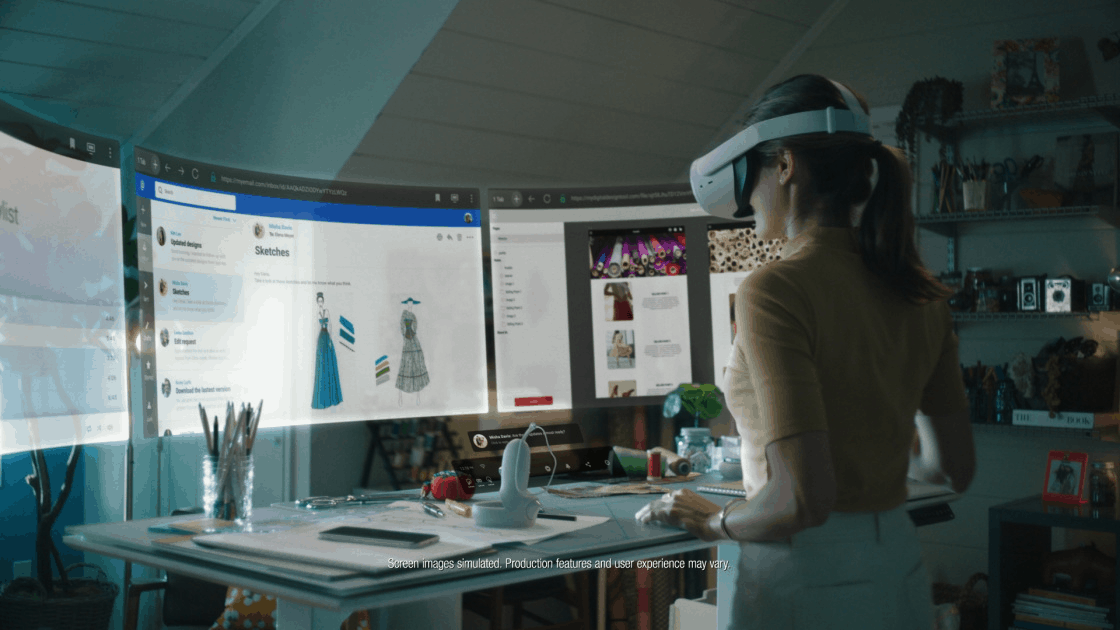 The product will completely transform the working experience of the people who otherwise are following a mundane work from home culture:
Multiple displays can be customized by users.
These displays can be controlled by hand gestures.
Typing will be done using a physical keyboard.
AI platform spatial can be used for conducting virtual meetings.
What could be better than easily switching between various VR modes as per your requirements?
Well, the Infinite office allows the users to toggle between full VR and mixed VR and IRL, using the PASSTHROUGH mode. Thus they can view their virtual and actual surroundings simultaneously.
Users can view live feeds from the onboard cameras. This would integrate their home with the VR world. Also, check: How does VR diversify eSports.
The platform offers a multi-window solution that caters to multitasking. You can have a browser window open next to a document that you're working on, along with a chat window to keep in contact with co-workers.
It won't be wrong to say that the Infinite Office is an advanced version of an already existing interface called Quest. The quest was introduced back in March as an experimental feature and now is the default.
Typing in VR is one huge complicated task, which many people hate. Facebook took a step forward to make this task easier, by partnering with Logitech. This would bring the K830 keyboard in VR. Keyboards will be recognized, tracked, and rendered inside the headset so users can easily input text while working inside the Quest.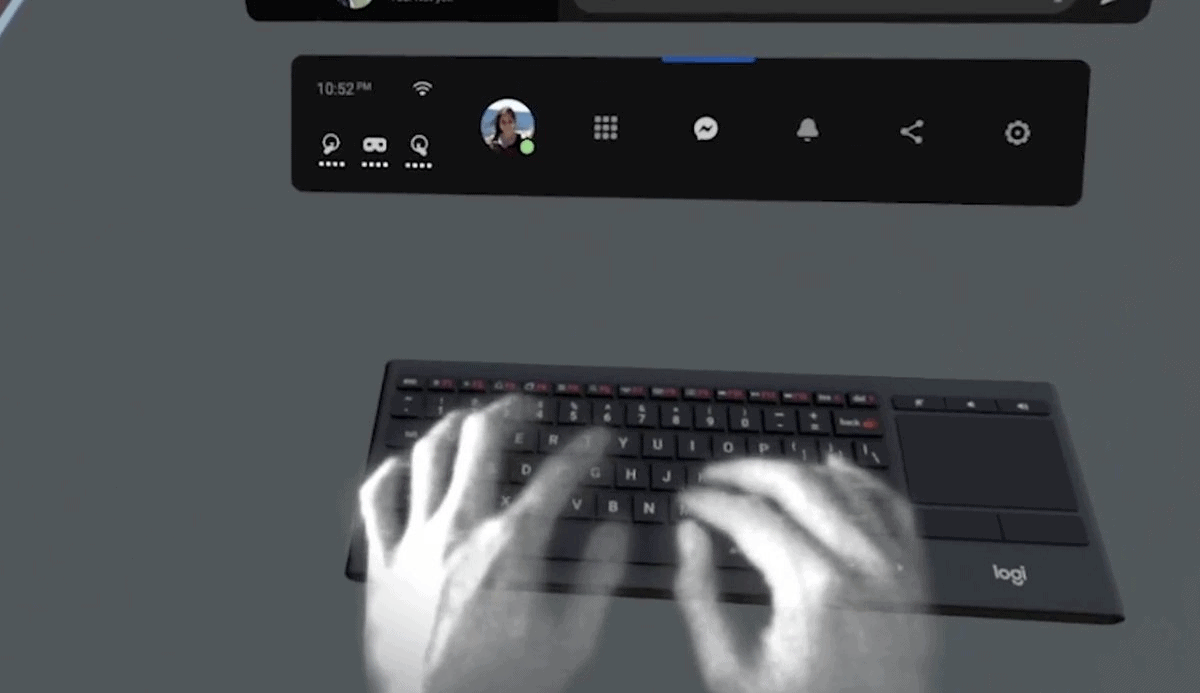 These users can directly connect the keyboard with the Quest, and use it. The next minute, you'll be viewing the keyboard and typing in VR.
Users can manipulate the content with the Oculus browser getting support for its trackpad.85. With this product, the users can travel into the virtual office space that you can make as big or small as you wish. All you need to do is put on a headset.
To get a more precise idea about this product, we need to go back to 2002. A film named Minority Report having a WFH setup.
"The film shows that with just a compact notebook-sized console and an Oculus headset, the user is able to set up her office at a kitchen table. While her housemate starts to make lunch in the kitchen behind her, she is scrolling through websites and emails, – a relatable segment that gives Facebook a chance to show off its experiments with the previously mentioned Passthrough mode."
Next, the user moves to another place to expand her office setup. This time she is using more screens which can be adjusted in terms of size and proportion. The user will now access a physical keyboard to type in VR. This explains the use of Facebook's Ongoing partnership with hardware brand Logitech, which will provide the K830 keyboard in VR.
The ad paints a picture of the dream virtual office environment:
An enticing platform allowing for a range of working processes from admin to creative tasks.
This allows the dipping in and out of tasks– something many creatives have found challenging while working at home.
The features, which will begin rolling out this winter will allow users to work across multiple customizable screens built on top of the Oculus Browser, reported TechCrunch.