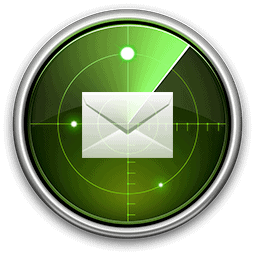 Ever faced a situation where you didn't receive the response to your emails and / or you've sent the emails multiple times to make sure it is read. Every such circumstance just leads to frustration as even emails are an important source for communication on both the individual or business levels. Well, now you can use these tricks mentioned below to track if the email you sent has been opened and read or not. Yes, you can keep a record of your emails with the help of various email tracker options available. You can effortlessly check whether a mail that you sent has been opened or not, the clicks or views it has, the device your email was checked on, the attachments when downloaded and more.
Here we bring to you the best 5 email tracking extensions available for Google Chrome for monitoring your sent emails along with other features.
BANANATAG EMAIL TRACKER EXTENSION
A chrome extension, an outlook add-on and working effortlessly with other email clients, Bananatag Email Tracker is one of the best email trackers in the Google Webstore with around 98,606 users and 4.1 stars.
Not only does Bananatag track when the recipient opens your email but also counts the number of times a link inside your tracked email has been opened.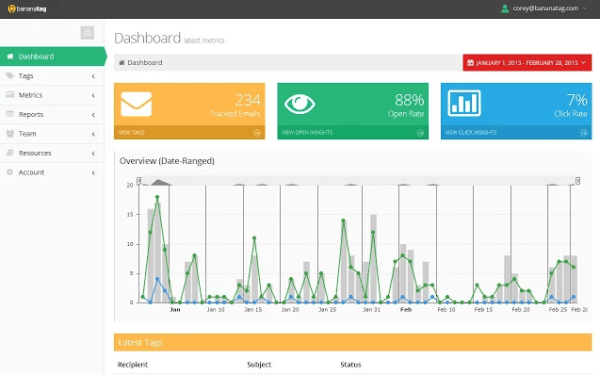 Once you install the Bananatag email tracker plugin, it works just within your Gmail tab on google chrome and while you compose an email, you can select the checkbox just near the send button to select the email tracking option.
Interestingly, through your user account on the Bananatag website, you can also access a statistical view illustrating the rate at which your emails are tracked over a customized time period.
There are both Free and Paid plan versions with numerous exciting & detailed features in the latter. It integrates so well in every Gmail UI helping you gauge how effectively your emails working.
 MAILTRACK EMAIL TRACKER 
An email tracker with a read receipts feature is made simple for tracking an unlimited number of emails for free. With around 3,370 stars and 4,82,299 users MailTrack Email Tracker does it all by itself. You just need to compose your email and every mail goes tracked.
But yes, that's also a downside where you cannot turn off tracking in the free version. This may land even your important emails in the recipient's spam folder as there are certain networks which block such tracked emails.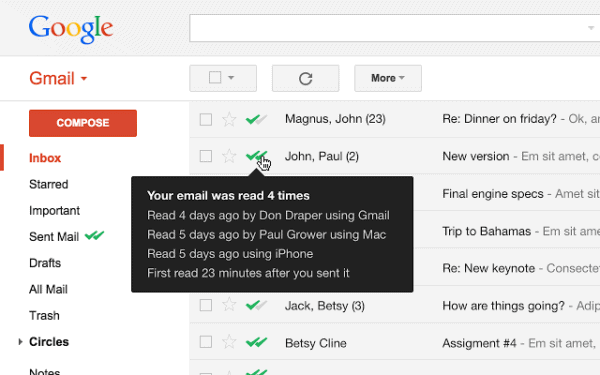 But you would love it how the extension indicates the read emails through a double checkmark green color icon making it even more convenient to let you know your email's tracking status at a glance. Even the pop-up notifications look pleasant when the recipient opens your tracked email.
Even here the Paid version offers more extensive features like daily analytical reports, turning off the email tracker and more.
SIDEKICK EMAIL TRACKER BY HUBSPOT
Sidekick by HubSpot now referred as HubSpot Sales is the most popular email tracker with a user-base of around 6,86,588 having a rating of 8,749 stars. This extension is available for Gmail, Outlook, AppleMail and more email providers.
You can manually choose to track your emails, know which device the email was viewed on, and also how many times the email has been viewed. It's incredibly accurate, with a simplistic interface coupled with highly detailed reports making it a great solution by HubSpot, the online marketing firm.
The extension adds a checkbox at the end of your Gmail's email composing toolbar. Click on the checkbox and your email goes tracked. A notification pops up on your screen every time a tracked email is opened. A separate notification is also displayed in Chrome showing the status of all your tracked / untracked emails. You can track even the self-sent emails and even link tracking is enabled if the URLs are set as hyperlinks.

Even for this extension, a small icon is installed in Chrome enabling you to keep a count track of the emails. A window gets expanded by clicking the icon. This shows a downward list of the tracked emails, views and clicks per email and more.
This extension tends to modify the original Gmail user interface to the least. It adds to the email composition window a checkbox for activating tracking. Free account users can keep a record of only 200 tracked email notifications per month. This can be extended in the Paid version.
MAIL2CLOUD EMAIL TRACKER
Mail2Cloud email tracker for Chrome has some really notable features with a user-base of 37,713 counts and a 4.4-star rating. Its main highlights are attachment management, email scheduling, private file sharing, reply timeout and read receipts & reminder alerts.
Talking about the attachment management feature in detail, the files attached to a tracked email can no longer be downloaded by the recipient after certain days. This means that the attachment cannot be downloaded after 1, 3, 7 or 30 days enabling a time-sensitive feature. Mail2Cloud also lets you convert an email to a PDF file along with archiving the attached files in the original content. This also allows storing that content in Dropbox or Google Drive.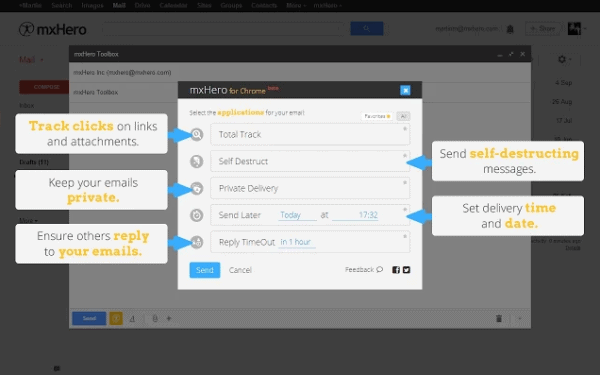 The extension embeds an aqua-blue color icon with a logo next to the Send button on Gmail's email composition toolbar. Simply write the email, click the icon and send a tracked email. Once you click the extension icon it opens up a panel listing several functions that can be applied to your email. These range from Email tracking, highlighting total track and / or choosing a time limit for downloading the attachments.
You receive notifications when the recipient opens your tracked mail and also when a link inside the email has been clicked. It also notifies when an attached file in your sent email is downloaded.
Mail2Cloud grants a 14-day free trial period allowing you to access all the features. And thereafter the paid plans (Individual / Business / Enterprise plans) are available.
Hence, Mail2Cloud lets you send confidential business files with email tracking and controlled distribution. This helps you stay organized and up to date.
EMAIL TRACKER
Tracking all your major webmails, Email Tracker (offered by emailtracker.website) is a very simple and elegant email tracking Chrome Extension with over 7,364 users and 63-star ratings. It tracks emails for Gmail, Hotmail or Outlook, Google Inbox, and Yahoo Mail.
A small bullet like circle appears when the tracking is enabled and email hasn't been opened yet. A grey color checkmark appears when the email has been read. This email tracker works for an unlimited number of email accounts and sent emails. Only the emails sent to self will not be tracked. Hence, one needs to send the email to another email id to test the tracker.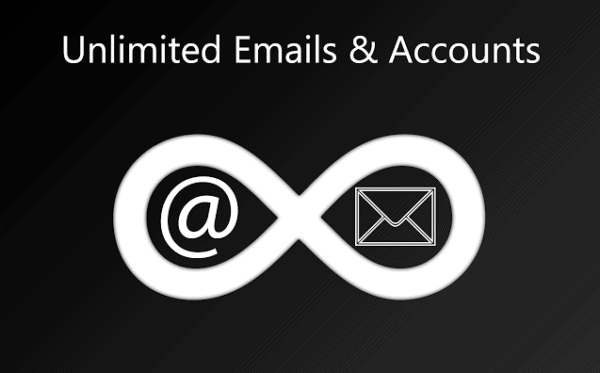 This too has both Free and Paid/ Pro versions. The free plan has basic features for enabling uncomplicated tracking of your emails. And the paid plan has comprehensive features like in-depth per view/ click reports, link tracking etc.
A separate notification status is also displayed in Chrome regarding all your emails. When you click on the extension icon, it expands downwards revealing the list of tracked / untracked emails.