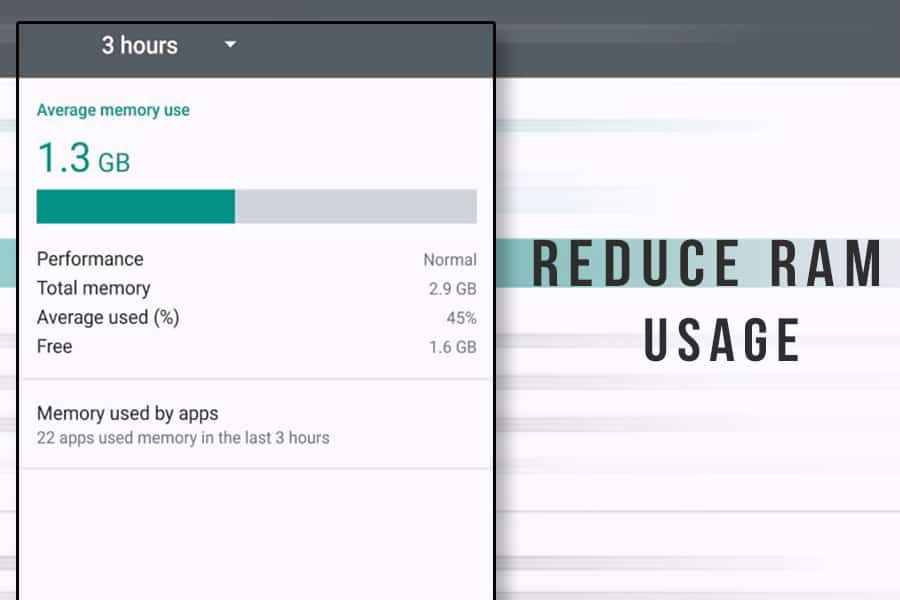 Creation of Android has advanced our limits and ease of using technology. There are a countless number of things which have become much easier than it used to be. We cannot thank Andy Rubin, Rich Miner and Nick Sears enough for blessing us with Android. With every new version or update our phone's RAM storage increases for proper functioning.
Users possessing old Android phones which have a considerable amount of RAM storage can look into the following procedures to improve the performance of their devices. Below are some of the most effective measures to optimize your phone's RAM Storage.
1. Keep Track of memory storage and 'Force Stop':
While using your handset it is very important to understand which applications consume more memory. Fortunately, users can check the memory usage on their devices easily by selecting Android Settings and choosing the Memory option. The device will present you with the 'Memory used by apps' option, tap on it. After which you will notice a list of applications alongside the total memory used in the last 3 hours or in 24 hours.
Further, tap the three dots on the right corner of the screen to and select 'Sort by max. use' option which will arrange the list in increasing order of memory usage. Click on the application which is taking up a lot of memory storage. To stop the app choose the 3-dots on the right corner of the screen and tap the Force stop option.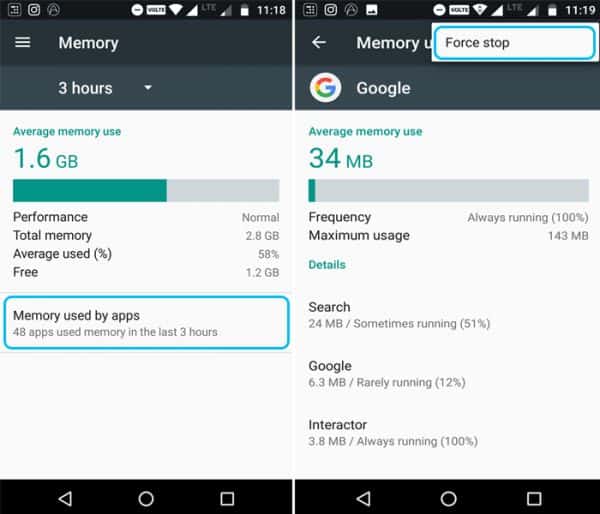 2. Disabling apps and Removing Bloatware:
Force stop surely frees up RAM but it does not do it for long as applications restart an always manage to run in the background. There are applications which cannot be uninstalled from your phone an take up lot of space. In such cases users can disable them. After the application is disabled the applications would not run in the background.
How to disable the applications?
Choose the Settings options
Tap on the Apps section
Click on the Disable option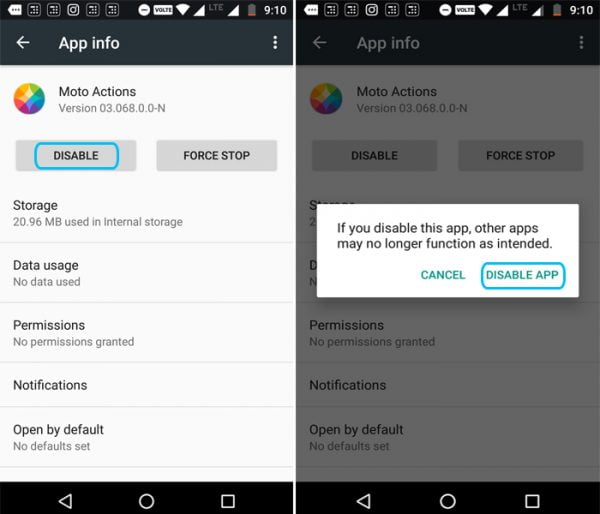 However, disabling some applications might affect the performance of your phone. Check out the detailed technique to remove bloatware from android.
3. Turn off the Animations & transitions:
Animations and Transitions ensure an attractive and interactive touch experience. Surely, it adds up some motion and creative interest but it has an impact on the phone's RAM and CPU. Fortunately, users have the option to disable this feature. All you have to do is to go in the Settings menu and go in the About Phone section. Then, tap the Build number option till a message pops up quoting "Congrats! You are now a developer". Unlocking the Developer Options will allow you to change the transition settings.
Further, open the Settings option and tap Developer Options. As you'll scroll down you will see the options Transition animation scale, Window animation scale, Animator duration scale, you can tap on any of these options and turn it off.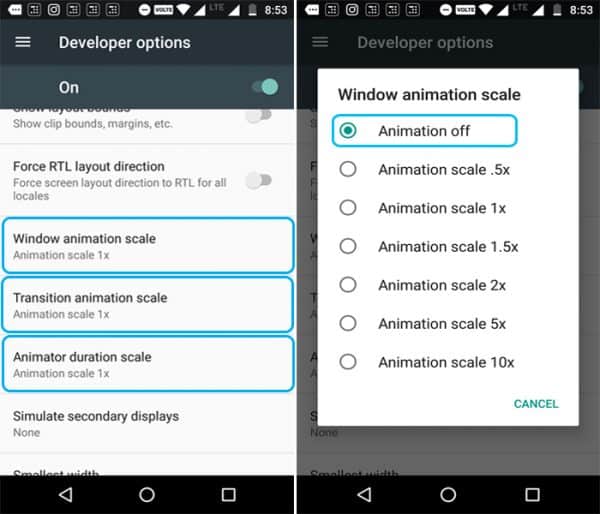 4.Live Wallpapers or Extensive Widgets:
There are thousands of live interactive wallpapers available throughout the internet for your phone and some phones have default live wallpapers which will give you the pleasure of using your phone in the beginning. However, if you really want your phone to use less RAM storage and save your efforts & time then live wallpapers are a total no!
Also, when you download different applications some apps offer you with widgets to ease the use of the applications. Try not to use widgets with extensive graphics or high content consuming widgets, these will not only use up a lot of memory but also drain the phone's battery fast. This
5. Use Third-party Booster apps:
Play store offers many third-party apps which will surely help you to free up your phone's RAM. Several RAM cleaning applications have been designed to make your work easy, The Clean Master app is known to be the most used and best app till now for clearing out the clutter. It also provides you with the option 'Memory Boost' which enables you to clear the mess from your phone's home screen itself. It also offers you with a tool to control the apps which automatically restart. By disabling those apps you can decrease the RAM usage. You can also opt for CCleaner, DU Speed Booster or others.
DU Booster also provides you with many interesting features. It is fast and effective. It also comes with a 'CPU cooler' tool which will assist to cool the temperature of your phone. This booster also comes with some battery-saving tools, trash cleaner, and others. Compared to any other booster it cleans up it clears the RAM faster. You also have the option to clear boost your memory from the notification where it provides you with a set of tools to clear some space. You can access the 'Similar Picture' tool in the app which detects the pictures which are very similar and allows you to delete them provide you with some more space. Users can also scan their phones using this app's ' Security' tool which detects the risks and fixes them. Overall, it has a lot to provide to the users and functions smoothly and effectively.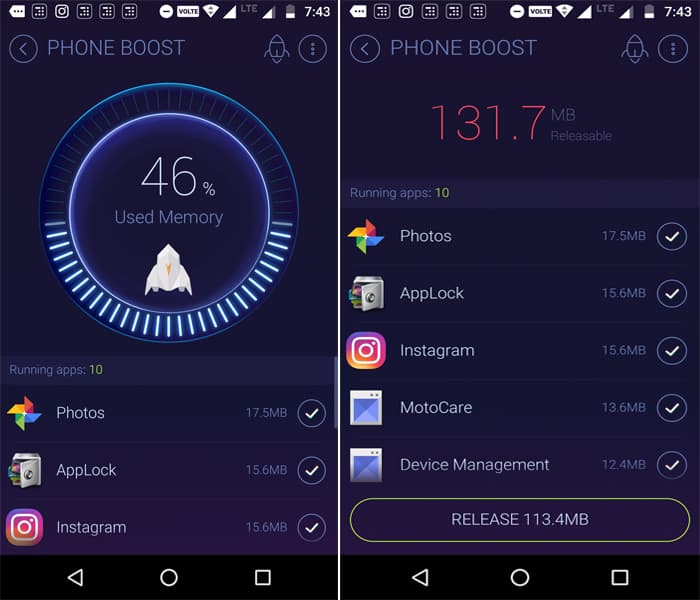 Moreover, even app locks designed for androids have started including RAM boosters for instance Private Zone, Applock, etc.  You can read about these app locks in the article Best Photo Vaults for Androids.
Additional Things to Keep in Mind:
For better working of your phone users should keep track of the RAM usage of their phone. This will not only help you to realize your device's daily use pattern but also allow you to maintain the phone's performance. If you are a person who likes to keep your phone loaded with games then you should make sure that the RAM usage is minimum for a smooth gaming experience.
It is always important for the user to remember that the performance of the phone is directly proportional to the RAM usage. Also, make sure you close the app windows which you have minimized in the background to enhance the speed of your phone. Keeping the applications running by minimizing also takes up a part of your memory and battery (especially games, even when minimized in the background, draining your phone's battery really fast). So, make sure you close all the minimized tabs as soon as possible. These tips will surely help you to clear the clutter and keep your entertainment or work-life going smoothly.