The holidays are quickly approaching, and with them comes the inevitable gift-giving that occurs every year. Like many other people, you will likely be frantically searching the shelves for things for your loved ones, and your local shopping centers may not have what you're looking for this year. In this day and age, we have the good graces of the internet at our disposal (for better or worse), which makes finding gifts simultaneously easier and much harder. You have a wealth of gifts at your fingertips, only a credit-card number away, but with so many available, which do you choose? Do you go for the rubber Horrifying Horse Head Mask, or the Levitating Death Star Speaker? We have you covered, with our list of 4 geeky gifts that are perfect for this holiday season.
Levitating Death Star Speaker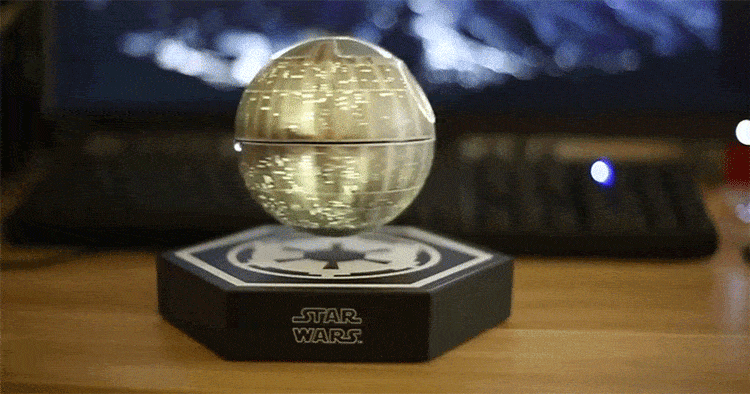 If you can imagine what it might be like to listen to your favourite music or movie soundtracks wirelessly, you can begin to understand the excitement behind this Levitating Death Star speaker, but the hype doesn't stop there. With 360 degree sound amplification, and a magnetic base to cause the death star itself to actually levitate, the atmosphere of quiet foreboding put forth by Darth Vader's original destroyer of worlds is once again palpable.
Connecting via bluetooth, the speaker has up to 5 hours of play time, and can be connected to any bluetooth enabled device. This is also the first levitating Death Star speaker to receive Disney's stamp of approval, making it a part of the official merchandise for Star Wars – and a valuable addition to any collection.
Pop Vinyls
Pop Vinyls are skyrocketing to the top of the wanted list for many pop-culture collectors all around the world, and the characters available for purchase are very, very extensive. From all your favourite pop-culture or cult classic TV shows and movies, the characters are created into bobble-headed, stylized versions of themselves, and their small size makes them easy to set up as decoration around a house or apartment. There are special, limited edition Pop Vinyl figurines that cost a bit more, but are only given a limited run. These usually coincide with the release of a movie or event on a TV show, and are even more collectable. Pop Vinyls make great gifts, and are a must-have for many collectors everywhere.
Also read: 4 Coolest Tech Products for Your Next Outdoor Adventure
RC Droids
Remote-controlled (or RC) cars have been around for decades.
Originally set up on tracks and plugged into power points to be raced, and eventually moving to trackless, battery powered vehicles, RCs have been a very popular gift choice around the holiday season for a long, long time. Now, with new technology, vehicles or characters can be even smaller and differently shaped, leading to the release of RC Droids. Droids, such as R2D2 and BB8 from the Star Wars franchise, are robotic characters with different styles of locomotion, which have now been compressed down into hand- held, or larger sized, remote controlled droids. These can create hours of entertainment for the gift-receiver, and to add them to a collection is a great way of helping someone enjoy the holiday season.
Also read: Top 5 E-Commerce Websites For Online Shopping in India
DVDs
Lastly, we have a gift that has been around for only 15 years or so, but has become more and more refined and powerful as time has gone on. DVD collections are formidable, and often take up room, but are beloved by their collectors for the physical feeling of owning a TV show or movie that someone loves. With new remastered box sets of classic film franchises coming out throughout the year, or the new Star Wars DVD or Blu-Ray, the hassle of finding gifts to give can be done away with entirely, and that special someone in your life can have exactly the movie or TV show collection that they always wanted.
Buying gifts for people has been difficult for so long, but there's no reason it needs to remain that way. With our list, you can be sure that their holidays will be full of spirit and cheer.
Recommended: 6 Best Wearable Tech in Movies