Canesta a company which provides 3D sensing or gesture recognition technology for the application of innovative natural user interface, has announced that it has been acquired by the technology giant Microsoft Corporation.  Founded in April 1999 by Cyrus Bamji, Abbas Rafii, and Nazim KareemiInc has around 70 employees and has raised about $70 million.  They have signed a definitive agreement to have its products, technology, intellectual property, customer contracts, and other resources acquired by the Microsoft Corporation however the gross value of this deal is still undisclosed. Canesta is a leader in 3-D sensing technology which is critical to making Natural User Interfaces (NUI) possible. The company manufactures CMOS-based single chip
3D sensors, which can be used as part of input systems for electronic devices. Many see this move as Microsoft's push toward a natural user interface and to underlying its Kinect sensor for Xbox 360.
How Canesta 3D sensors work?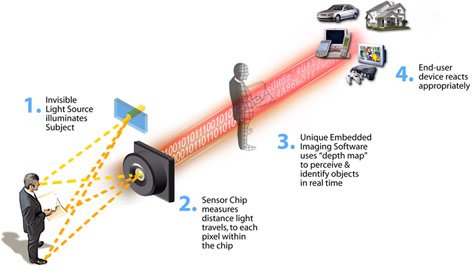 Canesta's technology and patents could bring Microsoft a step closer to letting users control the computer with their mind and gesture, instead of a mouse or remote.
Canesta debuted in 2002 as a developer of virtual keyboards, which sensed where a user's fingers were in relation to a projected keyboard. In 2004, however, the company moved into developing its Equinox chip , which, at that time, could "see" 3D objects at 50 times per second.
Canesta's technology can identify finger movements precisely enough that the device can measure a hand's typing movement. The sensor scans space 30 times per second at more than one angle, thus allowing the sensor to distinguish a "y" from an "h", two keys on a QWERTY keyboard that are almost vertically aligned.
Canesta technological advances in 3D sensing technology could be implemented into Microsoft's Kinect gaming sensor for Xbox. Kinect is an Xbox add-on that gives users control of the games by using their bodies. Which is expected to go on sale from November 4th of 2010. Microsoft expects to sell 3 million Kinect devices in the run up to Christmas and New Year season, once it comes out and has sold out of its pre-order allocation. Canesta, was the same company which provided the gesture control technology behind the Sony Eyetoy. Sony has already sold 1.5 million of the Sony Move in Europe since its launch a few weeks back.
Recently Intel also provided few details about the Sandy Bridge processor with advanced vector instructions, called AVX, to accelerate applications such as gesture recognition and media transcoding.
Also read:
According to Jim Spare, Canesta president and CEO, "This is very exciting news for the industry. There is little question that within the next decade we will see natural user interfaces become common for input across all devices. With Microsoft's breadth of scope from enterprise to consumer products, market presence, and commitment to NUI, we are confident that our technology will see wide adoption across many applications that embody the full potential of the technology."
Here's a video for a quick overview on Microsoft Kinect for Xbox.