I hope you surely know about Google translator. It is used to convert characters from one languages to another. And it also have a unique unnoticed feature to detect the language of the typed text. I though there would be some more dedicated language detection services available out there. After some search I found few of them which I'm going to write below. You just need to copy and paste the text to detect the language.
Google translator: A widely used service for converting text from one language to another. But Google Translate can also detect language you type in.  It can detect launguage automatically. However, you need to manually select "Detect language" from drop down box if it didn't detect automatically.
Have you got some unknown text? Just try it yourself.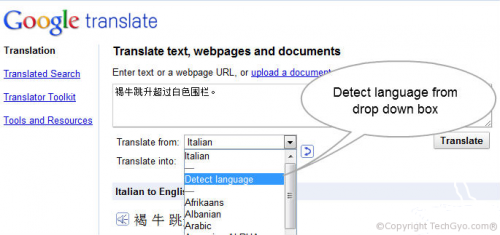 Langid.net
LangId is pretty famous for its great service and user friendly interface. Here you can just type in the character you want to detect or you can also submit a link, upload a file, detect from tweets (twitter), and even from mail.  And yeah they have a pretty cool Language detector boy standing there to help you out.
This is not much popular service for language detection but it is dedicated for the only purpose of language detection. it does a pretty Good job.
So did you find which language the character is?
Link: Google translate |  Langid.net | Whatlanguageisthis
So, which service you found better? Do share your thoughts about language detector and its's uses.