In this article, We will see how WhatsApp Business API helping businesses enhance customer service and increase sales. Seamless communication with customers is quintessential to enhance customer service and increase sales. As WhatsApp is a global communication messaging platform, it has been helping brands to expand their reach across millions and further improve customer experience via transactional messages and two-way messages. With the newly introduced business API, businesses are smartly reaching out to the end-users and making the experience valuable.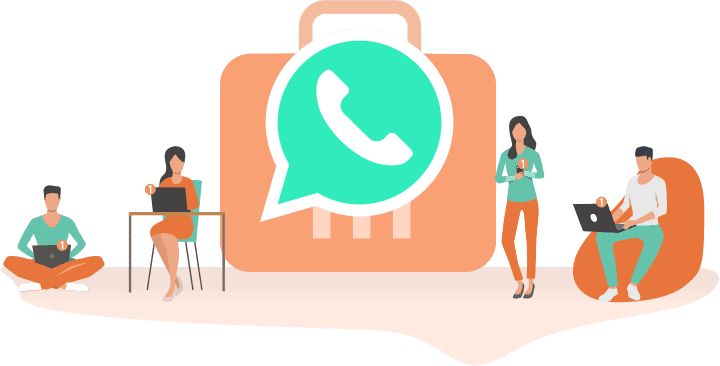 After witnessing the success of the free business app, WhatsApp Business recently released an API for large scale enterprise communication. They want to capitalize on the consumer channel of choice to enrich discussions and provide great customer experience.
Let's do a deeper dive to understand how WhatsApp Business API is powering up the communications for businesses:
Building Brand-Customer Connections: With WhatsApp Business API, brands can set up profiles that showcase their address, description, contact details and weblinks. In addition to features like images, video and audio support, the business API also supports two-way chat interactions. Instead of going through the live-chat service on the business website, waiting for an email response, or waiting on hold to be connected via a call, customers can have conversations with customer service agents within WhatsApp. 
Provides automation to improve customer service: With the increased penetration of smartphones, consumers actively want a conversational platform like WhatsApp for more convenient self-service options to resolve an issue they may have while shopping. WhatsApp Business API allows brands to respond to the customers' queries for free up to 24 hours. For any response given after 24-hour, businesses require to pay a cost. Businesses must use WhatsApp Message Template (for outbound notifications like delivery alerts and appointment reminders) if more than 24 hours have elapsed. Any other type of message will fail. With this kind of transactional message, the businesses will be able to continue sending them via the WhatsApp channel, thus enhancing the customer experience. The API also allows brands to set-up quick replies and automate messages so that they can respond to the customer queries instantly and make their experience better. For example, MakeMyTrip turned to WhatsApp to offer customer support and reduce refund-related calls to their customer care centres. The WhatsApp Business API solution has helped MMT to improve customers' interaction and increase opportunities for cross-sells.
Recommendations for Related Products & Offers: Customers can be easily notified of the order updates and check out other recommended products and offers. By monitoring customer interest, brands can use rich-media features such as videos and image carousels to suggest appropriate products. They can also use previous purchase history to share recommendations and drive revenue while delivering highly personalized customer experience.
Seamless Delivery & Returns: Businesses can send personalized real-time updates through WhatsApp to the customers and handle real-time responses. This will enable customers to know about their delivery status and raise issues (if any) with almost immediate effect. The WhatsApp Business API will help brands to streamline the delivery process, send important updates, schedule collections, and much more. They will be able to manage distribution and improve operational efficiency and customer satisfaction.
Facilitates Secure Messaging: With WhatsApp Business solution, both the business and end-user can be assured that they are not interacting with a scammer. Customers can check if the account they are interacting with is verified by WhatsApp or not. It will give them the assurance that all messes ages and notifications are coming from a verified business account. Also, businesses can stay assured that users are genuine because of WhatsApp's built-in two-factor authentication. It powers end-to-end encryption, strictly takes care of the subscribers' privacy, and secure the reputation of the brand.
A strong customer relationship through personalized communication channels will ensure a better customer experience. Fulcro is a verified WhatsApp Agency, who increase your business by implementing a WhatsApp Business API solution. It not only provides end-to-end services and enterprise-grade solutions but also offers the most affordable pricing options to the businesses.
Summing up, WhatsApp Business API is quintessential for the brands to meet the changing expectations of today's smart and connected customer. It will not only provide brands with an opportunity to address customer problems but also enable customers to approach brands in a much simpler way.