The field of designing is something people will never get to stop innovating. There will be always something new and exciting coming up from top designers around the world. The material design by Google was one of the biggest UI advancement we have ever seen in the recent times. Creating something which gives out positive vibes to everyone who uses it is a great feeling. We, both as a designer and end users, sometimes requires inspiration or design templates to get started. You can look at the great works by designers around the world, absorb and start working on your personal project. If possible, under license, you could reuse the same design templates for your project as well. There are a ton of websites where people post their design templates and share it with the world. Today, I have here is the top 15 sites from which you will get high-quality free design templates, hundreds of high-quality images, mockups for iOS and Android apps and more.
High-Quality Free Design Templates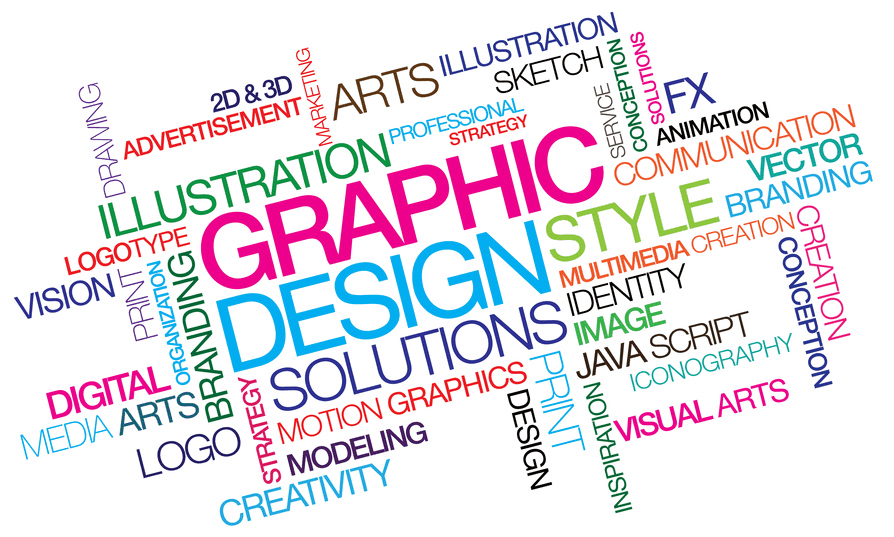 Dribbble
Starting off the list with my personal favorite, Dribbble. Dribble is where you can find one of the largest collections of design templates and mockups online. The platform has one of the biggest community of designers in different fields like; web designers, graphic designers, illustrators, icon artists, typographers, logo designers etc.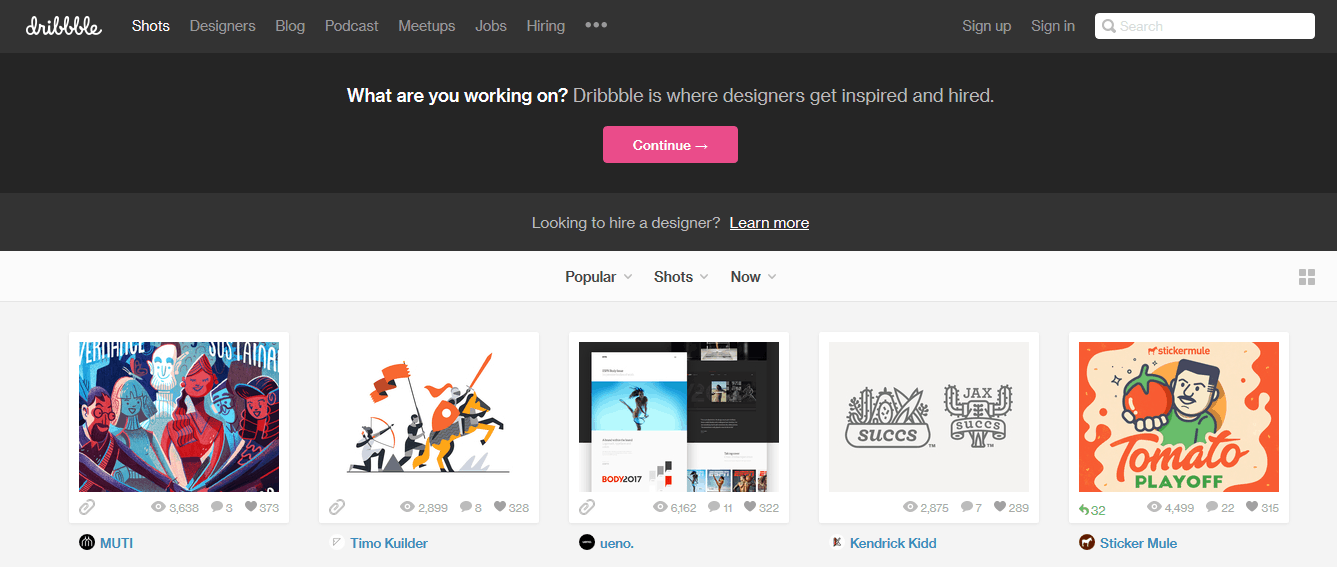 I remember the first time I landed up on Dribbble was in search for design inspiration for my personal android application development. For the artist in you, Dribbble also acts as a platform for job hunters to get their dream jobs. The community does organize meetups and release podcasts.
DBF
Think of a site where you can get free design templates, listed and organized in one place, from top sites like Dribbble and Behance. Dbf, Dribbble, and Behance is such a platform where you will get the best of Dribbble and Behance.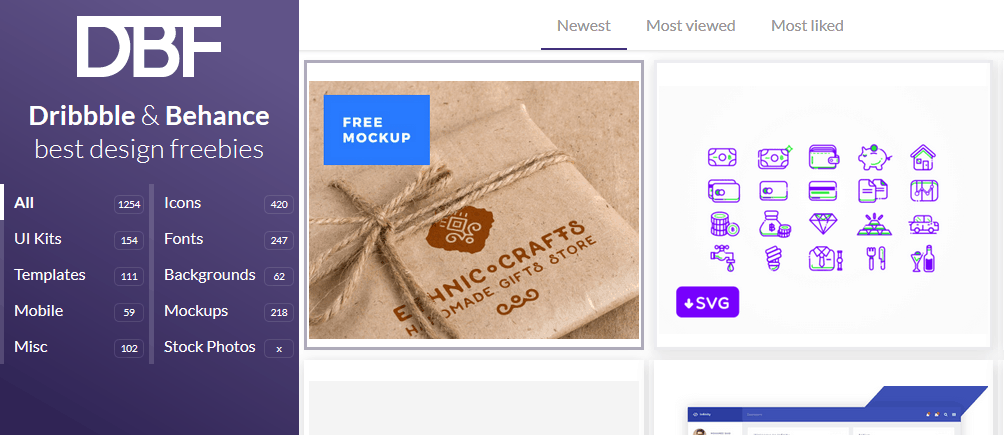 The site has UI Kits, Templates, Mobile, Misc, Icons, Fonts, Backgrounds, Mockups and Stock photos. The total freebies are 1254, as of when I am writing this post. Everything is listed and organized beautifully with filters like; Newest, Most viewed and most liked.
Freebbble
Unlike DBF, Freebbble showcase only free design templates from Dribbble users. You can find more than 1000 free templates on this site. The categories available are; free items, templates, mock-ups, icons, vectors, textures, graphics and more.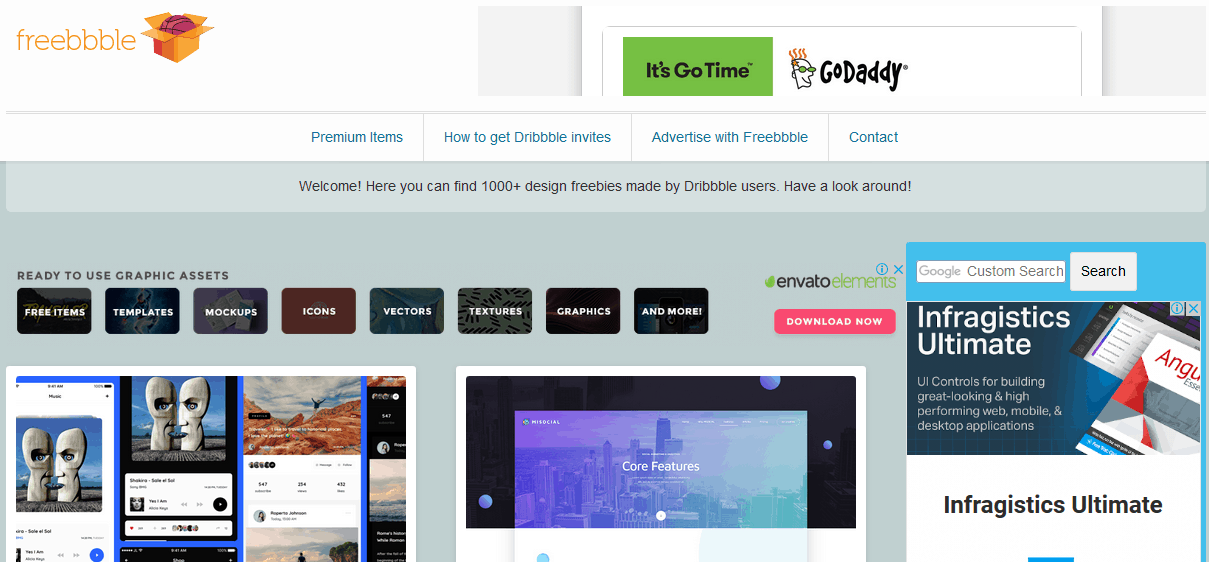 The items are categorized using different types of licenses as well. You can browse by type or by license. The browse by the license is a great thing especially if you are planning to reuse the same template for your work.
Fribbble
Fribbble is also a platform which offers a collection of free design templates and other graphics related files from Dribbblers. This platform also shares the PSD files. The Fribbble site looks simple compared to the rest of the ones on the top.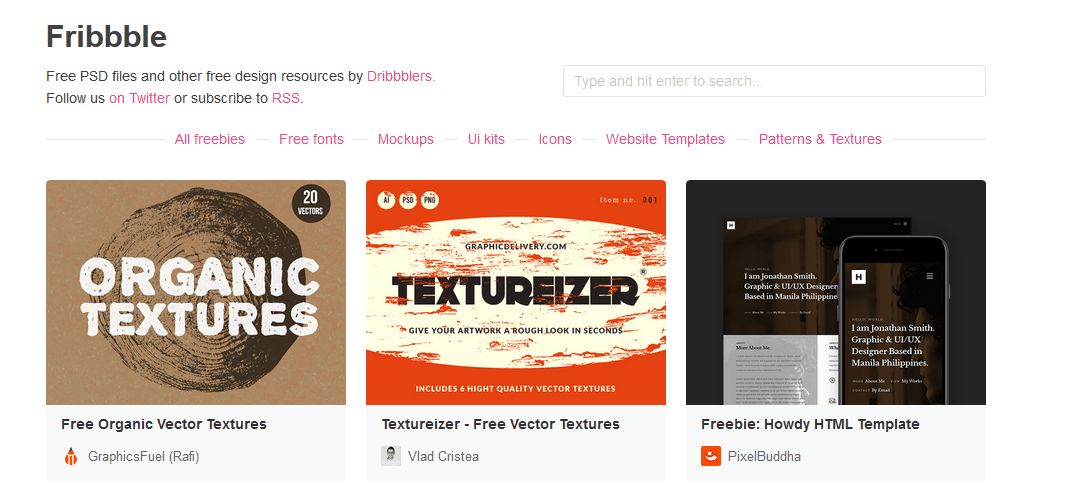 The resources are categorically organized and there is a search option also available. The site doesn't host any resources directly instead, there is an option to "view of dribbble" and you will be redirected to the dribbble page of the same.
Freebiesbug
Like the name says, Freebiesbug is a site where you can find a wide variety of designer-friendly resources to view and download. The site is mature in looks and resources are neatly organized. There are more than 1200 PSDs available.

The other categories include; illustrator freebies, sketch freebies, free fonts etc. I loved the category named 'code stuff'. In that, they have projects based on JavaScripts, HTML website templates, HTML UI kits etc.
Pixeden
So far, we have been talking about sites which host free design templates from Dribbble. Pixeden is something different, it is independent of other sites and they have some genuine contents created just for the developers. The print section has; brochures, flyers, business cards, under the web section; e-mail templates, WordPress theme templates, HTML wireframe, under icons; mobile, e-commerce, social etc.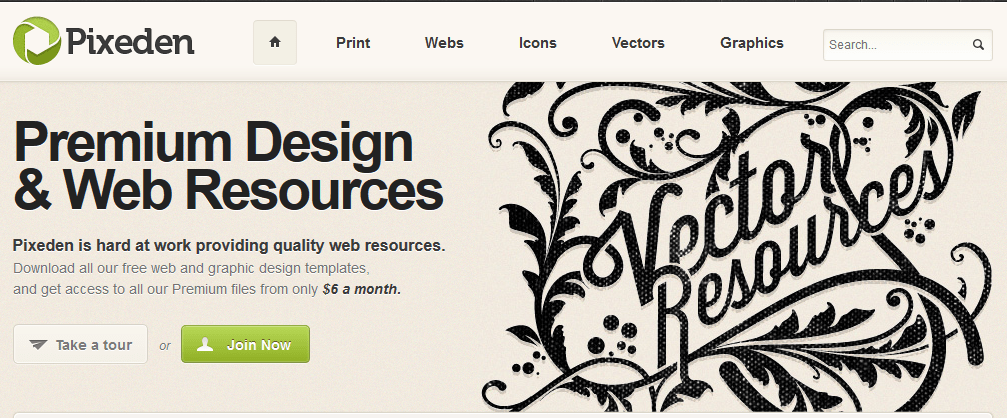 The best part about Pixeden is that most of the content is free. You can apply the filter to the existing list of resources and get only the free contents. If you liked some premium contents, don't worry! All their premium contents can be unlocked by a fee as low as $6/month. How cool is that?
Graphic Burger
If you are burger fan like me then, you are definitely going to love the Graphic Burger also. This online community of graphics content creators is a tasty feast for the people who want to take a bite. Mainly mockups, but the site also features; UI Kits, Icons, Text Effects, Background etc.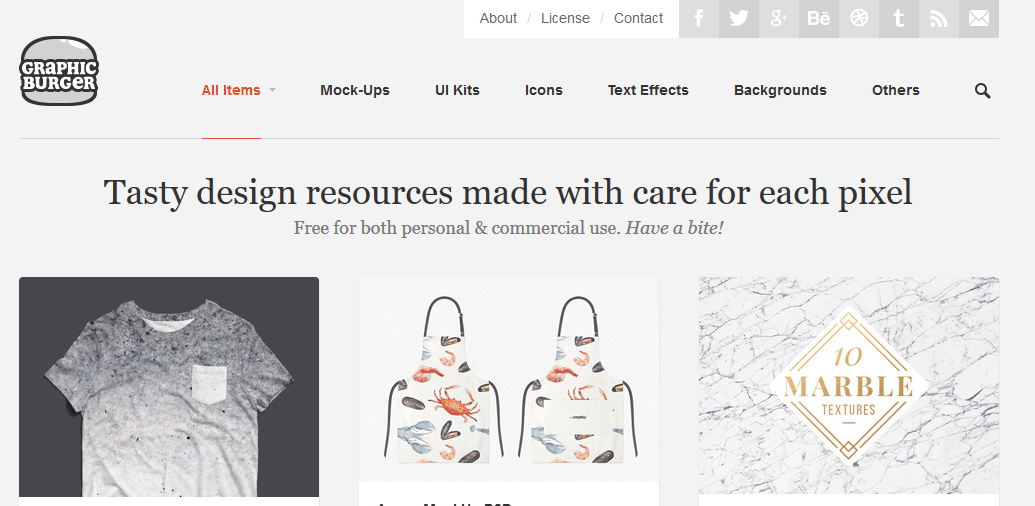 There are so many mockup PSDs freely available especially, of clothing and phone cases related. Everything in Graphic Burger is free for both personal and commercial use.
Marvel
Don't have the right tools/newbie in designing? Marvel is an online tool which will help you create amazing design templates and share it with the community of professionals. You can also take a look at the free design templates that other people have created. The platform's design tool is very simple and has some awesome feature you should check out. Creating templates is very easy, you can even upload your existing works to Marvel. The prototyping stage is where you showcase your work in front of the community. There is even an option to collaborate with other user and work on your project.
The free version of Marvel is free forever for one user and is limited to 2 projects. Once you get started, you can switch to Pro which is $12/month with unlimited project hosting capability. For up to 4 users, you can opt for Company package, which is $56/month. There is also enterprise package available, price on the request basis.
365 Psd
With one of the largest collection of both premium and free design templates, 365 PSD is a platform which I cannot ignore in this list. Like the name says, new free PSD files are updated every day, 365 days a year.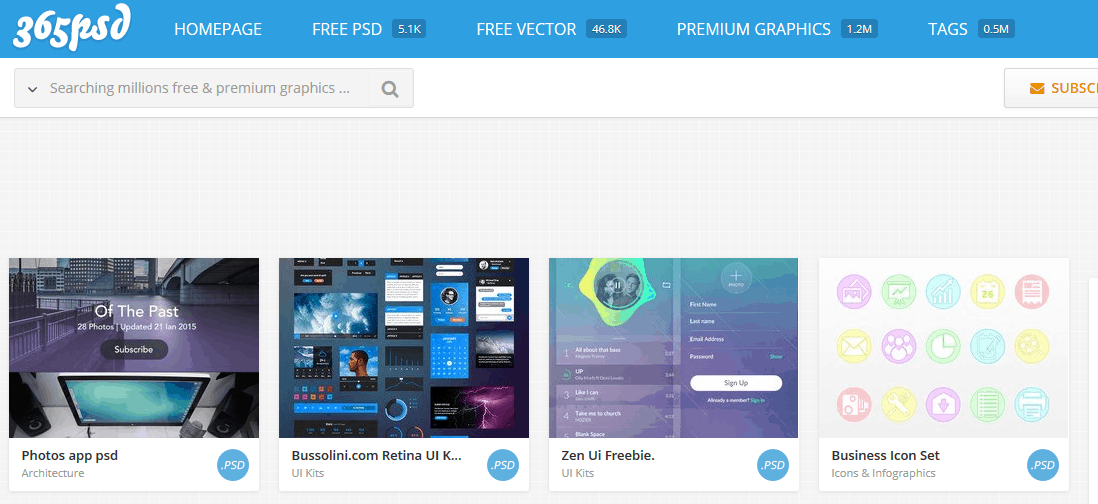 There are more than 5.1K free PSD, 46K free vector to download. If you are ready to pay the premium, there are more than 1.2 million premium resources available in this platform. Click on a template you like, see the preview, there is a button to download and you are ready to go.
UI Space
UI Space is also a very simple site which provides free design templates to the graphic developers. There are thousands of freebies to choose from; PSDs, Sketch, Fonts, AI, and mockups. There is no relation of whatsoever with the dribbble and UI Space is a completely independent platform.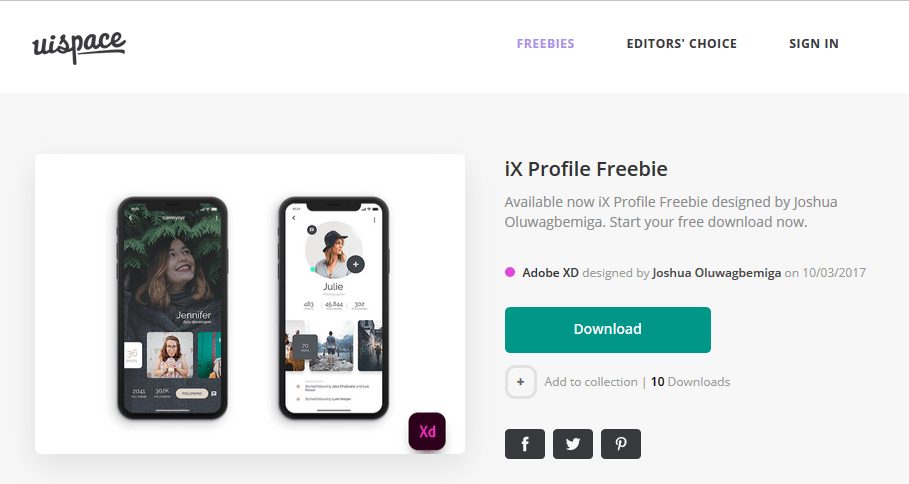 There is no option to search but, you can view items by category. I liked the look and feel of the site, simple and minimal in terms of design. There is an option to create an account and sign in. If you are signed in, you can add templates to your custom collection to see it later.
Placeit
With more than 2850 mockups and demo videos, Placeit is another platform which is helping thousands of designers across the globe with their collection of free design templates. Rather than having only templates, they also have demo videos, slideshow presentations that you can refer to your personal work.

If you are looking for free smartphone mockups, Placeit is one of the best sites to visit. There are more than 1400 mockups for iPhone alone, 576+ for iPad, 343+ for Android, even smartwatch mockups are available. The advanced filter on the left pane will help you narrow down your search to what exactly you are looking, in terms of template types, tags, and devices. For eg; if you are looking for "iPhone X Mockup being held while at a Garden", PlaceIt got you covered for you.
Tethr
Most of the designers feature apple products and iOS to make their design portfolio. There are thousands of iOS design kits available but, Tethr is one of the most beautiful among them. The best part is, Tethr is now available for Photoshop, Sketch and Craft library.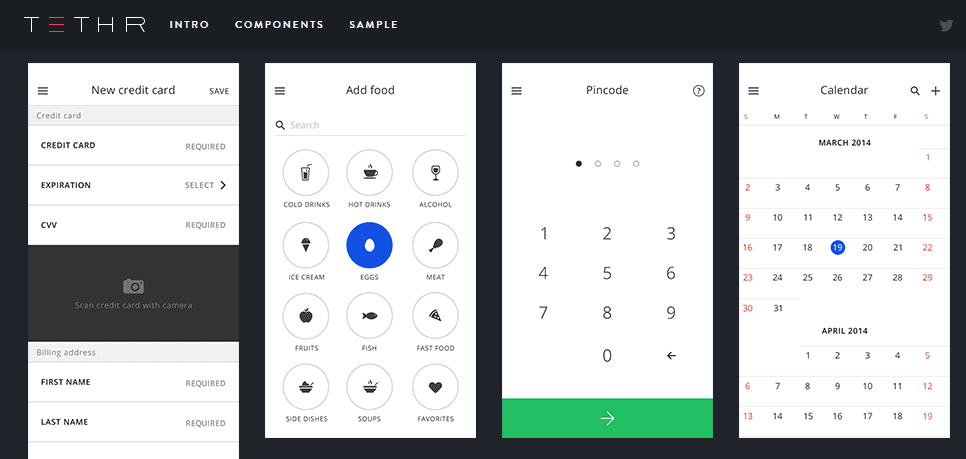 The website currently is allowing people to download $80 work library files for free. Even the design kit is free to download. All the design elements follow the latest flat iOS interface. You can simply drag and drop elements to create iPhones mockups at ease. You can build screen mockups for e-commerce, messages, multimedia, navigation and social networking related apps.