Woman's safety is a burning topic around the world when India witnessed brutal crime in its national capital Delhi where a 23 year psychotherapist was brutally gang raped by six drunken criminals inside a moving chartered bus. Rapes and molestation and mistreatment of women happen all over the world, but crimes are not stopping despite protests the crime against women are ever increasing. Its really tough for woman in the streets and it should be best if women ensure some safety measures. Thankfully technology helps us in a number of ways and with the rise of usage of apps in our everyday life we also have many apps which should be helpful for women to ensure safety.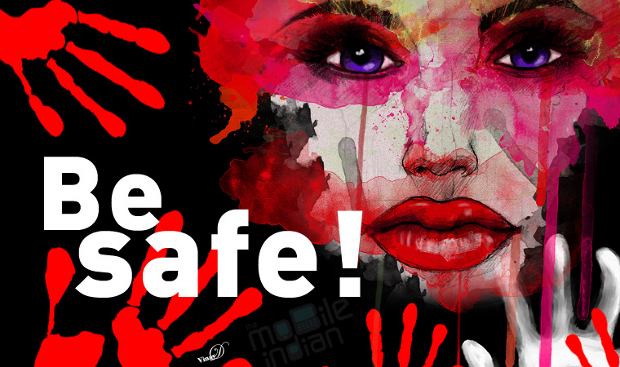 We bring you the top five apps that will help you ensure safety in a world full of animals.
Circle of 6 is the winner of the Department of Health and Human Services White House "Apps Against Abuse" Challenge so you can be pretty sure of its reliability. This app as the name says allows you to add six trusted friends or relatives to your circle. You can have a text message pre-programmed in the app and when you feel you are in a threatening situation then you can use the app to automatically send the text message you programmed to the circle of friends you selected. The app along with the text you programmed also sends your exact location.
The app is fast and very easy to use which should let you fell safe. The app also contains some important numbers you would need such as helpline numbers and numbers of police stations. The app is free of cost and is available for Android and iOS devices.
Price: Free
Availability: Google Play Store, Apple App Store
bSafe is a great app which is really quick in notifying your friends and relatives in case you are in trouble. The app's slogan is "Never Walk Alone". In this app you can choose your set of 'guardians', out of all the guardians you can set, one will be called and others will be sent an text message. The app also uses GPS and sends your exact location to the guardians you have set. The guardians can even go ahead and follow your lead. You can get the free version or the subscription one in which you get more advanced features and you can add more people to the guardians list.
The ease of use is great as when you are in trouble its just needs a single tap to inform your close ones. The app is available on iOS, Android and BlackBerry devices. The basic plan is free although you can get the more advanced version  $1.99/mo ($14.99/yr).
Price: Free; Advanced version subscription at $1.99/mo ($14.99/yr)
Availability: Google Play Store, Apple App Store, BlackBerry
Fightback is a great application to ensure woman safety since it works across a large range of devices including even feature phones. It uses GPS, GPRS, SMS, emails and even Facebook to inform your friends that you need help. It has a 'panic' button which when pressed gets the portal page to update and a Facebook update will be posted which will show your location on Google Maps. It will also sent SOS emergency text messages to your loved ones.
The app is available for free on Android and Nokia feature phones and phones which support Java apps. You need to register with them in order to download the app.
Price: Free
Availablity: Google Play Store, Nokia Store
This is more than an app which notifies your close ones you are in trouble. The app provides some very useful information like you can get to know about the criminals in your neighborhood, it also keeps track of your most visited locations. Life 360 also keeps you connected with all the family members you care for.
It also uses GPS to inform your friends and relatives on your exact location through emails, text and even phone calls once you are in trouble and you press the panic button. You can even keep track of your closed ones as to where they are.
Price: Free
Availability: Google Play Store, Apple App Store, BlackBerry
Last but not the least, Street Safe is a real premium app which truly takes care of your security. In case you think you are in trouble, Street Safe helps you with a personal Safety Advisor, the feature is called "Walk with me" which will get the details of your situation and stay on line with you to ease you up until you reach home safe and sound. In case due to some trouble, the call is cut the safety advisor will get you local police help.
In case of a more emergency situation, there is a feature called "silent alarm", they will get local help for you on your exact location immediately using GPS and also get the authorities your physical description.
Both the features are truly great and should make you feel secure. Another great thing is that app being free is available across wide range of platforms.
Price: Free
Availability: Google Play Store, Apple App Store, BlackBerry, Windows Phone Store
So these are the top apps for safety of Women according to my opinion. Be sure women to download one of them and be safe!