Logo is the important segment of website or blog and plays an important role in branding. The designing of logo completely depends upon what product you sell or offer from your business, when it comes to blogs or website designers normally create 2D logos using Photoshop or similar image editors, but creating 3D logo in Photoshop or similar tools takes much time and energy so here we have listed up 3 useful 3D logo makers where it is possible to create 3D logo in minutes. All the 3D logo makers listed here are sharewares.
List of top 3D logo makers
Xara 3D Maker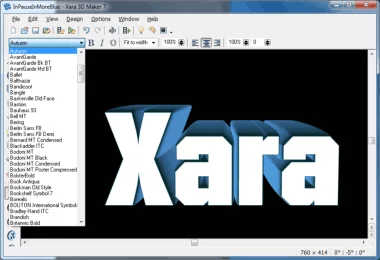 Xara 3D Maker is a most useful tool to create 3D Logos for your website or blog, here you can create still or animated 3D logo or title which can be used in website or presentation. Xara 3D Maker is easy to use and you need not require having any special skills in 3D modeling. Just write the text, apply the color and set lighting effects, that's it. You can export logo as a JPEG, GIF, BMP and PNG file formats. You can export animated effect as AVI, animated cursor (ani), Flash SWF and GIF file formats. And yes.. one more thing, you can create 3D screen savers in Xara 3D Maker as well.
Try or buy Xara 3D Maker here
Aurora 3D Text & Logo Maker
Aurora 3D Text & Logo Maker is another tool where you can select logo templates and modify them, you can also make a logo from scratch without choosing any templates. Here you get more than 200 profession templates to create stunning 3D logos. You can export logo to PNG, JPG, Tiff, BMP, GIF and TGA file formats. Along with creating logo you can apply more than 10 animated effects to create animated logos and export it to SWF and GIF file formats.
Try or buy Aurora 3D Text & Logo Maker here
Studio-v5's LogoMaker
Studio-v5's LogoMaker is one of the easy to use 3d logo makers tool to create professional logos and advertisements for website or blog within minutes. LogoMaker comes up with more than 3000 logo templates which can be modified as per your needs. Here you also get over 10,000 objects of various categories including special effects and interests etc.. Studio-v5's LogoMaker comes up with 3 different types of logo types including classic,3D and animated logos. You can export created logos to JPG, PNG, TIF, GIF, Flash and other major image formats.
Try or buy Studio-v5's LogoMaker here