Though WinZip and WinRAR are the popular file compression tools they are sharewares and only let you evaluate only for some period as a demo product. After the trial period gets over you will be annoyed with a startup window to buy the software and of course we can't blame them as we agree to evaluate the software for the given period while installing. If you are using it for commercial purpose then you can buy a license but what about home users? Why they mess with such nagging screen each time. So here we have come up with top 10 free alternatives to WinZip and WinRAR.
Here's are top freeware file compression tool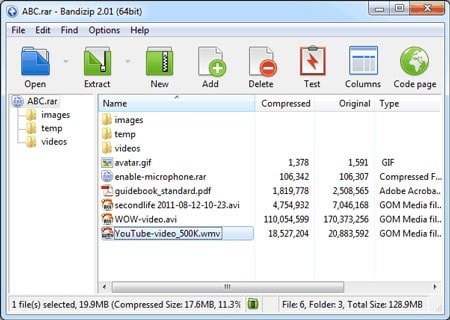 Bandizip is a free file compression tool that uses fast Zip algorithm and high speed archiving to compress  the file in either zip or rar file formats. It supports the major compression formats including Zip, ZipX, 7z, and RAR files. Bandizip also supports disk image formats such as IMG and ISO. Other formats supported by Bandizip are ACE, ALZ, APK, ARJ, BH, BZ, BZ2, CAB, EGG, GZ, J2J, JAR, IPA, LHA, LZH, LZMA, PMA, TBZ and TBZ2.. list goes on.
Along with the bunch of features you can make self-extracting (exe) file and multi-volume archives with Bandizip.
Highlight: Preview Archives, Drag and Drop function.
FreeArc is an open-source file compression utility which is popular for its highest compression levels. It can mess with many compression formats including Zip and RAR which can run in both Windows as well as Linux operating systems.  According to its developer FreeArc can work 2-5 times faster than other file compression tools. You can create self-extracting files and extract archives right from website using FreeArc.
Highlights:  Smart file grouping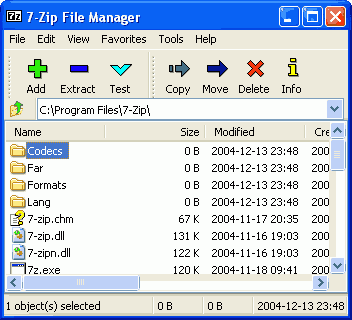 Similar to FreeArc 7-Zip is also an open-source file compression tool with high compression ratio. It supports 7z, GZIP, TAR and ZIP in packing and ARJ, CAB, CHM, ISO, LZH, NTFS, RAR, RPM, XAR & Z while unpacking. With 7-Zip you can create self-extracting (exe) packages with 7z format. According to the developers of 7-Zip its compression ratio is 2-10 % better than PKZip and WinZip.
Highlights:  Supports 79 languages, 2-10% better compression ratio than other alternatives.
iZarc is another free compression and extraction tool that is available for both Windows and iOS. iZarc supports a large list of archive formats, some major to be listed are 7-ZIP, ARC, ARJ,BIN, CAB, IMG, ISO, JAR, NRG, RAR, TAR, TAZ, ZIP. Along with this it has many features including drag and drop, creating self-extracting archives, repair broken archives and converting of archives etc.
iZip is a free file compression tool for MAC operating system, for now it supports ZIP, ZIPX, RAR, TAR, TAR.GZ & 7ZIP archives with robust AES encryption. With iZip you can send the created archive seamlessly using file sharing service. iZip is also available for iPhone, iPad and iPod touch that runs on iOS 5.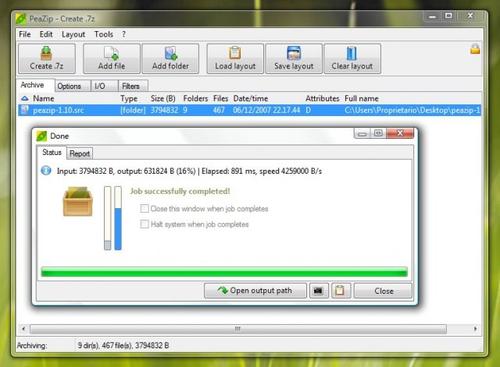 PeaZip has a clean UI and has a better look than the typical open source software. PeaZip is portable and fast on even on less powerful PCs. It can multi task at a great extend, you can extract, create and convert multiple archives all at once, create self-extracting archives and also includes other options like split and join, strong encryption, secure deletion and more.
CoffeeCup Zip Wizard is yet another super  freeware makes it easy to zip and unzip files. Additionally unlike other file-compression utilities, Coffecup has built-in e-mail and FTP features, so you can zip and send your files in just few clicks. It can also create self-extracting .exe program files and find all the ZIP type files on your hard drive.
Typhoon zip supports over 150 different type of compression formats. Cool interface which supports drag and drop, strong encryption, encrypted password manager and other features like save backup scripts and find duplicates.
Highlight: Find duplicates.
Quick Zip Lite
This is a compact version of Quick Zip. Small but powerful and stable. Quick zip lite was designed for small screens. It has features like Quie monitor, drag and drop  file to toolbar for quick compression, which is a bit easier than browsing the file and adding it for compression. It also has the thumbnail mode to preview image and video files.
This is a small utility with limited features but does the work of compression and de-compression pretty quickly. This tool is small but reliable and simpler.
I hope you enjoyed the list. Happy compression with these opensource freeware compressing tools. If you know any more free file compression tools, feel free to drop a comment below.