People love traveling! They say, "Travel until you find yourself" and it is very true. Last year I started Solo Traveling and I realized it is one of the best things I have ever done. There are different types of travelers, two types, in particular, are; the one who plans everything, from start to end and the ones who do travel in impromptu. I have been both and honestly, I entirely loved the experiences. I love the fact that I can see a lot of new places, people, culture and above all, I can share it with my followers. As a tech enthusiast and follower, I use a lot of tech travel accessories and it has helped me a lot in many situations. Today, I would like to share the list of top 10 must have travel tech gadgets when you are traveling.
Best Travel Tech Gadgets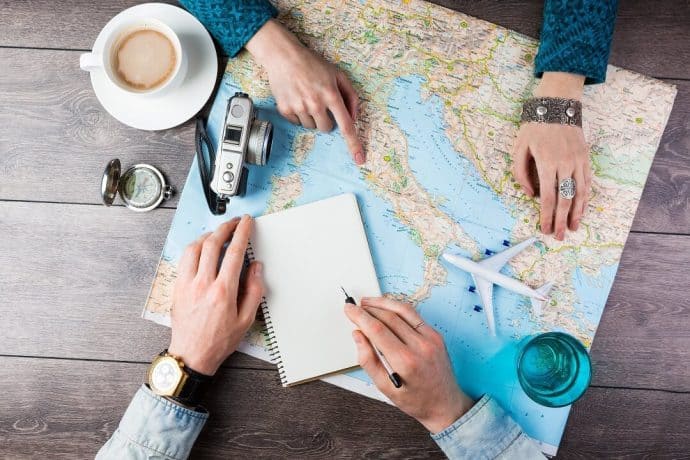 Powerbank
Power banks are extremely useful and trust me, without charge most of your tech gadgets are no better than stones. There are a ton of Powerbank manufacturers. Powerbanks should be selected based on the charging capacity, prices, and extra features if any.
When it comes to Powerbank, the first one in the list is MI Power Bank. In fact, it is safe to say Xiaomi is the ones who started this trend. The high battery capacity, good build quality, and compact designs made them on the top of this segment. There are three models, 20000mAh, 10000mAh Pro and 10000mAh. The Pro mode is bit expensive but it supports USB Type C and, 18W fast charging. Other brands to consider are; Honor, Ambrane, Hako, Corseca etc.

Action Camera
Though a phone camera is enough for most of the decent clicks but, since there are no limits to technology we get to consider other options. Carrying a DSLR camera will be a bit of tiresome and the fact that it is bit bulky will let you down when it comes to packaging. Action cameras are everywhere these days and it is a good option to consider buying one to self. If you are not sure about the expensive GoPro's consider cheap but, reliable ones like; YI, Xiaomi or SJCAM. I have a SJCAM and it is available for 1/3rd of the price compared to GoPro. An Action camera is definitely one of the must have travel tech gadget to consider if you are planning adventure trips.

Waterproof Speakers/Headphones
Music is an integral part of everyone and listening to music while traveling will help you relax even more. External speakers are a good option to consider if you are traveling in a group. It is always better to buy waterproof ones since most of such models come with dustproof too. This will be an ideal companion when you plan a beach trip. The JBL Flip 4 and Ultimate Ears wonderboom speakers are good choices. If you love traveling solo, like me, then consider buying a pair of good earphones to yourself.

Travel Charger Adaptor / Travel Voltage Convertor
A small thing like travel charger adaptor comes handy when you are traveling abroad. This will help you bypass many of the fancy power adaptor plugs which is used by other countries. You can get a good one with surge protection under 200 bucks.
If you are traveling abroad and try using the electrical devices that you use on daily basis for eg, hair dryer. There is a good chance you will end up frying it because of the voltage difference. In India, we have 220V and if you plug in a hair dryer which supports only 220 V into a 110V plug you will surely end up killing the device. Though most of such gadgets come with inbuilt converter, it is always better to carry a converter while you travel abroad.

Selfie Stick
When I was solo traveling, one of the best companions was the selfie stick. I clicked thousands of pictures using selfie stick and it was fun. You will feel like clicking selfies by holding it on hand but, trust me, a selfie stick will make a huge difference. Selfie sticks come in different pricing and I would suggest you go for the basic ones. There are selfie sticks for GoPro, DSLR, and smartphones. Look out for the build quality and reliability since you are mounting gadgets which cost a fortune.
A Kindle
If your travel includes hours of commuting, it's better to carry a kindle. Those of you ask, why not carry books? I would say, books are heavy and it eats space inside your backpack. Kindle is lightweight, it offers portability and can be held in any way. If you don't have a kindle yet, it's better to start with the basic model and see how do you like it. If you still prefer to go back to holding a physical book then, the choice is yours.

Waterproof Bag
The electronic gadgets don't like getting wet and when you are traveling, a water damage to your valuable gadgets is something which you can't afford. A small waterproof bag will come handy when you are on a trekking or on a beach adventure.

Travel Apps
The apps like MakeMyTrip, Yatra, Uber, Ola, OYO, Airbnb etc. has revolutionized the way we travel. I make booking one month prior to my travel to avail great deals. It is important that you install all these apps if you are traveling.
Since we are talking about traveling, I would like to share my next trip with you people. I am planning to visit Chennai, Pondicherry and then book Chennai to Mumbai flights. I am also planning to visit Mahabalipuram, a place with a lot of historical significance, on the way to Pondicherry.