Touch screens have emerged as a vital element of modern life. The healthcare sector is no exception and has been greatly revolutionized by this technology.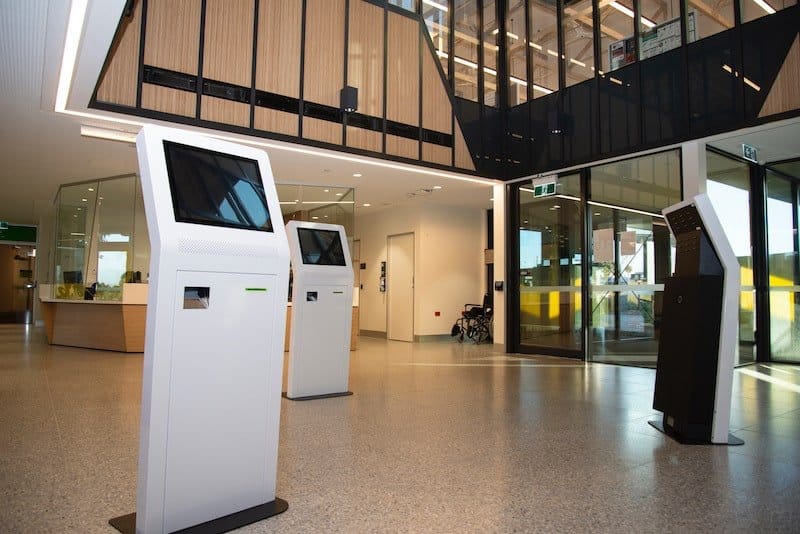 In contemporary times, the introduction of touch screen technology into the healthcare industry has produced significant and remarkable results. Patients can now register themselves into the hospital for an appointment, reducing crowds and delays. At the same time, it also allows more efficient use of the health care receptionists' valuable time. Positive impacts have also been made as far as the stress levels of patients and healthcare workers' interactions are concerned.
For healthcare professionals, the experience provided to the patients and visitors is definitely a top priority. The appropriate technology may significantly enhance the patient's feelings about hospital visitation, which might relieve various concerns among healthcare staff. So, what role does touch screen technology play to assist? Here are the ways how touch screen technologies have revolutionized the healthcare industry:
1. Minimizing the Waiting Times
Touch screen displays provide a wealth of functions that not only reduce the stress faced by healthcare workers they encounter every day, but also assists to lessen their burden. Often, patients are visibly concerned about visiting a hospital because of the long lines and lengthy waiting times. This happens to be one of the major reasons for complaints in most hospitals.
Touch screens enable self-service and reduce the need for patients to wait for healthcare workers to attend them. Thus lowering the long waiting times. Also, the systems are very user-friendly and error-free so one does not need to be tech-savvy to use it.
Upon introducing touch screen technologies in hospitals, there has been a drastic reduction in waiting times and long lines. Furthermore, the number of patients that used to leave the hospital due to long waiting times has also declined following the implementation of this technology.
2. Enhancing Patients and Visitors convenience
Sometimes, patients can end up feeling confused and even intimidated when they enter a large hospital. However, touch screen technology has the solution to this problem. Many hospitals nowadays are using Commercial grade touch screen Kiosk that comes with wayfinding features.
The wayfinding feature provides the patients and visitors with easy-to-read maps and directions that enable them to easily navigate around the hospital. Users may quickly look up their chosen destination with the help of the broad, vivid, and user-friendly touch screen monitors. Thus, avoid facing difficulties finding the department, cabin, or doctor that they are looking for.
Moreover, Patients with vision problems will benefit more from a touch screen than from regular printed forms. The patients can adjust the brightness accordingly or even use read-aloud features of the technology.
3. Helps to Overcome the Communication Barriers
In multicultural societies, hospital employees may face people who prefer to communicate in a language other than English. As a result, patients and healthcare employees may face language and cultural barriers. Thankfully, touch screen technology can help to bridge such gaps. The technology will help users to pick the language they prefer and receive instructions and information in that chosen language. Additionally, it can be useful for people with lesser literacy skills who need signs and visual guidance to navigate them through the procedure.
4. Touch Screen Enables Superior Privacy and Data Protection
In recent times, ensuring the privacy, confidentiality, and data protection of clients has become one of the top priorities for businesses. However, in the healthcare industry, data protection and confidentiality are more important compared to any other industry. When addressing health issues, all patients demand confidentiality. This is where touch screen technology can play a huge role. Touch screens eliminate the need for patients to verbally communicate or explain potentially sensitive information.
Touch screen devices are also safer and better protected. The doctors and health professionals can add passwords or locks to the devices to prevent unauthorized access to other parties and thus protect the patient's privacy. Since touch screens do not necessitate the use of a mouse or keyboards, the users will not be vulnerable to phishing attacks.
5. More Organised Filing System
The conventional way to schedule and register for an appointment in a hospital was to provide your identification and necessary information to the receptionist, who would then record the information in directories or logbooks. This has long been a problem for the staff, particularly during busy hours, resulting in an overloaded reception area and the risk of losing vital information.
This has long been a problem for the staff, particularly during busy hours, resulting in congested reception areas and the risk of losing vital information. However, due to touch screen technology, patients are no longer required to consult the receptionist, and the reception area is considerably more organized and less crowded. Thus, the patient information is better managed and organized and there is no risk of losing important data.
6. Provides Return on Investment
Lastly, it will not be fair to discuss the advantages of touch screens in healthcare without mentioning that the system is extremely cost-effective. Although initial investments will be required to implement the touch screen technologies, the returns are likely to be worthwhile in the long term. The touch screen has the capabilities to serve many patients quickly, and also without any errors. The system does not require additional hardware like keyboards and mouse which need replacements on a regular basis. Thus, touch screens provide great opportunities for saving expenses.
Touch screens have the potential to make matters much simpler in the healthcare industry. Healthcare providers can use devices to update and track medical records, check patient files and medical images. Indeed, this technology allows healthcare professionals to handle practically every non-clinical element of their work with the touch of the screen. There is no doubt that touchscreen technology will be defining the future of healthcare thanks to its powerful capabilities of saving precious time, cost, and by decreasing errors and maximizing efficiency.