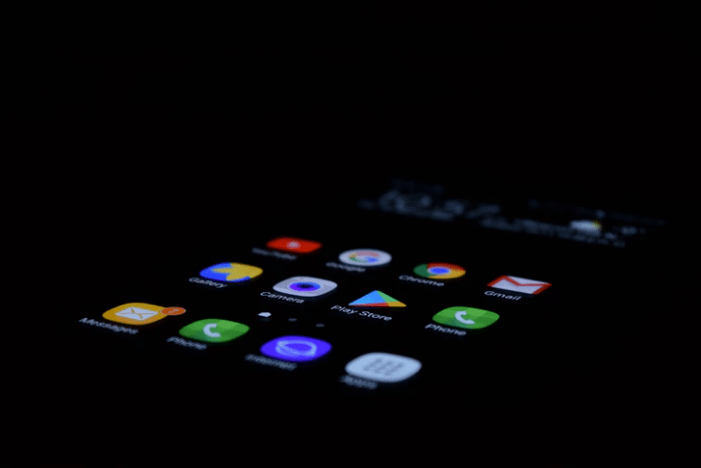 For any Android user, managing the applications and their individual data usage is a hefty task. You have no control over how frequently an application is able to access your Internet connection.
When a particular application is using your Internet services in the background, it also puts your private information at a high risk because there are many malicious applications out there which send your data without any permission.
If you are looking for ways that can help you save some data and increase security for your Android device, then your best possible solution is getting a Firewall application which gives you multiple options to block access to the Internet. A firewall app acts a monitoring tool which will actively record the incoming and outgoing traffic, thereby giving you good control over how your Android device communicates with the Internet.
The Firewall app can block suspicious traffic, thus maintaining your security. When you install a firewall app in your Android device, you get to allow/block Internet access for individual applications.
Now, that you know what exactly a firewall app does; you can very easily download and install one to increase the security of your Android device. The best part is that these firewall apps are available on Google Play Store, so you wouldn't struggle in finding one.
To make it further easy for you, here is a list of 5 best Firewall Apps for Android that you can get in 2019:
NoRoot Firewall-The best Firewall App for Unrooted Android Devices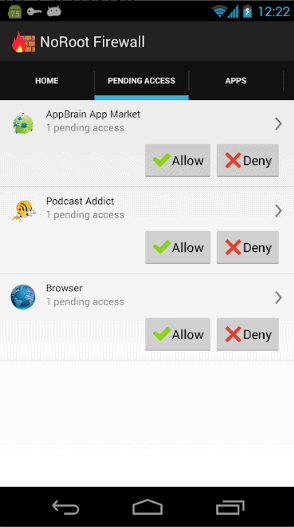 The first app in our list definitely has the best features when you compare it with other available options for an unrooted Android device.
NoRoot Firewall manages all your apps and allows you to have total control over which applications can have access to the Internet including both mobile data and Wi-Fi. You will be able to monitor and analyse the Internet usage for individual apps.
It will prevent your private information from being sent to the Internet and you can use the app to block the access to particular websites. In the beginning, the app's user interface may seem a bit complicated for a beginner with all the configuration options. However, once you get a hang of it, things will certainly become simplified. The only downside of the app is that it won't work on IPv6 addresses, but this doesn't make the app less useful. For all the amazing features and free cost, if you want to give it a try, then you can download NoRoot Firewall app from here.
NetGuard- Simple to use Firewall App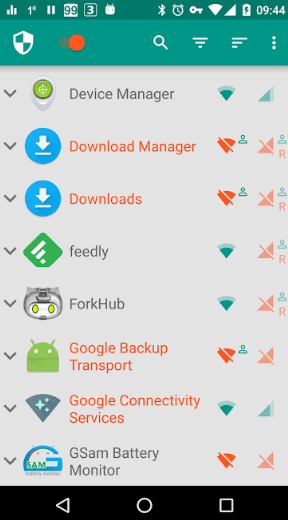 Another, great firewall app to block Internet access for individual applications, NetGuard will provide you both simple and advanced options to increase your device security.
With NetGuard, you will be able to individually give permission to apps and websites to use your Internet services. The app has an in-built VPN, which needs to be enabled in order to configure all the apps and addresses in the device.
The best part is that NetGuard helps you in saving data consumption and increases your device's battery life. It will monitor and record the data usage for each app in your device and will notify you when a particular app gets access to Internet. The app also has some advances features such as blocking specific IP address for individual apps, the option block while roaming, etc.
NetGuard is constantly developed and supported. Even though the app is available for free, but to unlock the more advanced features you have make in-app purchases.
With a clean interface and simple settings, this open-source firewall application is quite handy and will give you a one-tap solution to manage all apps in your Android device.
Get NetGuard from here.

AFWall+ – Needs Rooted Android Device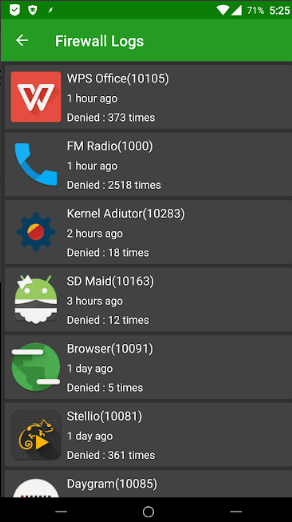 AFWall+ provides you a total control over the applications; however it needs root access to your device. So, you have to root Android device before you get it installed.
Once you have rooted your Android, you can monitor and control internet access for both system and installed applications. It
When it comes down to features, AFWall+ wouldn't disappoint you. it comes with a variety of configurations and filters that you can play around with such as hiding apps, option to lock app settings, export rules, change preferences, multiple profile support, etc. The app supports LAN, VPN, and tether.
It is basically a front end app which lets you prevent apps from accessing data services in a fine-tuned manner.
Rooting you device can be a little tedious task, but aside from that AFWall+ has a very simple interface which works well on almost every Android device. If you want a firewall app that offers ultimate control and security, then get AFWall+ from here. And, it can be downloaded for free from here.

Mobiwol: NoRoot Firewall- Simple, No-Nonsense Android Firewall App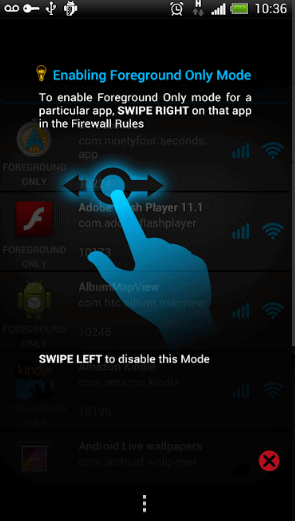 Mobiwol takes the prize for the amazing visuals and intuitive user interface. With a single tap, you can restrict internet connection for both system and installed applications.
The best feature of this firewall app is that it allows you to restrict individual apps from accessing Internet after a certain usage limit. Once the application reaches a particular usage limit, Mobiwol will block further data usage. It will also alert you when a new application tries to access the Internet service.
Mobiwol offers you both foreground and background options to allow or block access to Internet for selected applications.
This is the perfect app, if you are looking for something less complicated. The app can be downloaded for free, but it does run a lot of annoying ads. Get Mobiwol from here.

NetPatch Firewall-Blocks Traffic even when the Screen is Off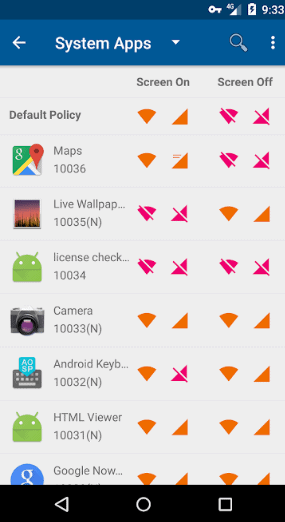 Similar to other firewall apps in this list, NetPatch also provides control over individual applications in your Android device for both mobile data and Wi-Fi. However, what makes this particular firewall app stand out from other available options is that you can allow/ block the apps from using internet while the device screen is off. This feature helps you save a lot of data and battery of your device.
NetPatch also allows you to block specific websites, addresses and create your own domains, settings, etc. It will protect your private data and alert you in any application is trying to access the Internet.
Also, it exclusively supports Shadowsocks and ShadowsocksR proxy which is usually not found in other similar apps.
The application is free and works without root. However, for more advanced features such as ability to view network logs, block domain names, etc. you can go for in-app purchases.
Get NetPatch from here.
Wrapping up:
That's it for now. There are a lot of other options that you can find in Google Play Store. However, the ones listed here will indeed fit all your application management needs. These listed firewall apps will give you freedom to customize the network traffic and control over the data usage.
We hope you find this post informative and helpful.