We're you're in business in the twenty-first century, delivering the right message to the right audience can mean the difference between unparalleled success and utter failure. Today, consumers are bombarded by a multitude of messages across an ever-expanding field of media, which means differentiating your brand and standing out from the competition is harder than ever. That's why digital signage solutions are more popular and more in demand than ever before: panel display, universal mount, and freestanding modules, along with full outdoor displays and custom-cut LCDs, all deliver your message with professionalism and poise, and can now be found everywhere from college campuses, business districts, airports, bus stations, roadways, to the suburban mall or fast food joint. No matter the location and software used, marketers are able to engage their audience with this new exciting technology.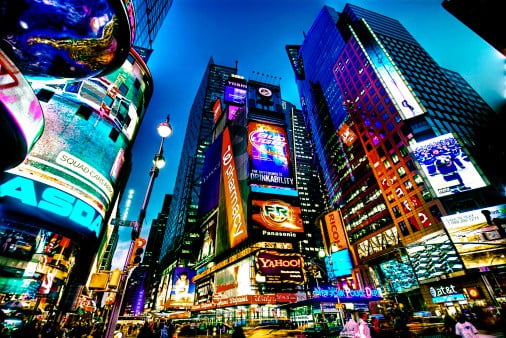 Dynamic digital signage provides much more than what dated, stand alone, paper billboards of yesterday could offer. While having a static billboard may now seem obsolete, the principle behind their operation still remains a stalwart feature of how we broadcast messages. All that's needed is a computer with a network interface, and on-screen data can be updated to real time. Multiple screens in a multitude of locations can be updated simultaneously. Importantly, animation, scrolling text, and sound are easily incorporated, revolutionizing the static interface of the traditional billboard.
People seem to enjoy and respond positively to screen-based advertising. According to recent research, over 80 percent of consumers watched digital signage, 70 percent said that digital signage was entertaining, and 41 percent claimed they would be more likely to visit a retailer or other location based on digital signage alone. More consumers could recall the products from digital advertising compared to standard television ads watched in the same day.
There are other ways of measuring ROI than dollars and cents. Measuring digital signage marketing efforts have traditionally evaluated their impact in terms of sales. One newer solution for marketers is the use of Anonymous Video Analytics (or AVA), where cameras embedded in digital signs record audience facial responses and impressions, which are then measured and tabulated. While protecting viewers' privacy, the feature records length of observation, gender, age, and other categories—invaluable information for the modern marketer. The longer the exposure time to the message, the better. Studies have been performed comparing audience responses to digital versus paper billboards, calculating the resulting metrics via exposure time. Over a period of several months, results show that more people view digital signage than paper-based, and importantly, they look at the advertisements for longer periods of time.
High-end commercial LCD monitors for digital signage are available in a wide variety of display sizes. LCD units include backlit displays, media boxes, hosting, licensing, and multiple-year service contracts as part of the typical packages available for installation. Customizable video and animation, text and graphical elements for logos, and cloud-based content management are also often included. Software packages include document workflows for managing and sharing documents and document output management for fully secured printing, scanning, faxing and copying. Data is completely secured and includes DRM. With all the available options and cutting-edge technology, it's now a piece of cake to find commercial digital signage solutions that offer exciting new avenues of revenue for all businesses, no matter what state, size, or strategy. Don't be afraid to ask, shop, and research around to find the best deals and best packages.