"Self love is the only Mantra to happiness"
A budding entrepreneur, Mrs Ritika Jatin Ahuja is an icon of sorts and a name to reckon with, the COO of Big Boy Toyz she comes out to be a graceful and independent woman. A well-conceived effort, planning and execution from her side became the reason for the bright and fruitful inception of the Merchandise section.
Her leadership and motivation encourages the entire team, she is well known for taking bold decisions and overcoming challenges without compromising on the ethics and finally facing the business and organizational issues as an integrated unit.
Taking each day as it comes, she has nevertheless geared herself and is sufficiently equipped to handle the pressures from unexpected quarters thereby striving to make the merchandise section as big as Big Boy Toyz in due course of time.
The talented multitasking lady surely has her hands full and the manner in which she has balanced motherhood and profession with harmony and precision is truly commendable.
We had an amazing interview with Ritika Jatin Ahuja and sharing some of the insights from our interactive session:
1. What would you suggest the younger generation who are often in a dilemma to choose something between their passion and career?
I feel whatever you do in your life it's important you love doing it because otherwise the sustainability of the career would never be established. So, if you have a certain passion you need to be creative enough to pursue it, when I started collecting perfumes I never knew where it was leading me but then I loved this and it soon became my passion.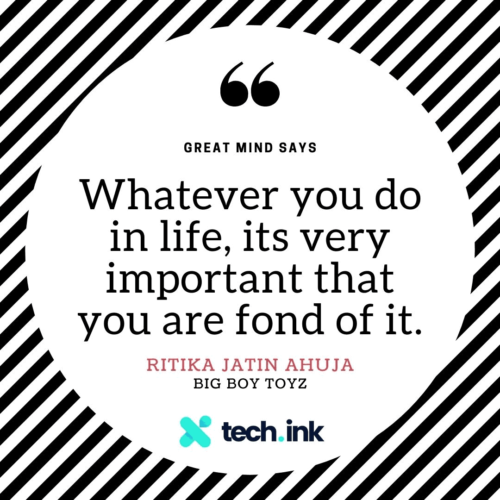 2. You are specialized in the interior design of jets and yachts from the University of Arts London could you tell one experience from the college that impacted you?
My three years in London were the most amazing years of my life, it changed my entire personality, I became more independent, and I was becoming more confident about myself. I understood what life is, it really taught me the importance of hardwork and how to live life all by yourself. You need to be very street smart and you need to understand and sympathize with people and develop good bonds.
The biggest challenge for me was to break my horizon and barriers and to know more about different cultures and religions to establish that bond with the international students.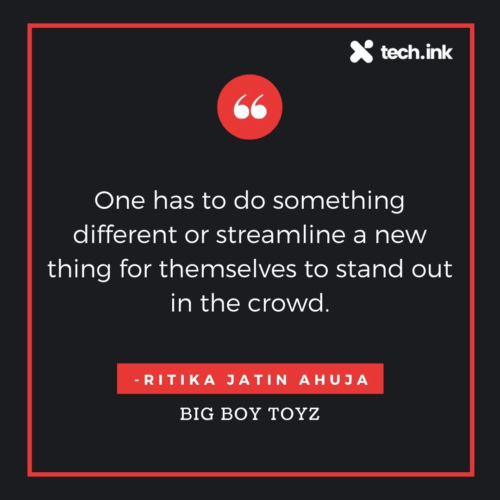 3. As the COO of Big Boy Toyz, how has life changed for you and what keeps you motivated to work towards excellence?
It's actually difficult, but I am in that 5am club, I wake up at 5am and get done with all the important things before my kids wake up!
I wake up 3 hours prior to when everyone else wakes up and I get done with almost all the stuff and then get off to office. The change only happens once you have kids because you know you cannot compromise over there.
4. Which is your favourite show you love binge watching?
Gossip Girls, I love that show, I am a teenager at heart and I love this series. In schooltime I used to love F.R.I.E.N.D.S and I am more like Rachel, I love shopping!
5. One gadget you cannot live without?
I guess that will be my phone and my earpods, I can definitely not live without both of them.
6. That one thing you are obsessed about yourself?
I think it's the way I talk, I have this balance of being crisp and yet soft, I come across as a person who is approachable and I am very proud of this trait.
7. One orthodox thinking you would like to change in the society?
I think the biggest orthodox thought is the "Nazar Lagna thought". I think one should go out of it now, one should take credit for whatever is happening in their life, good or bad, because ultimately this is life, things happen and we need to grow out of this cocoon.
8. What has been your one Mantra which you have always followed in your life?
"Love yourself"
I guess that is the most important thing because only if you love yourself, you have love to distribute to your family, you would be much happier as a person, if we are content about yourself you would be at a better place. If you are making yourself a priority everyone makes you a priority so yes LOVE YOURSELF.
9. How did you deal with insecurities in your life?
During my college I came across this point when I was scared about my grades, I was so scared about that, but the only person who could help me with my insecurities was myself, it took me long walks, self healing therapy sessions and I again made myself confident that I have come this far I can totally get this thing done successfully.
So only you can heal yourself, always believe in yourself because you are worth everything!
10. How did you deal with criticism in your life and how is it handling things at Big Boy Toyz?
So you know initially when I joined.There were people you know they were kind of waiting for me to fail, and I used to understand the energy they gave out but I set my strongest point and communicated efficiently. So I just got people on my side off the table rather than trying to prove my superiority over them so I think that was just a bigg boss move.
11. If you are writing a book on yourself what will be the title of your autobiography.
Wow I really don't know. I am a simple person but I have a lot of stories to tell. It's a simple journey for me but with lots of interesting stories I don't know it's a roller coaster ride for me so yeah it will be a pretty interesting autobiography.
12. What is the name of your favourite book of all times?
My favourite book would be The Secret – Rhonda Byrne. An amazing read!
13. Do you have any specific success story that you crossed like a milestone that you always wanted to accomplish?
So you know when I first launched my first BBT perfume that was a very big milestone for me it almost took me a year for the final product to come out. There were pre-bookings which were really overwhelming as people were ready to buy a perfume without even knowing the smell of it!
We got 8000 plus orders. It was like a Win-Win situation for me. Yes, I kind of achieved something big.
14. Ma'am how did you manage things during covid how was lockdown for you?
For me I really loved my time during covid I was really not getting time for myself and 2020 has been a total makeover for me I have lost considerable amount of weight, I learned cycling, I was cooking, baking with my daughter, in short we were living our life with a ray of positivity.
Honestly, I really feel that it was a blessing in disguise for me and I also feel how things affect us all depends on how you take it. There were also a lot of people who were feeling depressed sitting at home but I took it the other way around like I used to plant activities throughout the day with my family for us to do something new everyday.
It is said that a woman has the power in them to run the entire house and radiate positivity, so I think I did the same.
15. Ma'am one one thing that you want to tell all girls out there, a piece of advice maybe?
Being a woman of course it's a priceless gift. Being a woman is the most blissful and blessing thing getting pregnant being a mother nurturing your family taking care of your own house, you need to be independent and feel proud of yourself. Love yourself everyday and a very Happy Women's Day to all the gorgeous women out there!
So this was Ritika Jatin Ahuja, COO, Big Boy Toyz a proud winner of the the National Excellence Award 2018 and the Women Entrepreneur award 2018, Young Women Leader in Operations by the Indian Conventions, Most Influential Leader of the 2018 by Transformance Forum and the Gem of India Awards by AIAC which shows her steadfast and true blue demeanor which has been the catapulting differentiator.