Windows 8 has now been released to the mass market and once we came across what Windows 8 is going to bring, we saw a wave of Tablets, convertibles and all types of hardware possible by makers due to the new touch inclined interface brought about by Windows 8. And if Windows 8 has to be a success, it needs hardware makers to bring about different forms of hardware such as the one we'll be talking about now that is the Sony Vaio Tap 20. Devices like the Sony Vaio Tap 20 are surely going to make sure Windows 8 reaches all type of people's choices. The Sony Vaio Tap 20 is a full-featured touchscreen all-in-one desktop PC running Windows 8, with some portability mixed in, i say some because its rather a huge device to be called a Tablet, instead its an All-in-one PC.
Sony Vaio Tap 20 Specs
| | |
| --- | --- |
| Manufacturer and Product | Sony Vaio Tap 20 |
| Processor | Intel Core i5-3317U |
| Screen Size | 20in |
| Graphics Card | Intel HD Graphics 4000 |
| RAM | 4GB |
| Type | Touchscreen All-In-One |
| Storage Capacity (as Tested) | 750GB |
| Operating System | Microsoft Windows 8 |
Design
The Sony Vaio Tap 20 is small in my opinion for an all-in one desktop, if a bit thick. It measures 504 x 45 x 304  mm and when the kickstand, it extends back 180 mm. Coming to its design, The Sony Vaio Tap 20 looks like a super sized tablet with a 1-inch-thick glossy black bezel framing the massive 20-inch display. A 1.3-pixel webcam sits just above the display in the middle, on the right is are indicator lights for wireless, CPU usage, battery life and power, and on the left by a silver Sony logo. A Windows 8 button (which takes you to the Start Screen when pressed) is at the very bottom of the display in the middle.
The back has tapered edges, speaker grills are present run along the top and bottom and the flat groves cut into the elegant, tapered design house the Tap 20's limited selection of ports. Buttons for VAIO Assist, auto-rotate, volume and power run along the top right edge. It houses a 5000 mAH which can run the system for up to 3 hours sans power cord, depending on the brightness setting and use mode.
The aforementioned kickstand lets you prop the system up like an all-in-one desktop, or lay it flat like a tablet so you can share the touch surface. The hinge holds the system up at any angle in between, so you can find one that lets you touch the screen comfortable.
The Sony Vaio Tap 20 ships with a wireless AA battery-powered mouse and keyboard, both of which feature the same all-white design as the rear of the device. The island-style keyboard, although small, manages to fit in a dedicated number pad, as well as discrete keys for sleep, volume and mute. The keys offer enough tactile feedback to make typing a pleasure. Although the onscreen Windows keyboard is good enough and users who love typing on touchscreens will find it lovable.
Display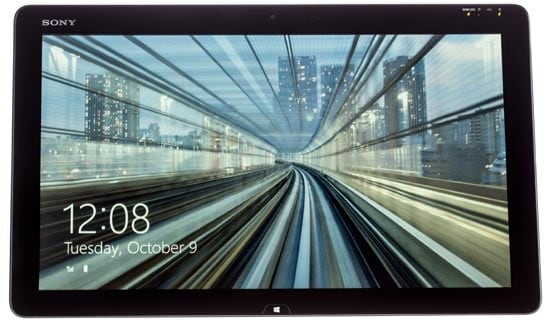 The main attraction of the Sony Vaio Tap 20 is the widescreen 20-inch display of the IPS type with a resolution of 1600-by-900 which is a bit on the low side considering we expected a full HD display on such a large touchscreen. It features ten-point multi-touch which is pretty much the obvious thing and it has integrated Mobile Bravia Engine (the same software used on Xperia phones and tablets), the all-in-one boasts lush colors and generous viewing angles which should make high quality videos and games poop out.
The only downside is the resolution mainly because we can see individual pixels in text and things din't look as sharp as we would expect.
Under the Hood
Sony has built its new AIO on mobile PC technology in the Sony Vaio Tap 20, including the same 1.7GHz Ivy Bridgeultra-low-voltage Core i5-3317U CPU used in many mainstream Ultrabooks, with a Turbo Boost up to 2.6GHz when needed. The system also has 4GB of system memory that is RAM and uses Intel's own HD 4000 integrated graphics. Storage tasks fall to a 750GB mobile hard drive with no SSD cache. No optical drive is built in; either you get your video or audio content via the network, or you attach an external optical drive.
It has the usual 802.11b/g/n Wi-Fi. The Tap 20 has a built-in Ethernet port in addition to a pair of USB 3.0 ports, audio ports, and an SD/Memory Stick reader.
Performance
The performance is somewhat average with the Sony Vaio Tap 20 since it uses a low voltage CPU although it handled everyday tasks with a ease but synthetic benchmarks suggest it lacked behind other devices of the same price point.
On Geekbench, a benchmark which measures processor and memory performance, the Tap 20 turned in a score of 5,683. This stacks up fairly well against the score of 6,985 achieved by the similarly configured Sony VAIO S Series 15 (2.5-GHz Intel Core i5-3210M CPU, 6GB of RAM, $999), but falls far behind the desktop replacement category average of 10,358.
The Tap 20 saw similar results on benchmarks designed to test its hard drive speed. While the Tap 20's 750GB, 5,400-rpm hard drive booted Windows 8 in a tolerable 44 seconds – 6 seconds faster than the average desktop replacement – it copied 5GB of mixed media files in an interminable 7 minutes and 1 second, for a rate of 12.1 MBps. The Sony VAIO S Series 15, by contrast, achieved a transfer rate of 35.1 MBps, while the desktop replacement average eclipsed the Tap 20 by more than 50 MBps.
The all-in-one struggled on the LAPTOP Spreadsheet Macro Test as well, taking 5 minutes and 47 seconds to match 20,000 names with their corresponding addresses. The average desktop replacement, in comparison, completed this task more than a minute faster.
Overall the performance is acceptable if you don't expect mindblowing results .
Coming to the graphics power, the Sony Vaio Tap 20 is powered by only an Intel HD Graphics 4000 chip, the VAIO Tap 20 doesn't have the graphics power to handle even casual games such as "World of Warcraft." On the 3DMark 11 benchmark, which measures overall graphics performance, the Tap 20 turned in a measly score of 569. The average big-screen laptop score is 3,219.
Unfortunately, if you plan to get the Sony Vaio Tap 20 as your gaming device then be sure to be disappointed as the low benchmark scores result in stuttering frame rates even in average games which don't demand great graphics muscle let alone graphics intensive games.
Windows 8 and other Tap 20 software
Thanks to the huge touchscreen, Windows 8 is a pleasant experience all around in the Sony Vaio Tap 20 although it may take bit of a time getting used to the massive display. The Windows 8 desktop mode looks identical to its predecessor in Windows 7, with one glaring difference–there's no Start Menu. First-time users will undoubtedly find this obnoxious as most of the time you will be taken to the new start screen by default rather than the desktop mode. Another con is trying to tap on the tiny desktop icons can turn into a major pain.
However thanks to the widescreen display on the Sony Vaio Tap 20, flicking from app to app with fingers quickly became a joy, while navigating in desktop mode might result in a bit of frustration. Touch gestures such as pinch-to-zoom, rotate and two-finger scrolling worked reliably, and the accelerometer also works for the good.
We are not going to detail Windows 8 since you must have already read all those Windows 8 reviews. All in all Windows 8 works as expected, smooth and fluid touch interface with the old age reliable desktop mode.
Although there are not much apps at the Microsoft Store right now but Microsoft is working hard to get more and more developers on board.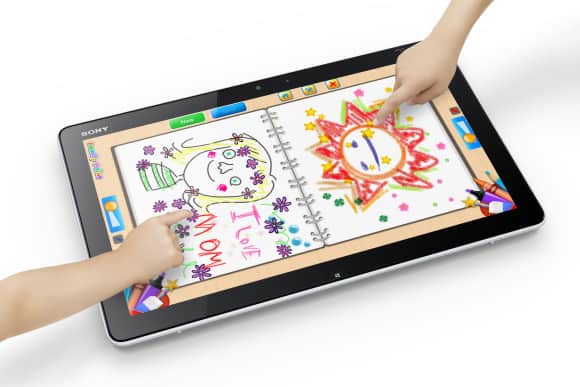 Sony has bundled the Sony Vaio Tap 20 with a number of family-friendly applications designed to take advantage of all-in-one's 20-inch, 10-point touch screen.
ArtRage Studio Pro allows users to paint with their fingers or with capacitive brushes. Family Paint, an application geared toward children, lets two users draw pictures side-by-side. Each user can select from a variety of crayons, colored pencils and markers, and draw or erase his or her picture without affecting the other's art.
Fingertapps Organizer functions as a digital calendar for the whole family. The utility allows multiple independent users to create tasks and to-do lists on the same calendar, as well as leave sticky notes, drawings and voice messages for their family members.
Music by Sony and Albums by Sony functions as a player, organizer and store front for music and movies. It utilizes DLNA, meaning that you'll be able to stream content onto the Tap 20 from other DLNA-compatible devices.
My Daily Clip is designed to reinvigorate family game nights, My Daily Clip functions similarly to the board game Scene It – a new movie clip is downloaded to the Tap 20 each day and up to four players can answer trivia questions related to the clip. Points awarded to players for correct answers can then be used to rent or buy movies on iTunes. Unfortunately, you can only watch one clip per day, and the selection of movies is restricted to those from Sony Pictures.
VAIO-specific utilities include VAIO Care, which lets you troubleshoot issues, optimize performance and install updates; VAIO Control Center, which is used to manage battery life, sound quality and other settings; and VAIO Transfer Support, which lets you easily migrate your data from an old computer to the Tap 20.
A few Microsoft and third-party applications have been preinstalled on the Tap 20 as well, including Skype, Kaspersky antivirus and Hulu Plus.
Battery Life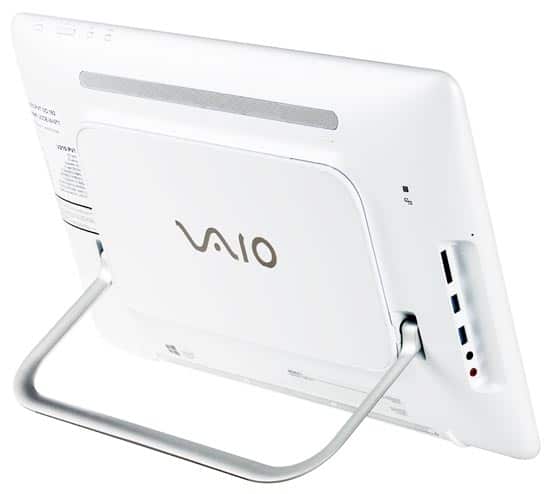 For 99 per cent of its use, you will be sitting in front of the Sony Vaio Tap 20 as if it were any other midrange all-in-one desktop PC. For the other 1 per cent of the time, you can unplug the system, and it will continue to stay on and connected while you walk the system over to another room and plug it back in. Well more seriously, the battery life is what Sony had made us expect, on the LAPTOP Battery Test (continuous surfing on the Web over Wi-Fi), the Tap 20's 5,000-mAh lithium ion battery managed to last 3 hours and 50 minutes
The battery is good for keeping the system active while you transport it from room to room, but as we've been saying, it's not that great for an extended unplugged computing session.
Conclusion
If you consider Sony Vaio Tap 20 as a super powerful device then this is surely not for you, it unfortunately doesn't deliver the goods one would expect from a $1000 PC. But it is great value for  those looking for a device with integrated battery and family-friendly applications.
Windows 8 is truly a joy on that gigantic display but many may find the low resolution display and weight somewhat to be a turn off. It's relatively underpowered as a desktop system, but its strong suit is as a shared family PC.
http://www.youtube.com/watch?v=xoNrbUtNngE