Google Books which is one of the popular service by Google has variety of books including magazines, medical, psychology, literary and criticism etc. By using Google books you can buy or download over 3 million free books, once purchased you can read them in your PC browser, mobiles and tablets including Android and Apple devices. However viewing and purchasing the books using Google books app is not available in some countries including India but Google is working hardly extend this service to all the countries as quickly as possible.
These books can be also viewed using Adobe Digital Editions software which is a free tool to view and manage eBooks and publications, this software supports eBook formats that includes PDF/A and EPUB formats.
Let's come to our main topic, here we have discussed 3 useful google book downloader online software for both Windows and Mac operating systems to download Google Books. The tools we elaborated over here can download the books which are marked as "full view" in PDF, JPEG or PNG format. There are very few resources available to download Google Books to read them offline.
Also read:
Google Books Free Download Tools
Google Books Downloader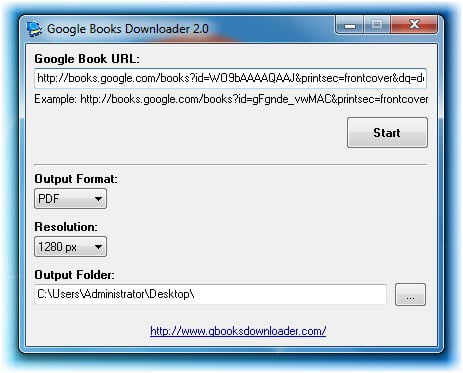 Google Books Downloader is a free tool that can download the books marked as full view in PDF, JPEG or PNG format with up to 1280 pixels of screen resolution. Specify the book URL, choose the destination to save the book and click on "Start" button to get the books. This is a very handy and light software that is available for both Windows and Mac OS. Download it here.
Google Books Downloader Lite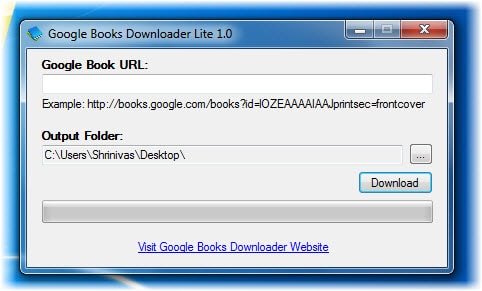 Google Books Downloader Lite is a free and open-source software to download Google Book as a PNG file format that are available as "full view". This application is available only for Windows that requires Microsoft .NET Framework to run properly. Get it here.
Google Book Downloader (Script for firefox)
Downloading Google books using the script is a tricky method, that need some pre-requisites including IDM (Internet download manager). This script only works on Firefox that requires to install Greasemonkey and Flashgot add-ons in Firefox. Just go through the steps below to use google books downloader script.
First of all install the Greasemonkey along with Flashgot add-on in Firefox
Once installed both add-ons, it is time to install Google book downloader userscript and once done with this restart the firefox browser
Now open Google books and search the book you want to download, you will get a download button at the left side

Click on download button that creates links for each page of the book, select the links as shown in screenshot and right click on any one link then press "FlashGot selection" option.

That's it, now IDM catches all the links, select all the links and download.