In our earlier post we have discussed about NVDA which is a free screen reader software for visually impaired to interact with the computer, in this post we have listed top android apps for blinds to use their Android mobiles with ease. Google play has some really interesting apps for blinds and visually impaired mobile users, by using these apps visually impaired people can make calls, receive the calls, send and read SMS, know the current location by the help of GPS, set alarms and even list out the installed apps as well. Some of the following apps we mentioned below are free and some are paid apps.
Also read:
List of Android Apps for Blinds and Vision impaired People
TalkBack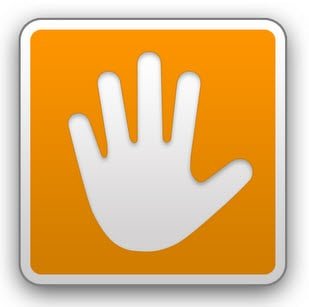 TalkBack by Google is a most popular free screen reader service that allows blinds and vision impaired people to use their device with more comfort and ease. It gives spoken feedbacks for menus, texting and screen elements of installed android apps, it even reads the subject of e-mail while using Gmail app.  For now TalkBack can't read webpages you surf on your device which is an essential feature developers can add to it. TalkBack is must use app for visual impaired people, download it here.
Blind SMS Reader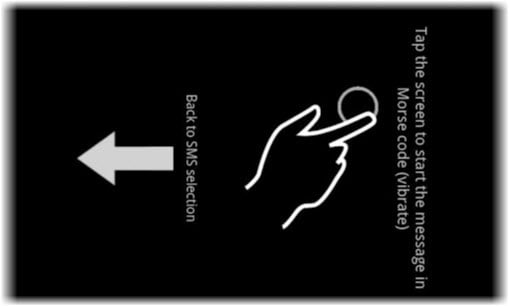 Blind SMS reader by Michele Pisani is a free app which converts the received SMS to Morse code or Braille. To play the Morse code, just tap your screen and tap again to stop. For Braille you will get long and short vibrations (long vibration for dot and short for space). Blind SMS reader is available in free and paid versions, free version has some limitations. Get this app over here.
Mobile Accessibility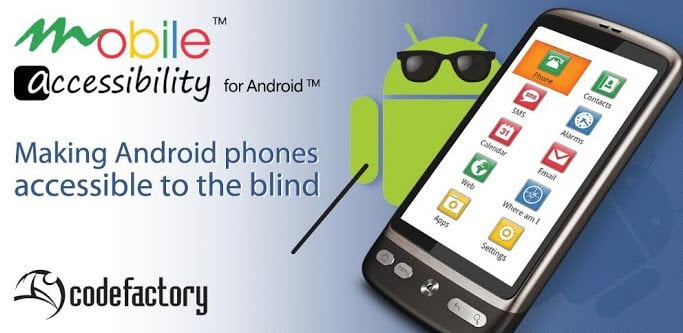 Mobile accessibility is a paid app that has many options. This application allows blinds and vision impaired people to make and receive the calls, send and read SMS, manage contacts, create, or delete calendar entries, listen to the date, time and battery level, know the current location by the help of GPS, set alarms and even listen to the webpages and emails of your Gmail inbox. Get this app here.
Braille Writer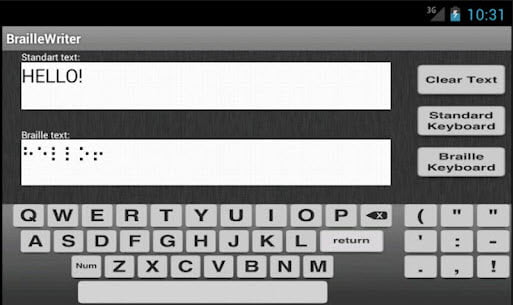 Braille Writer by Nikola Kirev is one of the free android apps for blinds and useful app to convert normal text into braille text. Once done with writing you can send email which could be then printed out using Braille printer. Check this app here.
Other SMS Reader Apps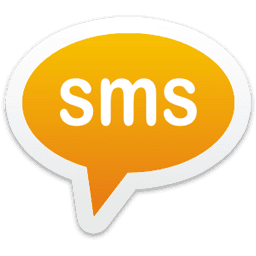 SMS Reader is a helpful app that can read incoming text messages along with the name of the caller. Click here to try this free app. SMS Reader by Adroit Developers also does the same job but with additional options such as adjusting reading speed etc., check it out here.