If you are a software developer and wanting to monetize your software, you are truly on the right article, keep reading and for folks who are not aware of what Software monetization is then here you go, software monetization is the adoption of any variety of measures an organization takes in order to increase the profitability of their software. These tactics can range from anti-piracy and IP protection techniques to creative pricing and packaging strategies.

Somoto is a company providing monetization solutions to the software developers community, it develops and markets multiple monetization solutions for software developers that can be integrated with no effort and increase developers revenues substantially. Somoto offers a unique value proposition to software developers in the digital age, anyone looking forward to increasing their customer base further, the folks at Somoto do a great job. Their technology and zero integration policy make it very easy for publishers/developers to implement new revenue channels, improve their users' experiences, build their brand equity and successfully distribute their software.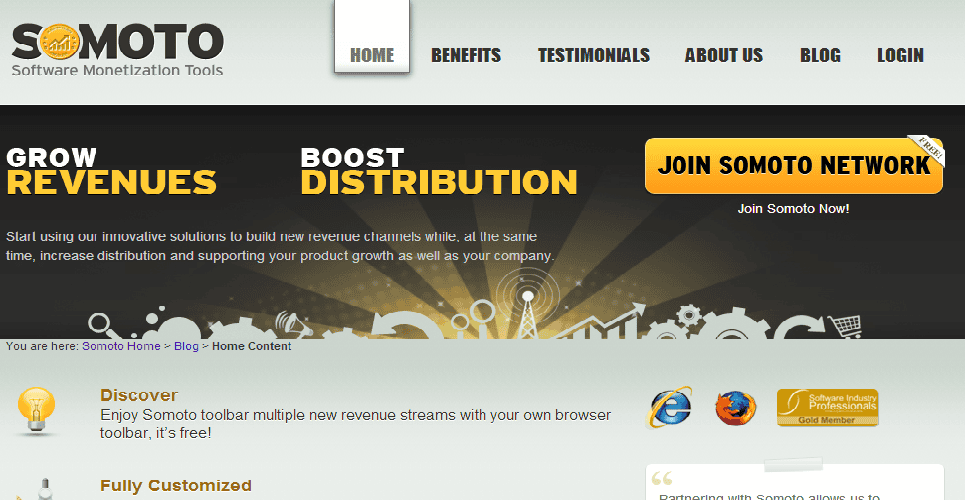 Well you must be thinking how these all works,  Somoto facilitates partnerships between software developers and Tier 1 advertisers which help in generating revenue through ads. They also distribute your softwares. They guarantee your security and secure your software, no adware, spamware, malware or any other kind of ware.
Actually, Somoto uses a rev-share platform. When software is downloaded, the end-users will be shown an offer screen. If they choose to accept the offer, Somoto will pay a percentage of the revenue generated from our advertisers, to our partners. Somoto has written an algorithm that determines which advertiser to offer with the software based on the highest user interest and available payouts. Access to daily reports that will help you better understand your users. These features surely make them the best at software monetization since they truly understand your need and even offer some share of the revenue to the end users.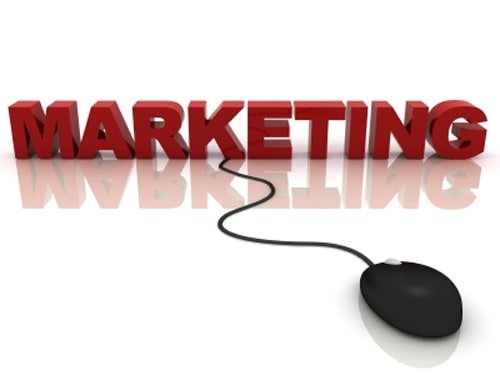 Coming to an important part of software monetization that is distribution of software which truly decides how successful a software becomes. Somoto works with tier 1 advertisers as a software distribution channel and distributes software to millions of targeted and qualified users each month. Somoto's algorithm checks to make sure that the added software isn't already installed on the users computers. They also use Geo and browser based targeting to ensure that the advertisers software is reaching its intended target location.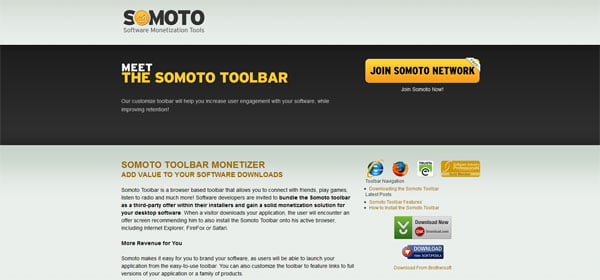 They offer a Somoto toolbar which works with Internet Explorer and Mozilla Firefox, support for Chrome is not revealed yet. The toolbar is very popular. You can customize a toolbar specific for your software, integrate your technology into the toolbar. It helps in increasing brand awareness too and increases profits and revenue. You got to use it to believe how awesome the toolbar truly is.
Somoto's customer support is second to none and their account managers are friendly, informed, and reliable. They realize that the only way in which they will succeed is if their partners succeed.
As Somoto state on their website, "We have made it our mission to provide freeware and shareware developers with a straightforward and simple method to monetize, enhance and distribute their offerings."