If you do not know about Drop Box yet, it is a great utility to keep your files synced between your computers and mobile devices and keep them online at the same time. Every time you update a file or add a new file/folder in any of the devices, DropBox, when connected to the internet syncs the files to your online drop box account and when you come online through another device with dropbox installed and your account associated, it will download those files/ folders to that device automatically.
But it may so happen that you do not get a chance to put a file or folder to your drop box folder or you are on a computer on which drop box is not installed and you want someone else to get the file immediately or just want to keep them on your drop box account. This time SendToDropBox comes to the rescue, which allows you to create an email address where you can email your files and then all the attachments contained in that email will be added to your drop box folder. Another advantage you get when you create such an email is that you can send files (eg. Photos) from your mobile devices if they do not support DropBox application. Send to Drop Box also provides great features like automatic archive unzipping, folder organisation and plain text and html message copying etc.
How to use Send to Drop Box
All you need to do is to connect your drop box account with them. This process is totally safe because Send-to-drop-box uses O'Auth and you do not need to give them your dropbox account password, you just need to connect your account with them. So to get started you need to visit Sendtodropbox.com and then click on "Connect to DropBox". If you are not logged in to drop box, you will be taken to the drop box login page.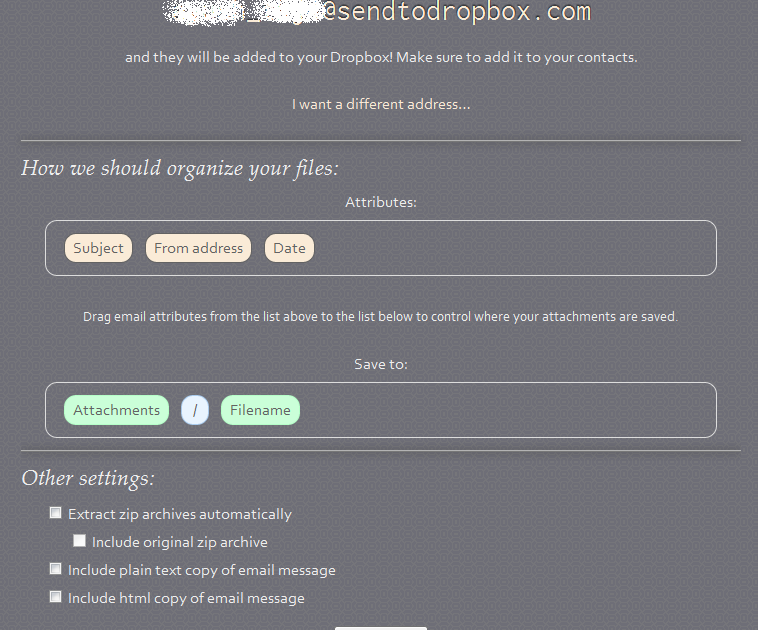 It will then take you to an authentication page where you need to allow the app access to your Dropbox account. Do not worry about it because it is safe to give them access to your account. That is it! You have successfully associated your drop box account with send to drop box. You will then be given an email address which will look like [email protected]. It will also automatically create a folder called attachments where all the attachments of the emails sent to that Id will reside. Whats more? You can also tell them how you they should organize your files with different attributes and also the location where your attachments will reside inside the attachments folder. Other possible settings include automatic extractions of zip archives ( and wether to include the original zip file or not), and to add a plain text or html text version of the email automatically!
This provides many different advantages, for instance you can make an email for a group where all members can stay updated with each other's work by this technique.