GeoSurf is a service that enables users to access premium proxy servers in 80+ global locations to surf geo-targeted local content from other areas. It allows you to surf by location which is a must use service for local ad campaign management. GeoSurf service is available for toolbar in browser, VPN client, Direct Connect API, and smart phone connection. The great feature of GeoSurf is Mobile Emulator which allows you to have a look at your website or your ad campaigns from various mobiles. GeoSurf own all of the servers on its network hence it is secure, fast and reliable.
Why GeoSurf?
Using their GeoSurf toolbar you can see your websites or advertising campaigns as if you were in the region you placed the website or advertisements.
GeoSurf can be effectively used in monitoring targeted Ad campaigns, viewing Search Results etc.
Mobile Emulator let you test your websites on various mobile devices supporting the Operating systems including Android, iPad and Blackberry.
You can have more than 80+ locations available to you for your research. Out of which 25 U.S cities and rest are from other places around the world.
Discover competing bidders on traffic, affiliates activities and Profile competitors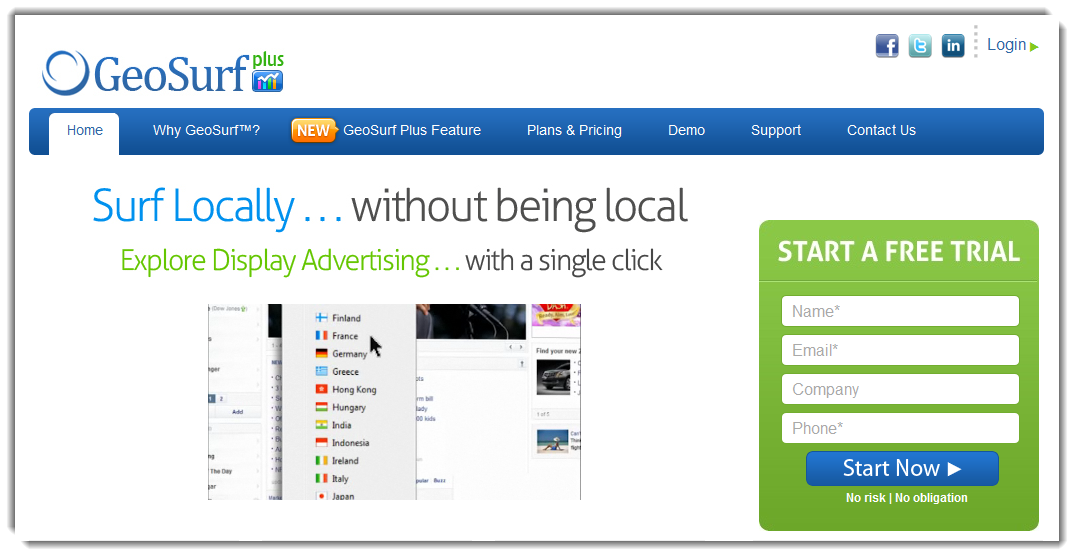 GeoSurf Plans and Pricing
GeoSurf is offered in 4 different plans namely Silver, Gold, Platinum, Diamond and Enterprise. You can choose the package to suit the needs you have.
Silver plan is offered in $29 per month which gives the bandwidth of 100 MB/ month, This package has the standard features which includes toolbar for Internet Explorer, Firefox, Mobile emulator and VPN connection. 1 VIP support request is allowed per month in the starter plan. It is also possible to get 1 month free by pre-paying the amount of $319 for the year.
Gold plan costs $89 and offers the bandwidth of 500 MB/ month on 5 global servers. 1 VIP support request is allowed per month. Pre-paying the amount of $979 for the year, extends the free service for 1 month.
Platinum plan of $139 allows you up to 700 MB of access, and 2 VIP support requests. You will have access to 9 global servers. You can get 1 month free by prepaying a year for only $1,529.
Diamond plan of $199/ month provides the usage of 1 GB bandwidth and 12 global locations and 2 VIP users are allowed here. You can extend 1 month free by prepaying $2,189 for the year.
GeoSurf's Enterprise plan is customizable and price tag varies as per your request. Here you get unlimited bandwidth, 80+ Global Locations and US DMAs, unlimited users, support for iPhone, Android and also get the access to direct connect API. In this plan you are offered with unlimited customer support and dedicated account manager as well.
You can try GeoSurf for 5 days without any setup fee or cancellation charges. Paid plans of GeoSurf accepts the payment by Master card, DigiCert, Visa and PayPal as well.
GeoSurf Plus
Geosurf Plus let you check your own or others ad campaigns and their stats. It shows you all the ad campaigns on a site and requested site will be included to GeoSurf's database and then analyzed.
Conclusion
GeoSurf is a perfect suit for media buyers and internet marketers which offer the affordable price tag for all kind of business needs. Visit GeoSurf at GeoSurf Premium Proxy Network