You must have always wondered how would it have been to run, all your frequently used applications directly from your flash drive or your Pendrive. Yes, it is a great pleasure to run all the needed application from your own flash drive as you do not need to carry even your own laptop in that case. All you need is just to access any PC somewhere, and insert the flash drive in the USB, and it's all your computer. You don't feel any difference. Now, days you can find almost all sort of portable application ranging from your favourite web browser to Office to antivirus. Today we are going to present to you two different websites which provide such applications for free.
Also, don't forget to check our huge compilation of 300 useful softwares for windows.
Let's see How To Run Windows Applications Directly From USB Flash Drive:
The first website is Portableapps.com

This website boasts of many frequently used application in various categories and it is all free for download. Once you download the application you will be getting onscreen help on how to install the application from your flash drive and run it. This site also provides support for all their portable applications. They have a very happening forum in which you can get answers for your questions. We will provide the detailed list of application this site hosts below:
Also read: How to Protect your PC from Autorun USB Virus.
You will get the following applications under the following categories:
Accessibility:
Firefox Accessibility Extension – Make Firefox more accessible
On-Screen Keyboard Portable – Easily access an on-screen keyboard
Virtual Magnifying Glass Portable – A full-featured screen magnifier
Development:
gVim Portable – advanced, feature-rich text editor
Notepad++ Portable – A full-featured text editor with syntax highlighting
NSIS Portable – Windows installer and launcher creation
Nvu Portable & KompoZer Portable – The easy-to-use Nvu web editor
PortableApps.com Installer – the easy way to package portable apps
PortableApps.com Launcher – make apps portable without writing code
XAMPP – Apache, MySQL, PHP, phpMyAdmin, etc in one package
Education:
BPBible Portable – bible study tool
Celestia Portable – portable space simulator
Stellarium Portable – portable planetarium
Portable Games Software:
AssaultCube Portable – fast-paced, online, first-person shooter
Atomic Tanks Portable – overly-powerful tanks blow each other up
Canabalt Portable (Freeware) – outrun the demolition of your city with just one button
DOSBox Portable – classic DOS games to go
Frets on Fire Portable – rock out anywhere with this Guitar Hero™-style game
Jooleem Portable – a simple and addictive puzzle game with great music and visuals
LBreakout2 Portable – breakout-style arcade game similar to Arkanoid
Mines-Perfect Portable – a classic hunt-for-mines game with advanced features
Sudoku Portable – the wildly popular and addictive puzzle game
The Mana World Portable – a free, 2D, retro-style MMORPG
Tile World Portable – engaging and fast-paced tile-based puzzles
Warzone 2100 Portable – single or online multiplayer real-time strategy game
Portable Graphics & Pictures Apps:
Blender Portable – 3D modelling, animation, rendering, post-production, playback
Cornice Portable – image viewer with slideshow
Dia Portable – the full-featured diagramming tool
IcoFX Portable (Freeware) – full-featured icon editor
Inkscape Portable – vector graphics editor
GIMP Portable – Photo and Image Editor
XnView Portable (Freeware) – view, organize and convert photos
Internet:
aMSN Portable – chat and video chat on MSN/Windows Live
DownThemAll! Extension (for Firefox) – download the files and images you want faster
FileZilla Portable – the full-featured FTP client
FireFTP Extension (for Firefox) – a lightweight extension
KVIrc Portable – full-featured IRC chat client
Google Chrome Portable (Freeware) – fast, simple, themeable browser
Miranda IM Portable – chat with AOL, MSN and Yahoo users in a customizable interface
Mozilla Firefox, Portable Edition – the award-winning web browser that's safe and secure
Mozilla Thunderbird, Portable Edition – the handy email client
Nvu Portable & KompoZer Portable – the easy-to-use webpage editor
PChat Portable – full-featured IRC chat client
Pidgin Portable – chat with AOL, MSN and Yahoo users in an easy-to-use interface
PuTTY Portable – lightweight telnet and SSH client
Sage Extension (for Firefox) – A full-featured RSS extension
SeaMonkey, Portable Edition – complete internet suite (browser, email, chat, newsgroups)
Skype Portable (Freeware) – instant messaging, video chat and phone calls
µTorrent Portable (Freeware) – lightweight BitTorrent client
WinSCP Portable – SFTP, FTP and SCP client
WinWGet Portable – take and manage your downloads on the go
Music & Video:
Audacity Portable – A simple audio editor and recorder
BonkEnc Portable – extract, convert and encode audio
CoolPlayer+ Portable – Lightweight, fast, easy-to-use audio player
DVDStyler Portable – DVD menu authoring tool
MPlayer Portable – Full-featured movie player with support for most video formats
Songbird Portable – Full-featured digital media library and player
VirtualDub Portable – video processing and capture utility
VLC Media Player Portable – An easy to use media player that plays most audio and video formats
Office:
AbiWord Portable – a lightweight word processor compatible with Microsoft Word files
Dia Portable – the full-featured diagramming tool
Foxit Reader Portable (Freeware) – small and fast PDF reader
GnuCash Portable – accounting, expenses and financial management
Lightning Extension (for Thunderbird) – A lightweight extension for your calendar and tasks
Mozilla Sunbird, Portable Edition – Calendar and task management with a familiar interface
Mozilla Thunderbird, Portable Edition (Address Book) – Email client's built-in address book with import/export functions
OpenOffice.org Portable – word processor, spreadsheet, presentations with Microsoft compatibility
PDFTK Builder Portable – split, collate, watermark and password-protect PDF documents
PNotes Portable – sticky notes to go
SpeedCrunch Portable – an intuitive algebraic calculator
Sumatra PDF Portable – a lightweight PDF viewer
Task Coach Portable – to-do list and task manager
Security:
ClamWin Portable – Antivirus on the go
Eraser Portable – securely delete files and data
EraserDrop Portable – easily secure-erase files and data
KeePass Password Safe Portable – Secure, easy-to-use password manager
SpyDLLRemover Portable (Freeware) – Spyware DLL detection and removal
Utilities:
2X Client Portable (Freeware) – remote server and RDP access client
7-Zip Portable – File archiver and compressor
Command Prompt Portable – Simple link to a customizable command prompt
ConvertAll Portable – convert units of measurement
FreeCommander Portable (Freeware) – easy-to-use windows file manager
InfraRecorder Portable – full-featured CD and DVD burner
Java Portable (Freeware) – Work with Java apps portably
Java Portable Launcher – Run Java JARs portably
JkDefrag Portable – Disk defragmentation and optimization
Light screen Portable – easy to use screenshot tool
PeaZip Portable – Easy to use file archiver and compressor
PortableApps.com AppCompactor – shrink apps without affecting functionality
PortableApps.com Backup – integrated backup utility bundled with the platform
PortableApps.com Menu – integrated start menu bundled with the platform
TeamViewer Portable (Freeware) – remote PC support and screen-sharing
Toucan – backup, sync and encrypt for advanced users
WinDirStat Portable – disk usage analyzer and cleanup tool
winMd5Sum Portable – check md5 sums to verify files on the go
WinMerge Portable – file comparison and merging
Xenon File Manager Portable – portable file browser
The Second Website is pendriveapps.com
This website is really wonderful and hosts hundreds of portable applications, all of which cannot be enlisted here. The stock of the website is divided into the main category of applications and then the subcategory so it is very easy to navigate and find a similar application of different flavour. I will give an overview of the screenshot of this wonderful website.

In this website the applications are listed in the below following categories: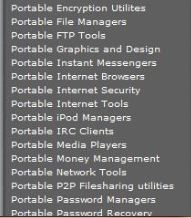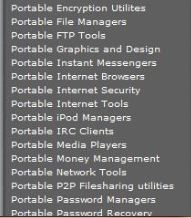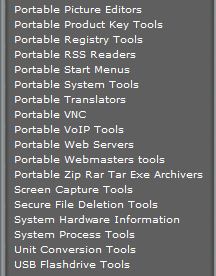 Using a portable application from your own flash drive is safer if taken care of since you do not miss any of the vital information from your part if taken care off, than just merely using the other persons desktop or a cyber cafe. You have almost all of the applications in both of the websites, to fulfil your general computational need.
In my next article, I will be writing about how to install an operating system directly into a pen drive and use it from it. So you can carry just the whole of your system with you in your pocket.
If you liked the article or you didn't please leave a reply, it takes a moment and helps us to improve in writing our future articles.