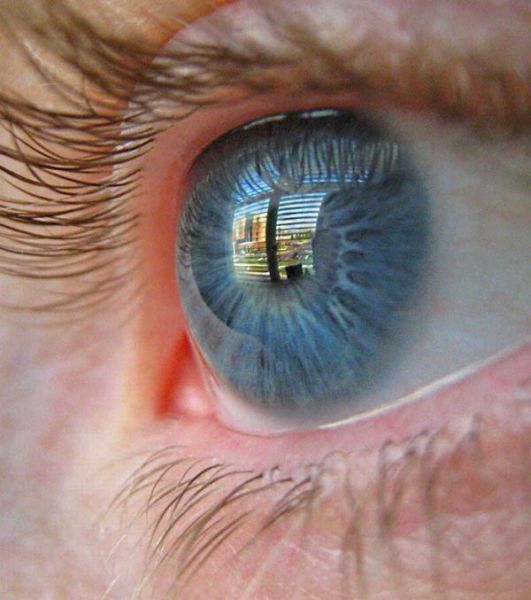 People belong to IT profession and bloggers have to spend long hours in front of PC for official reason. But there are people who also spend long hours in front of PC for leisure and entertainment.
But very less among them will realize the problems which they might have to face in the future, due to carelessness on their own health, no free time, Long hours of busy schedule and work and mainly, Mental stress. Everyone who spends long hours a day in front of a computer screen has to realize that they should not scarifies their eyes behind! Because health is wealth, how good you take care of it, it will take care if you in times when you really need it. Read this article which says about Computer Vision Syndrome and its Symptoms.
Many of the above issues cannot be resolved without having time to spend. But if you can take care of your health along with you work, then it will allow you to work more in future and have a better life.
Get Help From Your PC to Continue Work At the Same Time

Today, I'm going to introduce a tool which will helps every interet user to protect their eyes from harmful radiation from the Computer screen or screen glare. Flu.x is a great software which you can use at work and have better viewing experience even at long working hours. Flu.x is the application which changes the color of your display depending on the time of day. It uses a technique similar to warming or cooling an image.
How this works?
f.lux makes your computer screen look like the room you're in, all the time. It means that you will not feel the glare in your PC screen when sun goes down. When the sun sets, it makes your computer look like your indoor lights. In the morning, it makes things look like sunlight again. You can configure the location in Flu.x setting to adjust the day time lighting, you can also configure the amount of brightness you need.
How do I use this?
You need to setup your location entering the longitude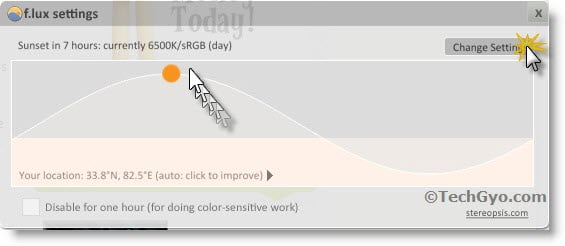 You can click on the Setting option to configure your location, but if you would like to check how it would look like. then you can check the preview.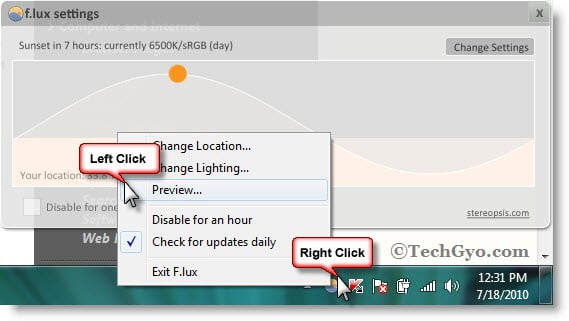 How do i seup my location?
Just right click on the small round icon of Flu.x from the lower task bar of your Windows based PC screen, and then right click on the change location option or click on "Your Location" on the map. Once you've clicked on that, a menu will appear where you need to enter your longitude and details. If you don't know your latitude/longitude, then you can just click on Locate "button" and then it will take you to Flu.x Steropsis website where you can enter the name of your city and find it out.
Step 1:
Right click on the Flu.x icon on the lower bar of your Windows based PC. and then click on LOCATE button.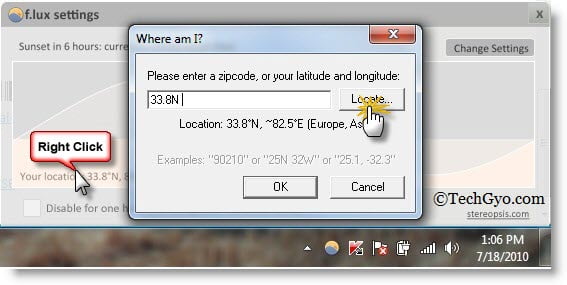 Step 2:
OIf the flu.x location map didn't open automatically, then click here to open it and once it is opened, enter the name of your city and then click on "GO".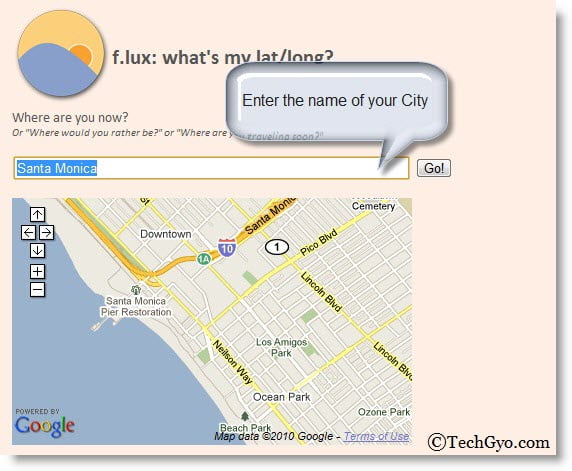 Once you get a latitude and longitude something like " 12.971606, 77.594376″ enter it in the Flu.x settings and then click on OK. That's it.
Where can I download this software?
You can download this awesome software code from Steropsis. Flu.x is currently available for Windows Xp/Vista/7 and Mac Based Computers too.
[ Link : Flu.x ]