Businesses who traditionally engage with customers using face to face meetings or events are now more and more replying on online tools to engage and support their customers. They understand the importance of real time engagement across Omni channels and how use of right tools can help them to scale their business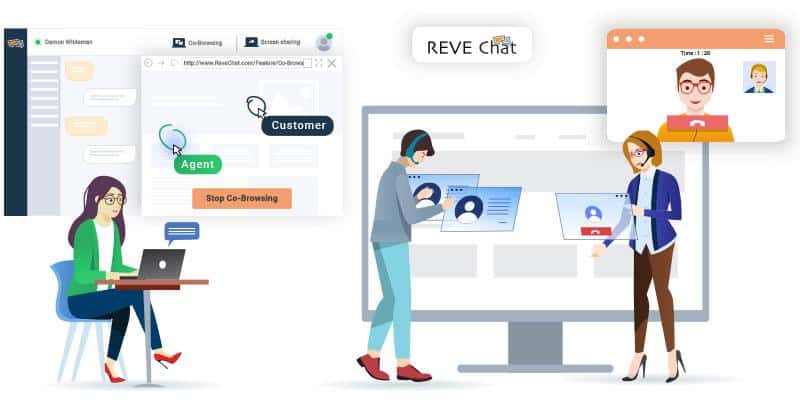 Customer experience is a key ingredient missing from most struggling businesses strategy. For retaining customers and building long-term relations, focusing on experience and engagement is of prime importance. According to Gallup study, 25% of the millennial are highly engaged customers, meaning they are emotionally and psychologically attached to a brand, product or company.
About REVE Chat
REVE Chat is an Omni channel live chat and customer engagement platform that provides real-time assistance to your website visitors for better customer service and boost sales conversions. It comes with easy integration steps and helps to amplify your customer experience to bolster ROI.
REVE Chat helps to boost your customer engagement making the business-customer interaction seamless. You can integrate the best live chat software to your website or apps and benefit from a host of incredible features including seamless video chat, co-browsing, and screen sharing along with live chat.
Real-time customer engagement with REVE Chat
Many times businesses lose customers due to inability to provide real-time assistance. With new technological advancements, businesses can now engage and support customers with real-time collaboration tools across channels such as website and mobile apps.
Co-browsing: REVE Chat co-browsing software allows the agents to interact with website visitors and customers in real time for any sales and support assistance. With co-browsing, the agent can connect with the client browser without downloading or installing any plugin or software.
REVE Chat offers one of the best co-browsing solution for businesses to engage and connect with customers on website and apps. WebRTC technology allows a seamless peer to peer communication providing a complete engagement through simultaneous co-browsing along with video and live chat.
Some of the key use cases of using co-browsing are:
Remote support: with co-browsing, you can support your customers virtually and solve their issues without asking them to move to a different tool.
Sales: provide real-time sales assistance to your customers and visitors on your website for completing a transaction or filling up form.
Customer on-boarding: provides additional information about your brand making the process seamless and enjoyable.
Product Demos: co-browsing helps your customers to know the product benefits, then select and making the correct decision
Live chat: Live chat solution empowers you to engage better and converts more visitors simultaneously improving the efficiency and effectiveness of the team. REVE Chat brings the use of live chat or customer messaging a seamless experience for website visitors and customers with the help of advanced features such as widget customization, customer journey, and proactive triggers and queuing.
With chat API and SDK, businesses can integrated chat inside their mobile or web apps to deliver in-app messaging to their users for boosting user engagement. REVE Chat provides complete SDKs and APIs for the website, Android and iOS platforms to integrated chat, video and co-browsing experience.
Video chat: Video chat improves customer engagement by allowing customers to have a video chat with your agents' right from your website or inside apps and resolve issues instantly. It helps in developing strong trust between your business and customers by providing assistance whenever required.
Video chat allows instant help to the customers with video chat and screen sharing simultaneously for effective troubleshooting of the issues. You can easily provide a live demo version of the product to your customer that is even more convincing.
Video Chat is also a handy tools when it comes to sales assistance, product demos, technical support and customer onboarding for providing the best customer experience.
Omni channel conversations
With Omni channel or unified customer communication, businesses can manage conversations across various channels such as website, mobile, social media and messaging apps under one platform for better engagement and support
Most of the customers prefer businesses to be available on their preferred communication channel, be it chat or social media or with the rise of artificial intelligence (AI), on messaging apps.
With REVE Chat, businesses can now engage their customer across channels using the same platform to deliver a complete customer experience in a most cost-effective manner. Customers can now converse with brands using live chat, mobile, Facebook messenger or messaging apps such as Viber, Telegram, and Skype with a consistent experience.
Benefits of Omni channel conversations
In today's time, every customer looks for convenience. Omni channel communication gives your customers the convenience of interacting with the brand, filling their expectations.
All conversations channels are streamlined under one platform that helps in better agent-customer engagement.
The agent gets a complete overview of customer interactions or conversations history
Better team management and efficient business metrics (like first response time, average response time, total conversations)
Other Key features of REVE Chat
Chat routing: Routing your customers directly to the right department as per their queries helps in quick resolution of the issues.
Departments: When there is a new chat request to a specific department, only agents who are assigned to that department will be able to manage and respond to those chat
Visitor Analytics: Visitor analytics provides comprehensive analytics about your website visitors in real-time and personalize every interaction to improve the user experience.
Queuing: Queuing allows business to provide an estimated wait or queue time to their website visitors during busy hours so the visitors can have the right expectation.
It is useful so that your visitors can understand the response time and as a business, you can manage them without leaving them frustrated.
Conclusion
With REVE Chat, the business can achieve higher customer engagement and manage their teams effectively. With a combination of AI chatbots and live chat, REVE Chat provides a hybrid approach to scale customer conversations without losing the human touch.
With collaboration features like co-browsing, video chat, live chat, and an Omni channel engagement platform, REVE Chat brings the best suite of tools for any business to engage, support and retain customers.