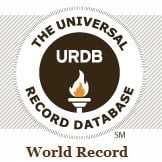 URDB is an open platform for world records. Which is similar to Guinness World Records and Limca Book of records. Universal Record Database is a place where you can get involved, whether discussing records, beating records or setting new ones of your own. this is the place where you can not only find world records but also make and register your world records. There is no limit how far human being can push the limits of what mankind can do. The only limit is your imagination!
Every person on earth has potential to be the world's best 'something' isn't it? If you are something special, then this is the place where you can get exposure. But there are some record categories and guidelines for submiting your record. Every record in the database must be quantifiable, breakable and legal. The cool thing is that all records is listed in their directory as a video or image.
And every user is allowed to rate and comment on any records. And every record is provide with a Certificate. You can purchase a their badges here
Some of the my favorite records:
Fastest Time To Solve A Rubik's Cube While Riding A Unicycle.
– Rate it

Fastest Time To Register A Private Limited Company Via The Internet – 18:03.0
— Rate it

Fastest Time To Play 'Mary Had A Little Lamb' On A Baby Piano While Holding A Pomelo In One Hand
Find our more
Who judges the submissions?
Witnessing/documenting your friends' records, contributing to the wiki-based URDB Rulebook and Glossary, voting on unverified records and possibly becoming a Senior Judge in your specialized area of expertise. And your record must be approved by the Jury in URDB. You can also be a judge for others.
Who are the people behind URDB?
Dan Rollman, Founder and President.
Corey Henderson, Founder and Head of Technology.
Marc Covitz , Partner and Head of Operations.
Advisory Board
Chris Sacca.
Craig Kanarick.
Cindy Gallop
[Link: Urdb | Submit Record | Store]