Probably the most well-known single board computers out there, Raspberry Pi strikes a fine balance between usability and performance.In this article we will let you know some of the best Raspberry Pi Alternatives, that would be helpful for you.
The microcomputer has become the next huge thing among enthusiasts across the globe. The latest version of the Raspberry Pi model has 1.4GHz 64-bit quad-core processor, a display interface, 4 USB 2.0 ports, a micro SD card slot, Bluetooth, Wi-Fi, dual-band wireless LAN, faster Ethernet and a full HDMI port.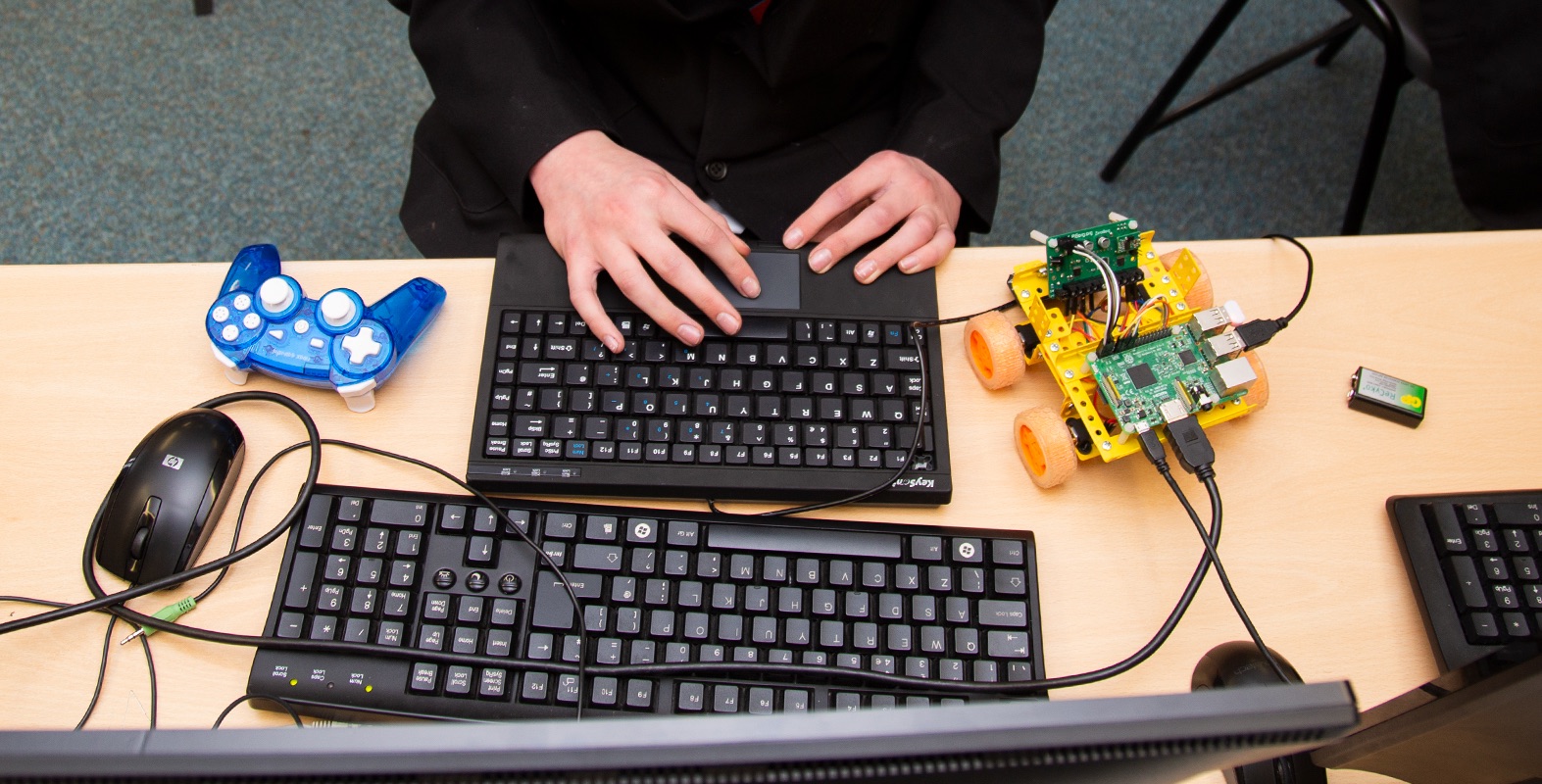 Even though it is not the most compact and powerful option but with Raspberry Pi you can perform computer-based functions such as develop software, mine cryptocurrency, gaming, etc. at small price when compared to commercial equipment.
While Raspberry Pi does extremely well in the performance aspect, it still leaves a lot of room for other single boards to tweak the formula. There are plenty of Raspberry Pi alternatives which can offer you better features such as more power, better GPUs and more RAM. In this post, we will guide you through a raspberry pi alternatives that are available in the market now.

Asus Tinker Board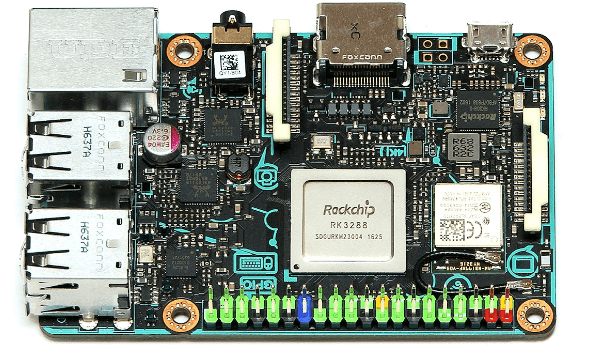 Asus Tinker Board is a robust, small yet powerful hardware. Asus is one of the largest computer manufacturing companies and the world and the name itself speaks a lot. Specification wise, Asus Tinker Board is almost similar to Raspberry Pi 3 Model B+ and hence makes it one of the best raspberry pi alternatives. The price, however, is a little on the higher end. However, it has a faster system-on-chip and doubles the RAM as compared to Raspberry Pi.
Specifications for Asus Tinker Boards:
1.8GHz quad-core RockChip CPU
2GB LPDDR3 RAM
4K Video
Mali T764 GPU
192k/24bit audio playback
Four USB 2.0 Ports
Wi-Fi and Bluetooth 4
An HDMI output
Gigabit Ethernet
The Tinker Board is a better raspberry pi alternatives when it comes to features because it has a more powerful processor. Even though it consumes a bit more power than Raspberry Pi but that would be a huge issue This microcomputer is customisable too and would be a pretty good choice for its speed and performance.
Orange Pi Prime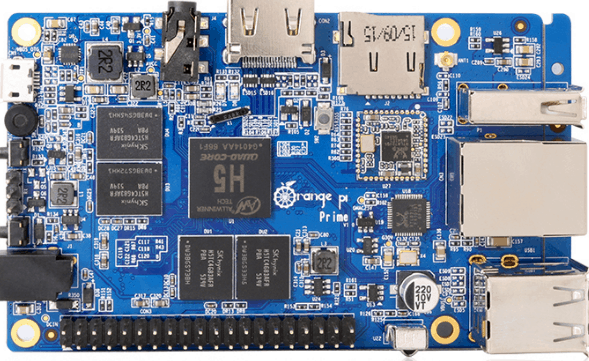 Orange Pi Prime is another raspberry pi alternatives almost identical to Raspberry Pi in terms of specifications and features. It runs on various operating systems which include Android and Linux both. This single-board PC is compact and affordable with impressive features and a vast range of applications.
Specifications for Orange Pi Prime:
H5 quad-core Cortex A53 CPU.
1GbE LAN port.
2 GB DDR3 RAM
40-pin GPIO Header
Mali-450 GPU
2K Video
Bluetooth 4
OpenGL ES 2.0
Micro SD card slot
HDMI output
ODroid XU4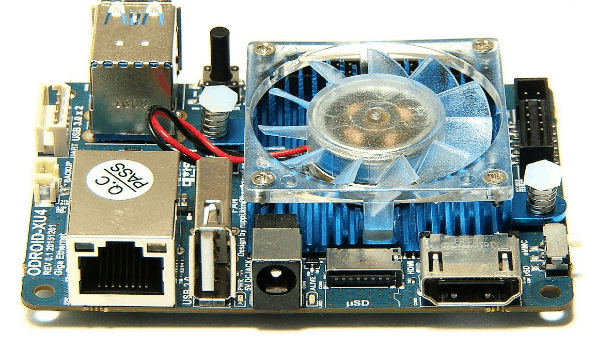 When compares to Raspberry Pi, the ODroid XU4 is smaller in size which makes it more compact. It has more dynamic and energy-efficient hardware. ODroid XU4 can run several favours of Android (such as Android 4.4 Kit Kat) and Linux (e.g. Ubuntu 16.04)
Specifications for ODroid XU4:
Samsung Exynos5422 Cortex-A15 at 2.0 GHz and Cortex-A7 Octa-core CPU
Mali-T628 MP6
2GB LPDDR3 RAM
HDMI 1.4a
USB 3.0 support
Gigabit Ethernet
5V/4A Power input
These amazing features give ODroid XU4 a lightning-fast data transfer speed which lets the users enjoy an upgrade in computing with rapid webs browsing, booting and 3D games & proves to be a raspberry pi alternatives.
Onion Omega2 Plus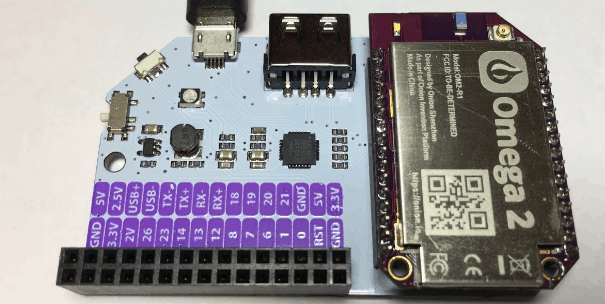 Onion Omega2 plus a good raspberry pi alternatives that run on the Linux Embedded Development Environment operating system, a distribution based on OpenWRT. This Wi-Fi development board is designed with the purpose to enable makers to build connected hardware applications. Omega2 Plus can boot the operating system immediately, thus reducing the time to get started.
Specifications for Omega 2 Plus:
580 MHz MIPS CPU
32 MB storage
128 MB memory
Micro SD Slot
3.3V Operating Voltage
2.4 GHz IEEE 802.11 b/g/n Wi-Fi
USB 2.0
18 GPIOs
10M/100M wired Ethernet
The price, outstanding features, small form, power efficiency, flexibility, processing and encryption capabilities make it perfect for Internet of Things Projects. You can create plenty of web applications and develop any programming language such as Python, GoLang, Rust, etc. with minimal effort and time with Omega2 Plus. To explants the functionality, you also have the option to buy various docks and add-ons. The only drawback with Omega2 Plus is that it does not have a mini HDMI port.
Pine H64 Model B: An outstanding raspberry pi alternatives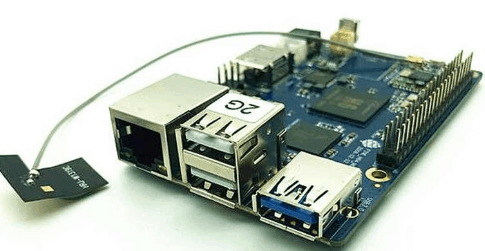 Pine H64 Model B has a similar price range as of the latest version of Raspberry Pi; however, it is more powerful and compact. It is an upgrade to the previous Pine H64 Model A, with lots of improvement such as support for Wi-Fi and Bluetooth. This version has double the memory of Raspberry Pi 3 Model B+ which is the main selling point for this single-board computer. It also features a mini PCIe connector, 4K video playback, a 3.5mm headphone and mic plug and huge memory.
Pine H64 Model B supports Armbian and Android 7.0 operating systems. It is perfect for use as a developer board for different software and hardware projects.
Specifications for Pine H64 Model B
Quad-core, Arm Cortex A53-based processor
Mali-T720 MP2
128MB SPI Flash Memory
2GB LPDDR3
HDMI 2.0a output
Micro SD Card
eMMC support
Wi-Fi 802.11n and Bluetooth 4.0
Gigabit Ethernet
2*20 pin GPIO Connector
NanoPi M4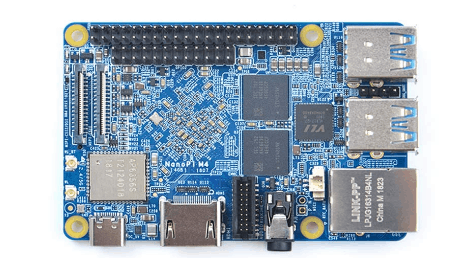 NanoPi M4 is more expensive than Raspberry Pi alternatives but comes with outstanding features. It is a compact platform for fast product prototyping which includes both commercial and industrial applications. It supports Ubuntu 18.04 Desktop, Lubuntu 16.04, Android 7.1 and Lubuntu Desktop.
Specifications for NanoPi M4
2GHz 64-bit dual-core Cortex-A72 Connector and 1.5GHz quad-core Cortex-A53
4GB LPDDR3 and 2GB DDR3-1866
HDMI 2.0 Type-A port
Mali-T864
3.5mm Audio Jack
RPI compatible 40-pin connector
eMMC socket
RTC port
802.11a/b/g/n/ac Wi-Fi
Bluetooth 4.1
PCIe*2
USB 2.0
The RK3399 hardware provides a decent performance which is suitable for running apps, watching 4K videos and surfing the web. So, NanoPi M4 is suitable for you are going to use it as a mini PC.
Rock64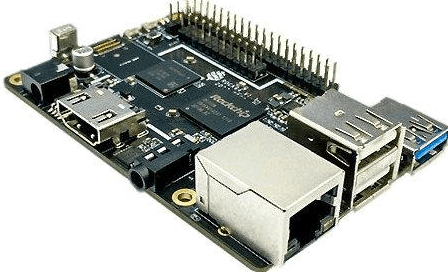 The Rock64 beats Raspberry Pi with the amazing speed and attractive price. The Rockchip RK3328 is faster than Raspberry's processor and also you get double the RAM at almost half the price with Rock64. Moreover, it is capable of handling 4K video at 60fps.
Specifications for Rock64
RK3328 1.5GHz 64-bit quad-core CPU
Mali-450 MP2 GPU
USB3.0 host port
128MB SPI Flash
eMMC socket
HDMI out capable of 4K at 60Hz
3.5mm A/V Jack
40 GPIO pins
Standard Pi2 GPIO header
The only downside is the lack of Bluetooth and Wi-Fi; otherwise, this single board computer is a solid competitor to the latest version of Raspberry Pi with a vibrant community and huge application support. Stremio on Raspberry pi is also an option.

Wrapping up
Raspberry Pi has been an undisputed champion when it comes to single-board computers and most of the credit goes to its huge community support. Many competitors are trying to roll out better Raspberry pi alternatives at a furious pace and cheaper price every year. You can find a lot more options in the market, such as Pocket Beagle, Le Potato, BBC micro: bit, PixiePro, etc. However, the ones that we have discussed fall in every price range and you will find one that suits your need. we hope this post was helpful in letting you make a decision.