In the previous post "How to Send Fax Online With HelloFax?" we saw how facsimile could be sent via internet. Instead of using a traditional faxing machine, online faxing uses internet service to send, convert and receive online fax. One can receive facsimile directly to their email inbox by subscribing to an online fax service provider. It's a quite easy, efficient and eco-friendly method to send internet fax. Everything can be done digitally hence eliminating the need of printing paper or ink. Thus it saves time, resources and energy. Facsimile transmission is important even today since most of the legal documents are still sent using fax as it is a reliable and safe. In following blog post let us see what exactly happens when we send an online fax.
What happens when you send or receive online fax ?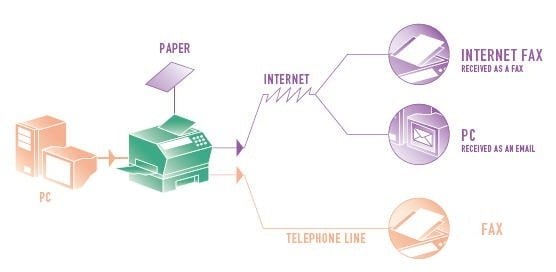 Online or internet faxing uses same techniques and principles as that of facsimile transmission. Only difference being that it uses web or internet interface instead of a fax machine to do so. It involves a third party online Fax Service Provider which provides you service. Transmission, processing and reception of an internet fax can be explained as follows,
The Sender's Part
Sending party has to attach manuscript to be faxed to an e-mail. Manuscript may be a digital file like MS Word, Excel document etc. or a scanned document.
Then ,sender has to address the message to recipient's fax number suffixed by

online faxing

service provider's name.
The Recipient's Part
Recipient gets an email from online faxing service provider containing the facsimile message sent by sending party.
Facsimile message received is in form of usual attachments like .doc or PDF etc.
The Service Provider's Part
Here two cases can be discussed,
If the facsimile was sent by a traditional fax machine and is to be sent in digital form to recipient then the online faxing service provider interprets the message into an image file and sends it to recipient in the form of an email.
If facsimile was sent as an internet fax and is to be sent to a traditional fax machine, the online fax service provider interprets then incoming fax message such that the traditional fax machine can read it.
Both the ways facsimile message can be sent resulting in less usage of printing paper.
Advantages of using Online Faxing service
The major advantages of online faxing are as follows
Reduction in usage of printing paper and ink.
Also you can get rid of bulky faxing machine and save the amount of energy it consumes.
It's a healthy practice and saves trees since less paper is used.
Moreover you can fax online from anywhere i.e. from your PDA, laptop or your PC.
Most importantly it saves your time as well as money.
Final Thoughts
So it's up to you to choose which type of online faxing method you will be using. Either the fast, resource and energy saving online faxing and be eco-friendly. Or the old, bulky, paper and power wasting traditional faxing machines.