Owing to their extraordinary popularity, Magento and Shopify have embarked the journey of online marketing expansion at an equal pace. Due to which retailers today can plan, build and optimize their online channel with minimal efforts.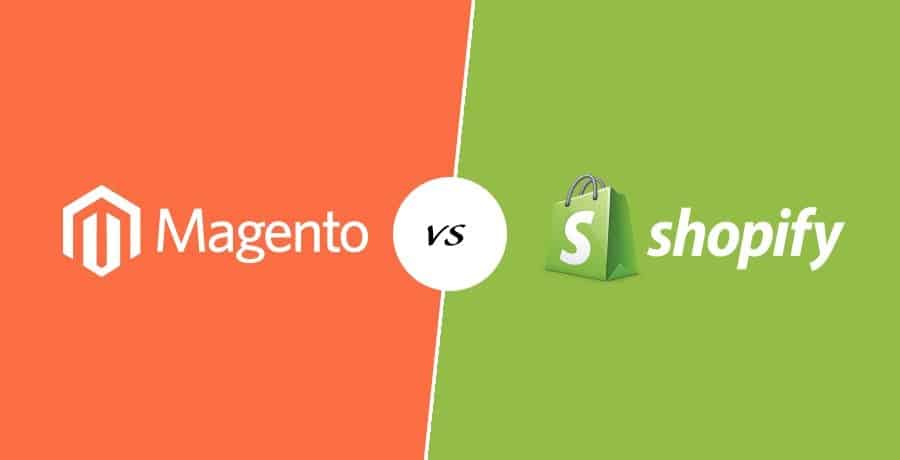 Over the past few years, lots and lots of people have talked about the ever-changing e-commerce industry. But my question is, do you know the actual definition of the term e-commerce? Also known as electronic commerce, it is the term used to describe a business model which involves a ton of transactions taking place over the internet. For example- Amazon, Flipkart- the pioneers of online shopping. The rising dawn of the internet as a commercial enterprise has led to the massive elimination in regards to time, geographical limitations that might hinder your day to day operations.

Magento and Shopify are the two emerging e-commerce platforms that hold the power of providing many benefits in a single go. Often pitted against each other, they can deliver more versatile, eye-catching and flexible sites in a short span of time. However, it is still imperative to choose the right one among the two biggest contenders.

The Head To Head Race Begins!
Many of you have this brewed misconception that the two platforms are pretty similar. While the reality is, even both of them are meant to serve the same purpose, these platforms are different in almost every aspect starting from the core structure to payment options, handling plugins, extensions, functionalities and what not! Magento is a self-hosted platform that powers hundreds not thousands of stores competing hard to gain the top spot. The journey from being an open source to (Community) and a premium version (Enterprise), Magento keeps on winning hearts of software developers as well as the end users.
Shopify, on the other hand, has a growing user base that focuses on serving the needs of retailers especially the ones that aren't too much concerned with the technical aspect of things. It is a paid subscription software that allows one to build, edit and manage a site with zero coding or design experience required. The interface being user-friendly allows everything from installing a Facebook pixel to uploading a new theme can happen within just a few clicks. Down below I would like to list out Pros and Cons of both platforms on the individual basis.

Magento

Pros-
Community support- Magento development is not that easy. Chances are there you might run into trouble anytime. These reliable looking communities and forums have an answer for each and every query of yours. All you require doing is search for your query on the huge database of user-generated content. I am sure you will find a comprehensive yet simplified solution to whatever you have been looking for.
Flexibility- Another exciting aspect of the platform is its flexibility. Gone are the days when developers were bound to limitations while designing a website. An appropriate code is all you require to come up with a space featuring personal and original content compelling end users to revert from time and again.
Cost- Being an open source platform, Magento is free to use.
Cons-
Requires a techie- If you are a non-technical person, you might face several hardships while creating an e-commerce store. While on the other hand, Shopify offers a much more straightforward website building experience. For Magento, make sure you seek help from a relevant Magento development company.
Time-consuming- Being a first-time user, you may find Magento's interface is quite time-intensive. So what you can do is, set some time out and get to know your way around the platform before getting stuck into building your site.
Shopify

Pros-
Mobile-ready themes- What if I say that your online store automatically optimize itself for different devices and screen sizes? Shopify does this by offering a plethora of mobile-ready storefront themes.
Comprehensive- If you wish to take your existing store to the next level, nothing can beat Shopify as an e-commerce platform! Here you get a comprehensive looking e-commerce website builder with a large App Store to extend the functionality of your site.
24/7 Support- With 24/7 phone support, live chat and email functionality available, any platform can enjoy adoration and popularity in no time. Besides, it even has a forum where one can exchange website building and general business tips on a quick basis.
Shopify has a handful collection of apps which help businesses to boost their sales! Apps like TADA helps merchants in creating gamified email popups to collect more subscribers while keeping the store visitors engaged and happy.
Cons-
Integrating Apps– "Anything in excess can be considered as a poison" Similarly, combining so many apps can make your store more complex. So, make sure to consult a Shopify development company in prior or choose wisely!
Transaction fee- Unfortunately, there is no alternative to waive this pointer off.
The Deal-Breaker
There is no cookie-cutter answer! Nothing is perfect, and no platform can have all the perks. Both Magento and Shopify have their own strengths and weaknesses. So choose accordingly!
About the Guest Author
Kevin Ellars is a Business Analyst at Tatvasoft.com.au, a web development and software development company in Melbourne. Kevin likes to blog on different subjects like Web development, Magento and ecommerce.