If you are looking for increasing your Instagram followers, this post is for you.
Kicksta is a popular Instagram marketing tool, designed for generating organic followers as well as growth.  This incredible tool has already worked with a large number of influencers plus brands and helped them in expanding their organic reach. Kicksta reviews are also great.
As a result, those professionals could connect with new users that have converted into long-lasting customers.
The main difference between Kicksta and its competitors is that it strongly emphasizes the organic approach while it comes to collecting real instagram followers.
In simple words, It is a brilliantly-designed automation tool. And you already know that it helps you grow your Instagram audiences organically. So, this tool is heavily used by brands, businesses, and influencers. It is focused on connecting you with your ideal target audience base and demographics.


If you're looking for expanding your reach in Instagram, then you can take help of this platform. But, first, check out the other important aspects of Kicksta specified below.
It doesn't flood your account with a large number of random new followers rather it takes the time for connecting you with real, active users, actually enthusiastic in your brand.
Once identified the target audience base, It will strive hard to engage with your potential followers, who would come, visit your page and go through your content. Hence, you can be assured that all your followers (gained through Kicksta) are authentic.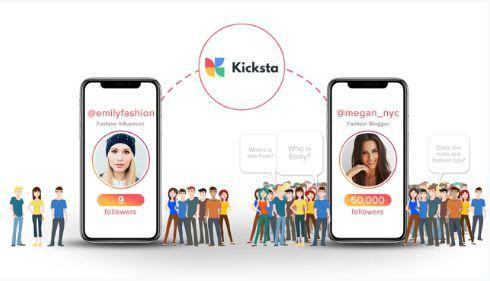 Now, if you want to know about how to get instagram followers through Kicksta, then read the points below:
As a first step, Kicksta would like 1-2 photos from each and every user by following the particular target accounts you provide.
Those users will receive notifications that you liked their photo. Next, they would check out your profile and decide whether they want to follow you.
As it target accounts relevant to yours so it increases the odds that they will also like your brand and follow you back. It signifies the levels of your organic engagement will also increase.
It will take care of all the works so that you can focus on the creation of top-notch contents for your account plus other aspects of your business.
Features of Kicksta
Now, let's discuss the it's brilliant features :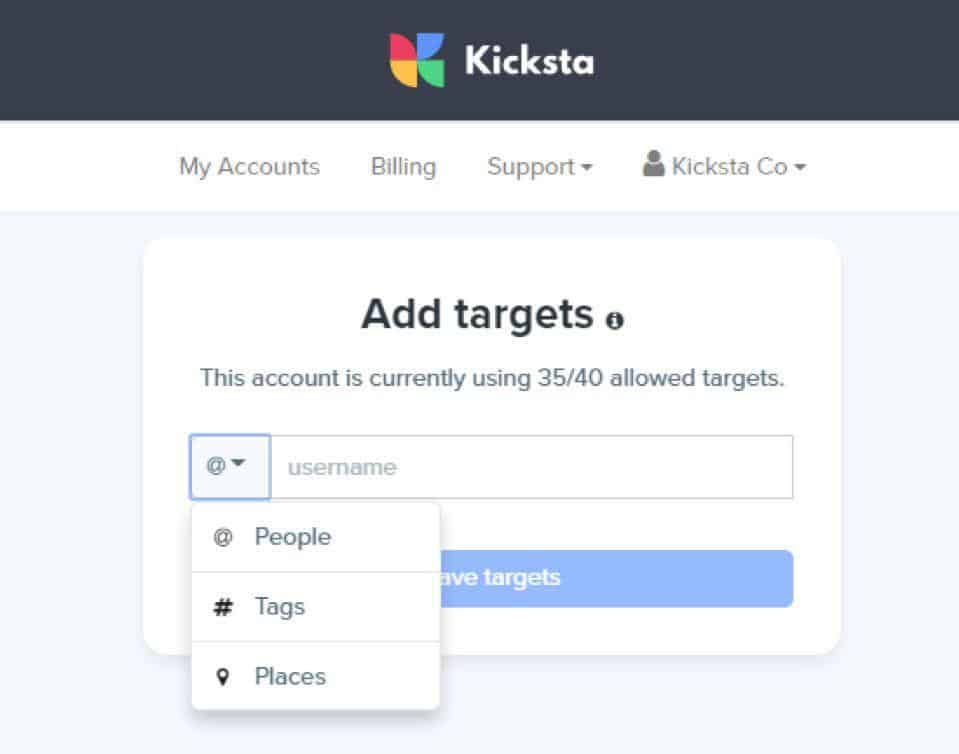 Customer Portal: As a Kicksta user, you can easily track analytics plus growth straight in your dashboard. You'd get the facilities of easy-login portal, passwords, updated billing information etc. As a user, you are free to remove underperforming targets and add new ones. You can also track likes as well as comments that followers have left on your posts.


Smart Filters: It offers the facility of smart filters through which you can remove any spam account (s) or bot. You'll also get an option that helps you in skipping over non-English profiles and it's also possible to target by gender.
It provides profanity or bad language filter, explicit content filter, and a private account filter. Moreover, clients are also free to activate added filters, such as Gender filter (Female/male), Business account filter (in case you are a B2C company), Blacklist Filter (avoid specific accounts), and Non-English speaking filter.
Support Team: You can email the kicksta support team with your queries or questions anytime and you'd receive a quick answer from a real human. Based on your plan, you will also have access to live chat plus a dedicated Customer Success Rep, who will help you with custom strategy.
In simple words, you'll get the support 24/6, live chat as well as e-mail. However, the Professional plan is featured with a dedicated Customer Success Manager. And the respective Customer Success Manager will help you in selecting targets and optimizing growth to your account.
Resources and Tools: Along with a complimentary video course to assist you in optimizing your page, Kicksta would keep you informed and updated with the latest changes that are undergoing with Instagram and how you can best make use of them.
Kicksta Pricing
Kicksta features two monthly payment plans:
Creative: You need to pay $49/month (paid monthly). You'll get the facilities of Moderate Growth, Exclusive Video Onboarding, 10 Targets, Safe and Secure, and Smart Filters.
Professional Plan: You need to pay $99/month (paid monthly). You'd get the facilities of Maximum Growth, Safe and Secure, Live Chat Support, Premium Email Support, Hashtag Targeting, Gender Targeting, 40 Targets, Smart Filters, Location Targeting, Blacklist, and Exclusive Video Onboarding.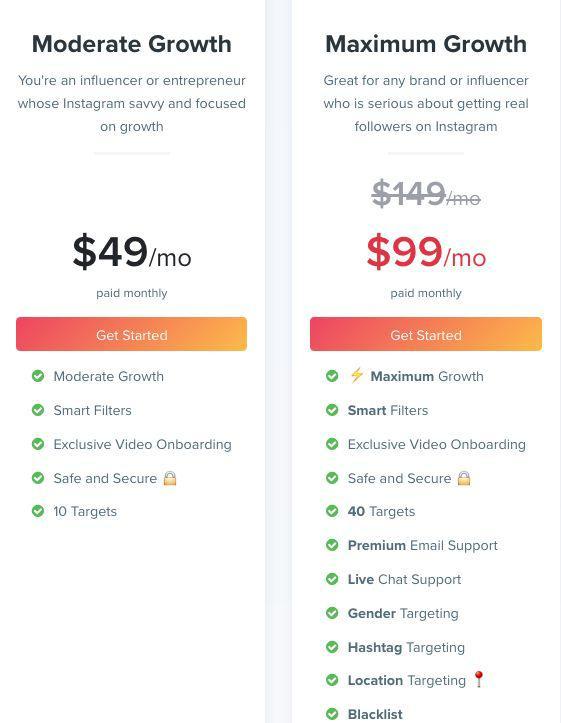 Regarding Kicksta Review
I hope you have got some useful information on Kicksta and now you're aware of the process of acquiring organic followers on Instagram. If you're still unsure about buying, do checkout Kicksta client review to help you make an informed decision.
So, what are you waiting for? Try it right Now!!!!