In the past, webmasters were forced to spend hours learning HTML, PHP, CSS, and other languages to create quality websites. While these skills are still great to have and can give a competitive edge, web design is made easier in today's world. Offline, users have access to WYSIWYG editors such as Dreamweaver. Online, users can use content management systems (CMS) to easily put together a functional website in minutes, in this article lets see if Joomla or Drupal is the best CMS for your next web project.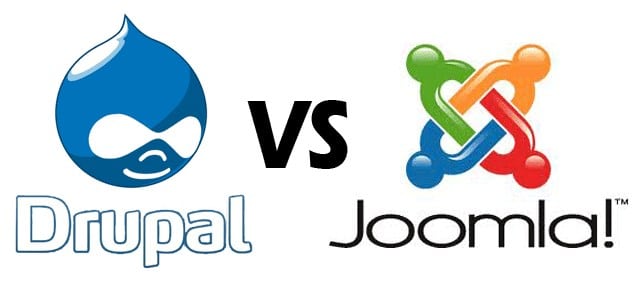 Also read: WordPress vs Magento – Which One to Choose For eCommerce Implementation
The most popular CMS hands down is WordPress. Originally designed as a blogging platform, this easy-to-use system has been utilized to build massive websites, including those of corporate juggernauts such as Sony and CNN. There are alternatives, however, particularly for webmasters with designs to build online shops. Joomla and Drupal are two of the most popular CMS options for entrepreneurs that want to build online stores.
Joomla
Being used by nearly 30 million websites, Joomla comes after WordPress in terms of popularity in the CMS market. Although it is geared towards social networking and eCommerce, Joomla can be used to develop a wide variety of websites. It is easily customizable, but lacks the plethora of themes that its competitors feature.
Joomla requires a bit more technical knowledge to utilize than WordPress does. Still, compared to Drupal (which we will discuss later), it has less of a steep learning curve. Knowledge of PHP and MySQL are useful when setting up a site with Joomla since the platform uses MySQL databases to store content.
While tech knowledge is always a good thing when setting up a website, users without technical knowledge will be able to set up a functional website without too much hassle. Things can get complicated compared to WordPress, but this should not deter users that require more power. A functional website can still be created in less than a day, and there are several themes to choose from, ensuring that Joomla-based websites are capable of being aesthetically pleasing. Joomla also offers a great help community, so users that are having trouble will be able to get the assistance hat they need, assuming that they want to do everything on their own.
Drupal
As one of the oldest content management systems still in widespread use today, Drupal is a more powerful platform than Joomla or WordPress. This comes at the price of requiring more technical savvy. Webmasters that want to get a Drupal site up and running will be required to have a functional knowledge of HTML and other web scripting and programming languages. Either this knowledge will have to be acquired, or a skilled professional will have to be hired. This can make the usage of Drupal, a free-to-install CMS, more expensive in the long run. Time is also a factor to consider since there is no "one-click install" button with Drupal. Instead, sites will have to be built from the ground up using code.
The major downside of Drupal is that while it is a free platform, it does not have a wide selection of plugins like WordPress and Joomla. For a platform with such a steep learning curve, this is to be expected. The CMS is still quite versatile, but it requires the right expertise to get things working.
The primary benefit of Drupal over other content management systems is its power. Drupal is known for loading pages much faster than its competitors, which provides benefits in the realms of SEO and end-user satisfaction. While we are on the topics of SEO, Drupal also offers better search engine optimization capabilities by default compared to Joomla. The platform is also quite flexible and can be modified to suit the needs of just about any business. However, Drupal works best for social media and eCommerce sites. Sites that require membership are also best-served by Drupal and can be backed by the top-tier security that the CMS provides.
Conclusion
Both Joomla and Drupal are powerful platforms with their own strengths and weaknesses. They are both more advanced than WordPress, and both require more technical knowledge. Joomla is probably the easier-to-use choice of the two, and is therefore a safer choice for novice webmasters that need to create an operational website in a short period of time.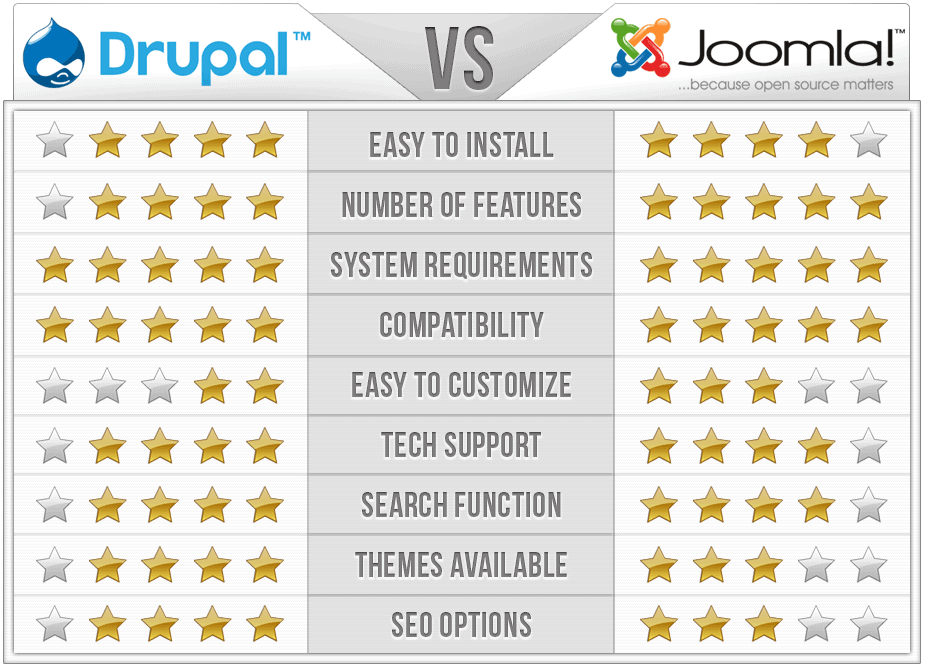 Webmasters that need lots of raw power and scalability, on the other hand, might find it wise to invest in Drupal due to its superior performance. Larger companies that have the resources, time, and access to IT professionals may also find Drupal to be well worth the investment.
Please keep in mind that both of these options are geared towards business owners that need more power behind their websites. Webmasters that want to start a simple blog or small business website are probably better off installing WordPress and calling it a day.
Make sure to do your research regardless of which CMS appeals most to you. The needs of your business should be met with minimal expense of time, effort, or money.