Internet of Things (IOT) has been changing lives, transforming businesses and liquefying markets. With the combines growth of cloud, social and analytics, we are perpetually in a vortex of a giant storm – a storm that will be changing the way we perceive and interact with the rest of the world. A simple but highly significant example is the mobile technology. All of these have significantly contributed to the growth of contextual computing and the quantified self movement that has been the backbone of Internet of Things. Referred to as the market of wearable, IOT has been the trend that is continuously connecting/creating a virtual profile of physical objects in the digital world.
Understanding the concept
Wearable technology concerns apparels/textiles connected to the digital platform. Internet of Things (IOT) on the other hand concerns with unique computing devices that presents advanced platform for communication between devices, systems, services and applications and covers a wide range of domains and protocols. IOT, as such can refer to several categories of digital services including sensors embedded in automobiles, biochips used in wildlife tracking and even devices that assist rescuers and firefighters in case of an emergency. All of these fall under the "smart" technologies that have been changing lifestyles globally.
As per the trend
Coming back to the wearable market (eye gear, jewelry, belts, shoes, e-textiles, arm wear, skin patches, etc), the growth has been quite significant. Wearable electronics have growth to an industry valued over $14 billion in 2014 and is expected to grow by another $56 billion in another 10 years. The most dominating sector in this industry will be the healthcare industry and products like massager, e-biometrics, Google Glasses and as such. Several big brands have been working upon the market of wearable combines with Internet of Things and include names like Accenture, Adidas, Nike, Philips, Samsung, SAP, Fujitsu, Apple and Roche.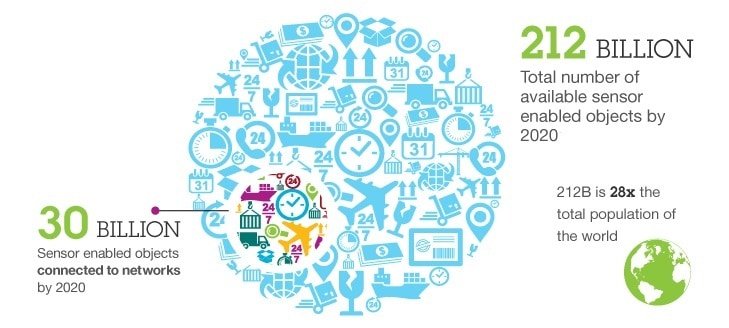 According to industry experts, we are actually in the second generation of the market of wearable and Internet of Things. Devices and services are being thought in terms of improved build quality and integrated with easy to use SAAS (Software as a Service). While, it can still be said that the industry is in a very fragmented end, mane of the devices are being manufactured to benefit both the user and the ecosystem while making it easier for developers to conceive new technologies. Even when we think that the smart phone market is reaching a saturation limit, there are still plenty of opportunities to redefine the concept and make a surge in the demands.
The future's call
By the end of 2024, wearable electronics will be thoroughly affected by advanced informatics and truly disruptive technologies will see a growth in the fashion, military, commercial and industrial sectors. "Hardware is the new software" as they define the intellectual property such as in sensing, woven fibers and several other new patents. Cost reduction is also a key advantage provided by Internet of Things on the Market of Wearable. Overall, it is comforting to say that immense growth is in the making.
Bonus video: Internet of Things explained
Related Infographic