Now a days most of us own a mobile phone, which can run small java applications may it be a mobile game or a software. Today I will let you know about a fun but useful software, which can turn your bluetooth enabled mobile phone into wireless webcam. Isn't its fun to have?
Great!! What I Need To Do ?
First of all you need to have a bluetooth and java enabled handset. ( I have tried it in Symbian 60, it worked perfectly)
Then download the required rar file from the link given below, and inside the file you will find two more folders. One of it contains a software which needs o be installed in the Pc and another needs to be installed in your mobile phone.
Now after you have installed it in your mobile phone you need to turn on the bluetooth of your mobile and also the bluetooth of your computer or your laptop. In Pc you can use a bluetooth dongle purchased separately.
Okay. What Next ?
After you are done with the installation part on your phone, the next thing you need to do is install the other part of the software on your Pc or Laptop, which will receive the video from the phone Live.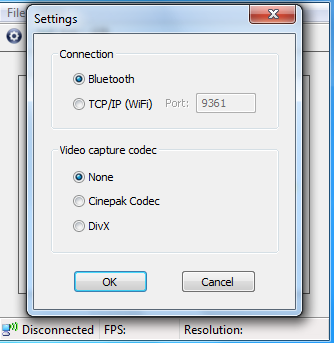 Just double click on the mention software and it will install it by itself. After the installation is complete follow the below instructions
Open the software from the programs menu and click on the "File" option.
Next in connection Type select Bluetooth instead of Wifi.
Now again go to the application installed in your mobile and you will get a option to search for bluetooth devices.
Let the search complete. Once completed, select the connection that belongs to your computer and select connect.
That would establish the wireless webcam connection.
Now you can use this as a normal webcam. And if you want it for recording the images, that can also be done by selecting the record option from the software installed in the computer. And it is also Free.
Download The Software Here