How to sign a pdf, online? Have you often pondered on this question, like a majority of us? Then please keep reading to find the best method of digitally signing your pdf.
Most of us are familiar with the PDF format of Documents. A Portable Document Format, commonly known as PDF, is a file with a .pdf extension. PDFs are more frequently used to distribute read-only documents, which preserve the layout of a page. These are the most commonly used file types today. The file format developed by ADOBE in the 1990s allows text formatting as well.
PDFs are commonly used to for the following documents:
eBooks
Offer letters
Work-Related Documents
Application forms
Scanned docs, and many more.
People now prefer using the pdf format over word documents or paper files. The popularity of this format has crossed all the bars and this could be supported by the fact that not just the students or professionals, but even avid novel readers who prefer reading on their tablets or phones have now switched on to this file format. Let's get a brief idea about why the pdf format is slowly taking over various other file formats.
Compact– We all must have encountered a situation where we're supposed to upload our important documents, say a resume, or an identity card, but the allowed size of the document is too small ( up to a few MBs). In that case, the word format of our document isn't supported because of the larger size. PDFs however compress large data in a size which is easy to share and receive without compromising with the quality, and solve our problem.
Multi-Dimensional- PDFs not only allow you to share and receive the text documents but also enable you to amalgamate and merge a variety of content. Images, graphics, animations, etc. can be integrated into a pdf file.
Format– PDFs have a universal format. Precisely, the format of the file remains the same irrespective of the device on which the file is being shared or the person who received it. This solves the major problem associated with a word document, which goes amiss when accessed via a different platform or device.
It's very common to get a pdf document for signing these days. It could be an acceptance letter from a company, an online contract, or a document, add a signature to pdf for authentication formalities is common to all of us. We're living in a digital era and insert signature in pdf is becoming more prevalent these days.
However, printing out a pdf file, signing it, and then sending it back after scanning is indeed the most common and easy approach to sign an online document. The only drawback is that it may take a few minutes. So it becomes a bit difficult if you don't know, how to sign a pdf in this digital era.
The amount of data is increasing at a rapid rate and we can't deny that keeping a digital record of data is not just safer but more compact and easy than a paper record. Also, it's quite easy to edit the digital data, unlike the paper records, which are more likely to suffer damage and get lost. Finding the required information or documents with a few clicks is much easier than searching the same in a bundle of sheets torn and lost.
This article will give you a step by step approach on how to sign a pdf file digitally. This would not just speed up the add signature to the pdf process but at the same time conserve the environment.
Let's begin to insert signature in pdf.
Windows & Android OS
Steps on how to sign a pdf online:
To begin with, launch the ADOBE ACROBAT READER. The program is used to add a signature to pdf documents digitally.
Open the pdf you want to sign digitally by clicking on Open.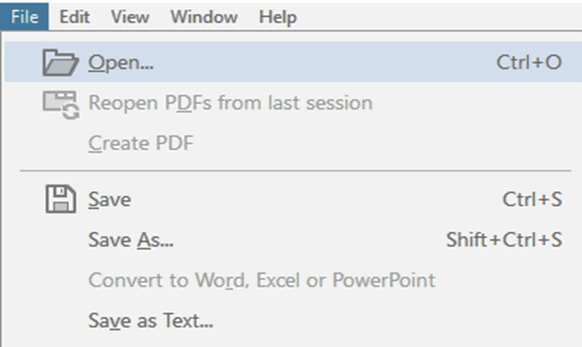 Select Fill and Sign from the toolbar as shown.

Click Add signature to pdf which takes you to a window as shown.
Type my signature is the easiest choice, where all you have to do is just type your name as shown. You can even Draw or use a preloaded image of your signature by clicking the Draw or Image icon.
Type your name in the space provided. You can even change the style of your signature by clicking the change style option as shown.
Click Apply.
Once you're done with creating your signature, you can now insert the signature in pdf in the designated area and adjust it.

There you go! Here's your how to sign a pdf electronically.
MacOS & iOS
If you're not willing to download and install the software to add a signature to a pdf file, then there's an alternative solution for a non-windows device to insert a signature in pdf. The following are the steps on how to sign a pdf digitally without Adobe Reader.
Select the PDF file you've to digitally sign and then click on Open With > Preview (default).

Click the Show Edit Toolbar icon.
Click on the Signature icon and choose Create Signature from FaceTime HD Camera.

Place a clean paper with your signature in front of or use pre-made pictures of your signatures in front of the camera. Mind the alignment of the signature and click Accept.
The signature is saved on your computer and you can access it by just clicking on the Signature icon.
To use it, select it from the menu and place it in the pdf document accordingly.
Keep Learning!