While having so many different ways to record video footage can be useful, it can also be tedious to have to switch between different devices to record the videos that you need. Instead of that don't you think it would be more convenient if you could record videos from various sources on your PC itself?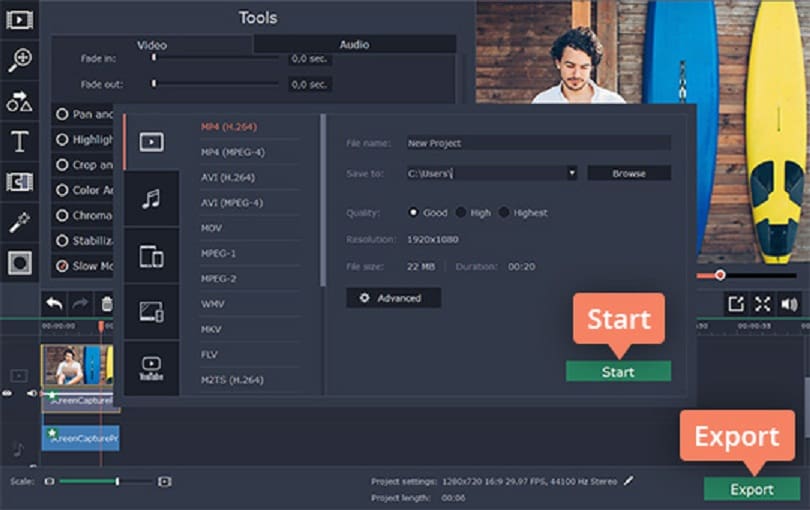 That is precisely what Movavi Screen Capture Studio will allow you to do. As a screen recorder you can use it to record videos from your screen, but on top of that it will also let you record videos from other sources as well such as a webcam, TV tuner, VHS player, and so on. It can even import videos from AVCHD camcorders into its editor, which can then be used to compile all the footage into a final video.
If that sounds like exactly what you're looking for – you should launch Movavi Screen Capture Studio and give it a try for yourself:
Recording videos from webcams, TV tuners or other devices
To record video footage from any device you should connect it to your PC and then select 'Edit video' in Movavi Screen Capture Studio's launch window. Next you should click on the 'Record Video' icon in the editor, to open up the video capture module.
In that module you can expand the list under 'Video capture device' and select your device then set up the other recording parameters. When you're ready you just need to click 'Start Capture' to begin recording, and then 'Stop Capture' when you're done'.
Importing videos from AVCHD camcorder
Similar to the process above, you will want to connect your AVCHD camera to your PC and select 'Edit video' in the launch window then click on the 'Record Video' icon. The main difference this time round is you should see a list of videos that are on your camcorder, and need only select the ones you want and click 'Add files to the editor' to import them.
Recording videos from the computer screen
To record your screen you should select 'Record screen' in the launch window and trace a frame over the area that you want to record with your mouse cursor. In the interface you can set up any other recording parameters – including the audio source, volume level, frame rate, and more.
Once everything is set up click 'REC' to begin recording and then click 'Stop' when you'd like to stop.
After you've recorded the video footage that you need, you can open it up into Movavi Screen Capture Studio's editor. In the editor you'll find loads of features that you can use to cut and join video segments, enhance the video quality, apply special effects and filters, include background music, add captions, and more.
In short not only will you be able to record video on PC using Movavi Screen Capture Studio, but it will ensure you have what you need to produce impressive video content. It really does leave no stone unturned, and will act as a great all-in-one studio for creating videos.