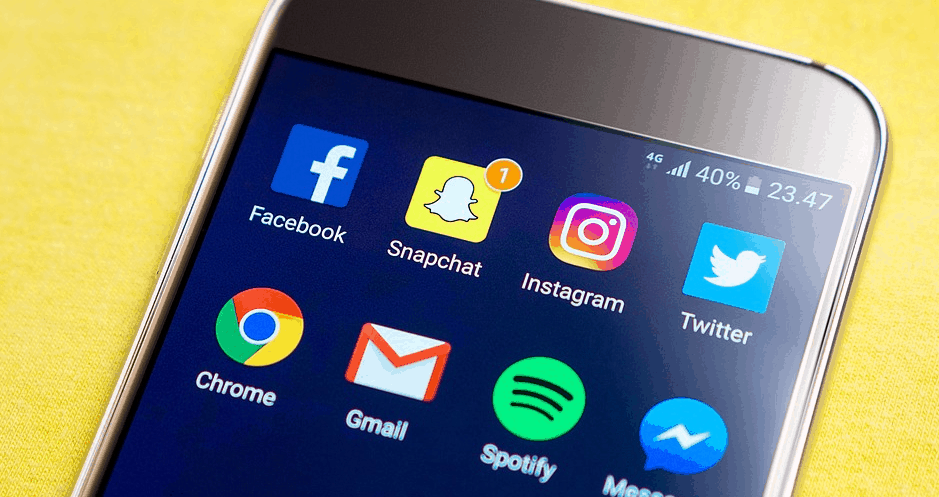 With more than 800 million users, Instagram is one of the most extensively used social media platforms. The love for social media has grown tremendously in the past one decade, but along with it has grown the obsession too.
If you are one of those who are losing their sleep and suffering from the unnecessary anxiety due to this enormously jammed social media platform and wish to just wish your hands off it completely, then keep reading.
Maybe you are concerened about the privacy threats with Instagram or just need a break from the strenuous world of social media. You have a reason to be here, reading this post.
Whatever is the pupose to walk away from Instagram, in this guide we will show you everything that you need to know about deleting your Instagram account.
How to disable your Instagram account Temporarily
If you want to get away from Instagram for awhile and don't want to delete the account forever, then this is the option for you.
In order to disable your Instagram account temporarily, follow these steps.
Launch your browser(you cannot delete Instagram account within the application) and go to Instagram.com
Login with your username and password.
Now, on the top right hand corner, click on the "Profile" button
Select "Edit Profile"
In the side screen, scroll down and click on "Temporarily disable my account"

Specify a reason for deleting the account in the drop down menu of "Why are you disabling your account?"
You will be asked to enter your password again.
Once done, click on "Temporarily Disable Account" at the bottom of the page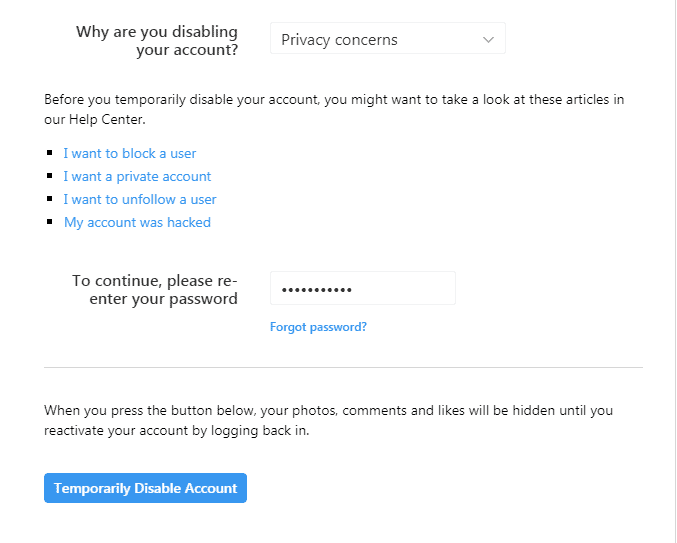 When you disable your account in this way, your pictures, likes, comments, and profile will be stay hidden. You can reactivate you account by simply logging in with your username and password.
How to deactivate your Instagram account Permanently
Deleting an Instagram account permanently, is a irreversible step. But if you are sure about it, then here is what you need to do:
Launch your browser and go to Instagram's delete your account page- https://www.instagram.com/accounts/remove/request/permanent/
Select an option from the drop-down menu to specify your reason for deleting your account
When prompted, enter your password again.
Finally, click on "Permanently delete my account" at the bottom of the page.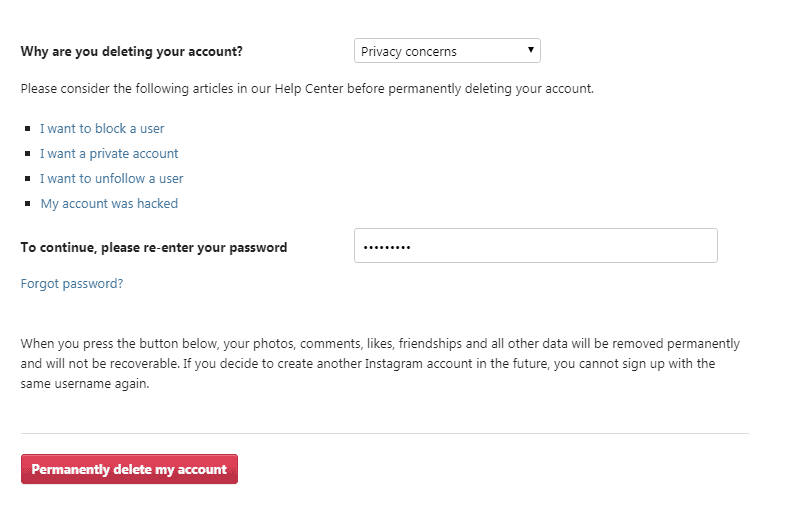 Please note that once you decide to delete your Instagram permanently all your pictures, comments, videos, followers, and basically entire profile will be gone forever. You wouldn't be able to sign up again with the old username. Also, the same account cannot be reactivated.
Things to know before you deactivate your Instagram account
It is not too complicated to get rid of your Instagram account; however there are a certain things that to need to know before you decide to delete the account permanently.
What is Instagram's Privacy Policy?
Following are a few of the types of information collected by Instagram from you:
Information that Instagram gets from you directly (username, password., and all the information that you have entered while using the platform)
Finding your friends on Instagram (Your device's contact list)
Device Identifier (the type of device that you are using to access Instagram services)
User Content (pictures, videos, comments, and likes posted by you)
To get a clear picture of their Privacy Policy, you can visit their help centre.

How to save your Instagram data
Before you delete your Instagram account forever, you should consider saving your data including pictures, videos, profile info, etc. that you had uploaded on the platform.
To download your Instagram data, follow these steps:
Login to your Instagram account.
Click on the Profile icon at the top of the page.
Scroll down and click on "Privacy and Security".
On the side of the screen, scroll further down and click on "Request Download" under the "Data Download" tab.

Enter the email id where you would like to receive the link to download your data and click on "Next"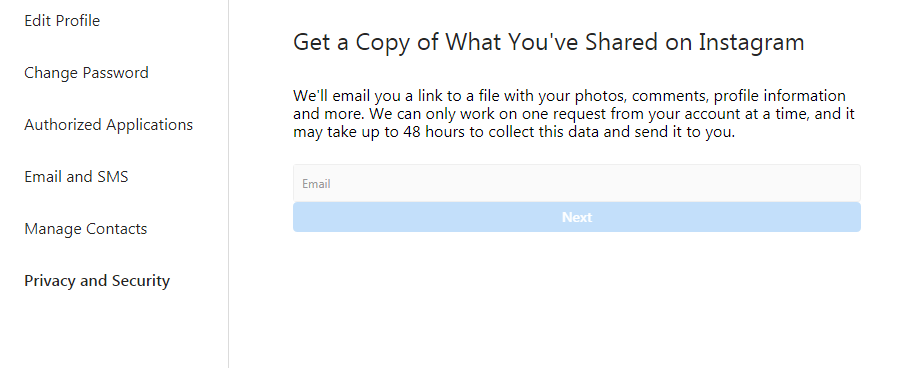 When prompted, enter your password.

Instagram will send you a download link for all your available data.
Instagram can take up to 48 hours to collect your data and send it across to you. Once you have all you data, you can place a request for deleting your account. Also, any data that you had previously deleted might be stored in Instagram's data base. However, it will not be available when you place a request to download data.
Wrapping up:
Almost 56% of people who use social media are suffering from FOMO-Fear of Missing Out Syndrome. But often having a social media detox, can actually turn out amazing.
Instagram as a photo-sharing network is an amazing way to connect with family and friends. However, it is also a fact that this application has attracted immense criticism over last couple of years.
If you feel that this social media platform is not for you, then deleting it is indeed a good idea.