Almost everyone on the web use search engines to find web pages, files,  documents, and softwares. Google dominates the web with its powerful search engine. But most of you just do keyword searches, how about doing something extra.  The search engine giant Google has many hidden features, we can find many useful resources if we dig deep in Google. Here is the list of Google's search shortcuts which you would love to try, these are worthy , you will never know when you will need these tricks, so don't forget to bookmark this page and share it with your friends on Twitter  and Facebook.

what time is it <city name> replace city name.  Displays the exact time at the specified city

20 US dollars in Indian rupees Converts 20 US dollars to Indian rupees according to live currency rate.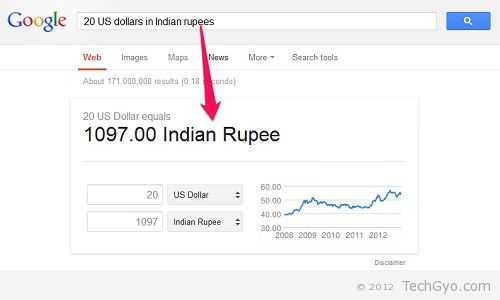 We can use Google as a calculator for basic calculating works by using the arithmetic operators such as + – * /.
define: phrase Show a list of definitions for phrase, Imagine how wonderful it would be if you could search product manual this way, no don't get too surprised, Google don't have it yet. For now we can help you with this wonderful tool to find product manual.
cache: www.example.com Google's cache of example.com
link: www.example.com List of websites that link to example.com
Related: www.example.com List web pages similar to www.example.com
Info: www.example.com Show information that Google has about www.example.com
Technology site: techgyo.com Search only one website or domain.Here "technology" is the query to be searched in the website techgyo.com
Movie: "your movie name" Search for information about this movie, including reviews, show times, etc

The Google search page has the simplicity and the sophistication where it needs. Every year Google team keeps adding wonderful new features that amaze us with great search possibilities. We will try to keep this page updated with new Google search features whenever a new one comes up. Please help us spread the word by sharing this on twitter Facebook stumble and other social media.