Consider your work communications. Dealing with your email is likely a big time suck. For the same reason, you most likely dislike it when somebody leaves you a voice message. Also, considering 90 percent of the people evidently keep their mobile phones within their hand's reach all through the day of the week. So you might have found text messaging the simple, fastest and easy way to send a messages and get a response.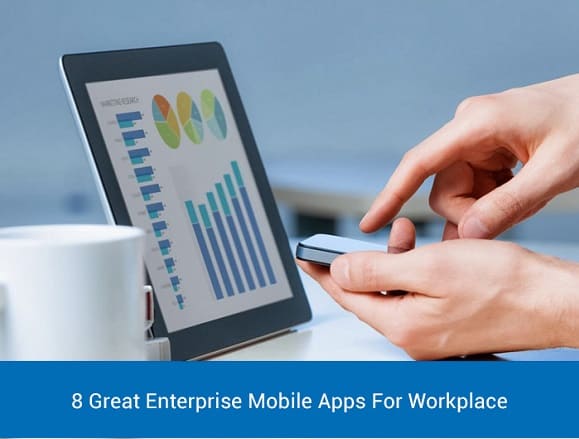 If you feel the same, check out these 8 enterprise mobile apps that help you communicate with coworkers and customers.
Voxer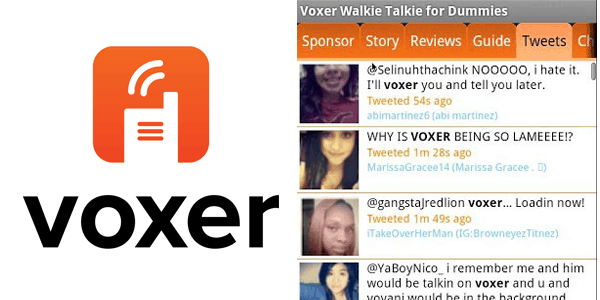 Ideally suitable for industries such as transportation, hospitality and construction, and also some other industry in which individuals need to communicate with one another without taking the time to make a call, Voxer is the best fit. This application is available for Android, iOS, and Windows Phone. For a monthly charge of $9.95, Voxer Business gives you a chance to listen to a voice message as it comes in or later as a recording; send texts, audio, and photographs on a single chat or a group of 500 contacts at once; and forward messages and get real-time location details. It incorporates a few different features useful for organizations, for example, team messaging, web access, and regulatory control of representative access, and also enterprise-grade features like data retention and data encryption policies.
Even though there is no dearth for group chat applications, this application is easy to use because you need not enter contacts or create groups manually. Instead, you can enter your work email address to U&Me Plus, the application searches address book of your phone within the U&Me Plus platform. It's smooth since the next person from your enterprise who begins using the U&Me Plus app will get instant access to all the domains of the email address given. In addition, without sharing your phone number with colleagues, you can trace them with their corporate email address and send a message to them. What's more, not at all like other apps, U&Me Plus gives you a chance to send messages to people outside your company, for example, clients, prospects, partners and vendors, making it especially useful for salesmen.
Chatter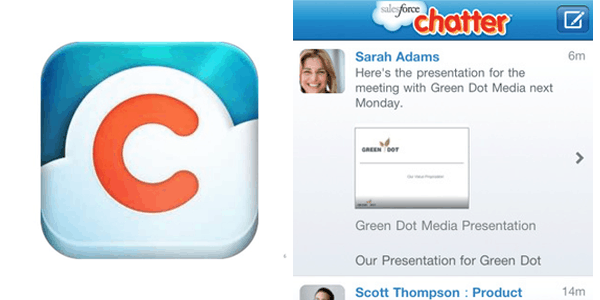 Developed by Salesforce, Chatter is designed for desktop and mobile use and can be effortlessly incorporated with any social application. One exclusive feature of chatter is its Connect feature which gives a social networking platform while Chatter in Apex permits custom Chatter experience with respect to Salesforce. Using Salesforce Communities, tailor your systems — a different group for customers, sales and workforce all in one brought together to a single location, for simplified communication.
Yammer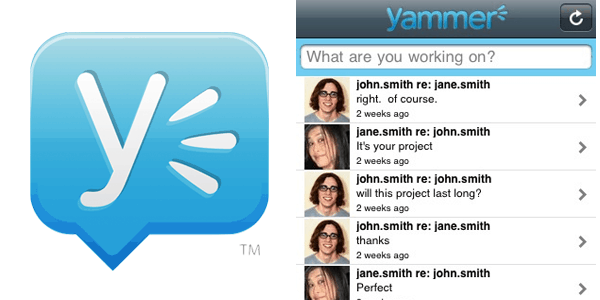 Yammer is an ESN tailored for mobile and desktop use. Organization systems are private, so you must have a checked organization email address to join. The user interface is mostly like Facebook, with pages, status updates and follow options.
HeyWire Business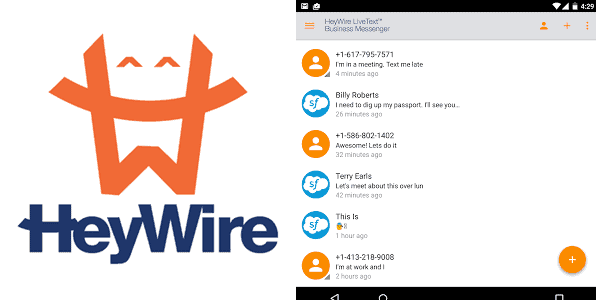 This enterprise mobile app is more like Google Voice in which you can message to people either from a desktop through a Web application or from a mobile, yet rather than utilizing another phone number. This Business Messenger gives you a chance to utilize your business landline number so you can maintain your corporate identity without needing to utilize your own phone number. HeyWire is available at a charge of $10 a month for each client, and organizations that utilize it either white label service.
SocialCast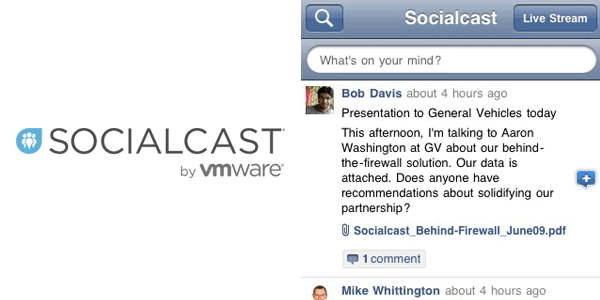 SocialCast created by VMware is another ESN based application for desktop and mobile.  It established a centralized communication platform for the workforce. You can form private or public groups, send files records and handle project tasks by means of SocialCast.
An impressive feature of this application is the 'Task Timeline' which shows the jobs you should do today, and which are lined up for tomorrow. The Socialcast Org Chart additionally helps the workforce to know the organizational hierarchy.
Jive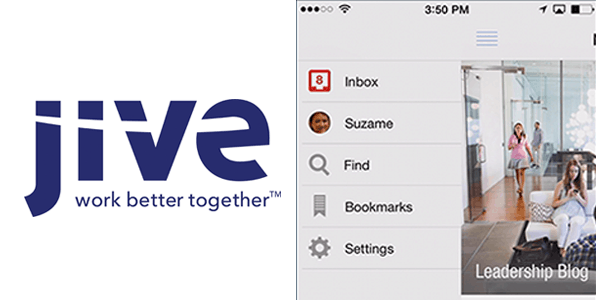 Jive is another ESN optimized for mobile. You can follow groups, people and topics on the site. One of the coolest components on Jive is its 'recommendations' feature which is similar to the 'people you may know' of Facebook.  However rather, shows profiles of individuals you must know within your organization.
Convo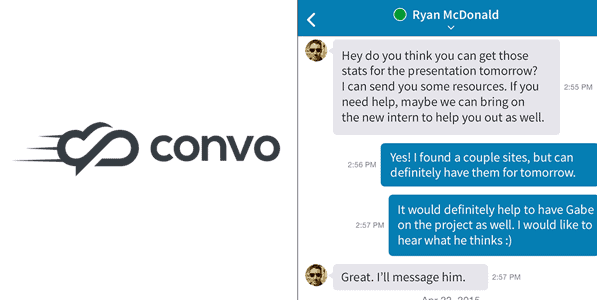 Convo, as one may find from the name, is an uncommon communication tool. It supports as many as 33 types of file formats and it is easy to send images, links, and videos via chat. It carries the same status updates, profile, group control and news feed like most of the ESNs and is available for mobile and desktop too.
Well, what is your take on enterprise mobile apps? Do you have anything to add to this list? Please feel free to share your thoughts in the comments.