Folks at the search engine giant – Google is busy testing and introducing a new feature that enables them to automatically optimize your web pages on devices that have slow web connection.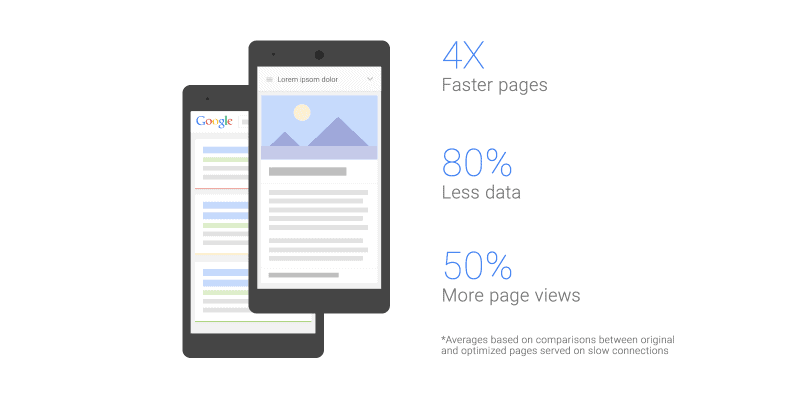 In the release note of this feature, on their blog, the search engine giant commented that:
"We believe everyone should have fast and easy access to information online. However, many people still have slow and costly mobile connections. To speed up the experience of our users on slow connections, we recently launched streamlined search results.
However, we wondered if we could also speed up the web pages themselves, so they don't load slowly or consume too much mobile data. So we've developed a way to optimize web pages to be faster and lighter, while preserving most of the relevant content."
What Is The Feature Anyway?
With the help of this feature, Google will be showing a lighter version of your web page to the visitor of mobile devices with slow data/internet connection. The lighter version will exclude images and videos from the content of the page and render it on mobile device to give users a faster web experience. Google's test of this feature revealed that such pages use 80% less bytes and witnessed 50% of increase in web traffic.
Testing Your Web Page In Slow Mobile Devices
Google also announced a testing tool that gives webmaster an overview of how your webpage will look on mobile devices with slow data connection.
To test out how the lighter version of your web page will look on mobile device with slow connection, go to the URL http://icl.googleusercontent.com/?lite_url=[your_website_URL], replace [your_website_URL] with the URL of your web page.
Unhappy With Google's Lighter Version Of Your Web page? You Can Disable The Feature!
If don't like the lighter version of your web page suggested by Google, you can disable the feature and instead prefer showing your actual, original web page on the devices.
However, if you do not wish Google to strip-off media content and instead prefer showing your original, actual web page. Just add the code "Cache-Control: no-transform" to your HTTP header.
For FAQs on this, visit Google's official FAQ page here.
About the author:
Moin Shaikh is a social media manager, webmaster and web analyst for an Australia based IT firm – Intesols. I look after design, development and promotion parts of website. I also contribute for Mozilla Firefox. love to blog and tweet often! Connect with me @moingshaikh