E-Commerce is defined as commercial business transactions conducted by electronic means, particularly through the Internet.
Any transaction that takes place through electronic means — such as paying your utility bill online, giving out checking account or credit card information through the smartphone for a purchase, or ordering something online — is e-Commerce.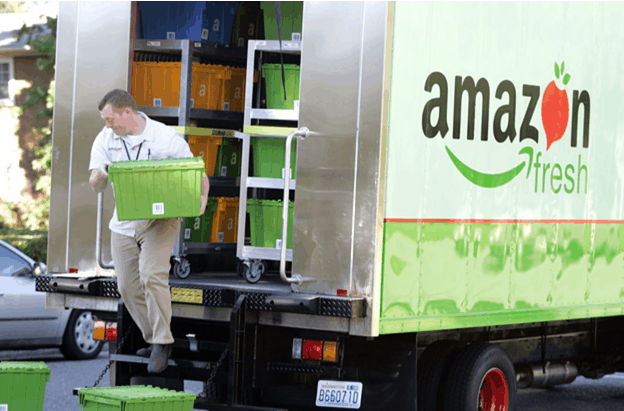 You likely have seen or been increasingly affected by it in recent years. However, the field of e-Commerce may just be starting and the American electronic and cloud computing giant Amazon may be on the cusp of adding grocery shopping to its domain.
Amazon's Latest (E-Commerce?) Move
When news broke about Amazon buying Whole Foods, the stock market reacted. Regular grocery companies saw their stock prices drop. Amazon's price soared. A major reason is the belief that the e-Commerce giant could finally be attempting to corral the fresh food market.
Amazon is the biggest business presence in e-Commerce, leading many to speculate that grocery shopping would be the next industry to be assimilated into the electronic business world. Amazon is developing some brick-and-mortar stores to sell their wide array of products currently found online.
Another Part of the E-Commerce Trend
E-Commerce sales are rapidly growing and expanding to many different industries. Online food ordering is already a growing business. Customers are ordering food — and not just pizza —from their favorite restaurants online and having it delivered to them, so some believe an online grocery store is a natural step in the evolution of e-Commerce ideas.
With the potential inroads e-Commerce could make, and many industries already relying on online sales, upcoming entrepreneurs will continue the trend. This means finding an e-Commerce system that showcases your products to a increasingly impatient consumer.
Grocery Shopping May Go E-Commerce Soon
Amazon may be able to turn Whole Foods into some sort of grocery ordering business, but consider how many people still like to buy their own food. They want to know their food is fresh. Amazon may, eventually, be able to deliver fresh food to your door after you make an online purchase through e-Commerce. Once the e-Commerce giant figures out a way to deliver fresh food to your door after an online order and purchase, you may get your food faster than if you did the shopping yourself.
Move Could Mean E-Commerce Gets Tied to Regular Stores
Amazon may try increasingly effective strategies for an e-Commerce world. One tactic, "reverse showrooming," involves showing your inventory online and letting customers look through and pick products of their choosing. They then would go to a brick-and-mortar store that works in conjunction with the e-Commerce online site to complete the purchase in person.
Amazon may not be relying on online purchasing alone. It could be expanding its repertoire to include some brick-and-mortar grocery stores, such as the Whole Foods chain, in an effort to draw in customers not only online, but in person. This theory would be disproved if Amazon uses Whole Foods instead as a lead-in toward developing an online grocery shopping business.
How to Survive in an E-Commerce Future
This business move is the latest development showing how e-Commerce slowly taking over the business world. People need to be prepared for it. Time is a valuable currency, perhaps the most valuable commodity of all. Those who understand this must find tools to prepare for the future of business.