Are you interested in coding the apps? But don't know from where to start? Here is the web resource you can get help from i.e. Codecademy. You don't need to keep the bulky programming books in your cupboard as Codecademy will teach you to create great websites, games, and apps. Codecademy is the ultimate website where your appetite of programming ends. Having the user friendly appearance Codecademy teaches you with interactivity and fun, even you can compare the progress of your learning with your friends.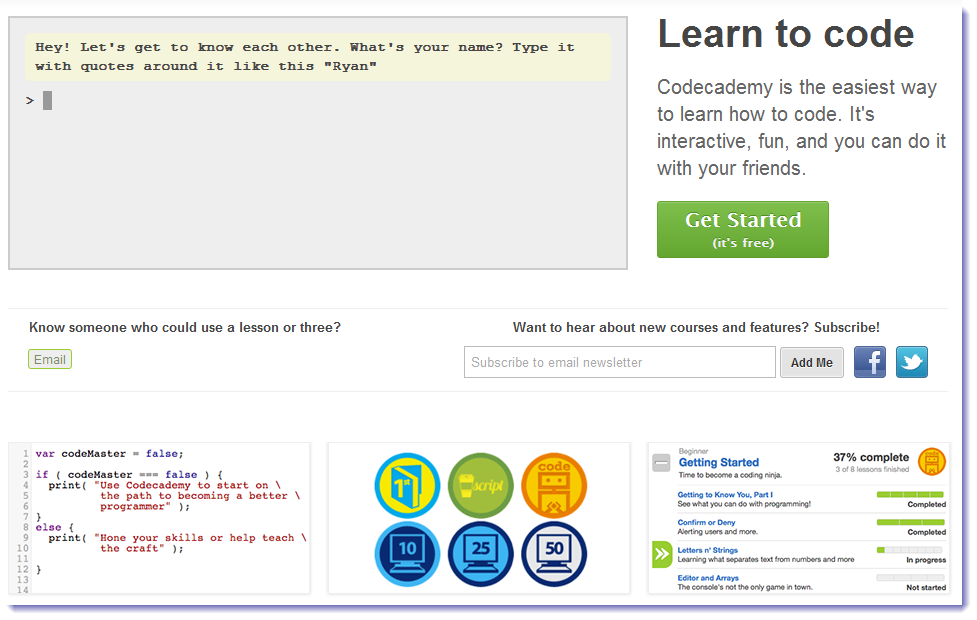 How to learn programming with Codecademy?
Simply create an account and get started, follow the on-screen instructions and dig deeper into the world of programming. First it asks you to write your name in a gray colored console, then you get the length of your name… and so on, the possibilities are just endless. Logging in into your account and then start coding is a good habit as it saves your progress of coding automatically. You begin with naming conventions and math equations, later you will be provided with complex programming to solve. After the completion of lessons you will be awarded with badge which you can share on your favorite social media sites.
With Codecademy one can learn to code the various segments of programming including functions, booleans, strings, arrays and objects etc. easily. Thanks to Ryan and Zach who created Codecademy website which is an interactive way to learn programming online by actually coding. If you are already skilled in programming then you can join your hands with the developers to add more lessons in its library. Codecademy is a great resource for students and of course for all who are eager to learn coding, For now Codecademy is free to work with, Have a happy coding @ http://www.codecademy.com