Some people desperately need more room to store their files, but they don't want anymore clutter around the house or office, so naturally they might want to consider using an online storage service their data.
Although many internal and external hard drives cost over $80, many online storage websites are free, allowing people to store large amounts of data.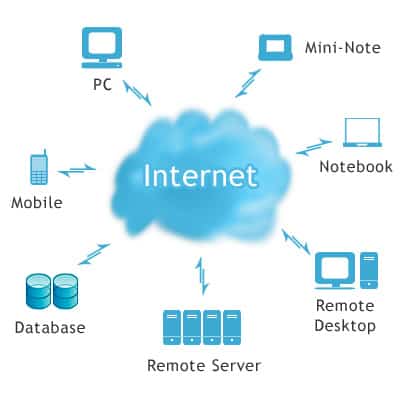 Less Important Files
Technically, this is not the safest method for anyone to backup their hard drive. However, it is the most inexpensive way to store a bulky collection of photos, videos and mp3s. As most people know, these files often take up the most space on a computer's hard drive. Mp3 collections often use up more than 10 gigabytes of space, while some audiophiles keep their music in lossless formats like FLAC and WAV files, which necessitate a ton of storage space, making online storage an appealing option.
Nothing In Life Is Free
Of course, most storage websites limit people to only two to five gigabytes of space under their free pricing plan. However, their pricing plans are still attractive to tech companies that always need extra space for their employees to store their files. With a single storage website, a company has a smorgasbord of space with which everyone can distribute their files and information quickly amongst each other.
Communicability
If people love to use their iPhones, iPads or various other tablets and smartphones, storage websites become even more useful. If the website is a cloud storage service, employees can easily read all of their files on their mobile devices. Depending on which storage service they are using, people might even be able to edit their files straight from their tablet or mobile phone.
Questions of Security
Websites such as Dropbox often lack essential security features, such as an SSL (Secure Sockets Layer) license to protect files from hackers. Fortunately, most of the highly acclaimed websites at least have an SSL license to protect the files with dense amounts of code.
Automatic Backup
Some websites even backup people's files on multiple servers, so that people can still access their files if one server fails. Many technology website publications gave high ratings to SugarSync for implementing this feature on their website. The backup process is time-consuming, though — People often need to keep the SugarSync application active on their computer so that the server can backup all the files. Thankfully, the added benefit of holding replacement files is a big benefit that proves how reliable the service is.
Take Away
Although online storage has evolved dramatically from its earliest forms, the technology behind storage websites and cloud services is still relatively new. Apple is still developing its own cloud servers for its iCloud service in the future. Dropbox is still the most popular cloud storage site despite its security flaws, but many storage sites are increasing their features to compete against Dropbox.
The storage website business has great potential for growth in the near future. External hard drives might work as ideal devices for individuals to store all their personal files. However, storage websites are essential services for technology companies and other corporations that need to share massive amounts of data with other employees. Businesses should take advantage of these websites, because the organization involved with consolidating information can lend itself to increased productivity.