Automating our living space is a hardwired part of mankind's lazy, collective unconscious. The idea reoccurs in the work of Isaac Asimov (and in virtually all sci-fi), pops up in our cartoons (The Jetsons anyone?), and has recently flooded all our commercials.
While limited forms of home automation have been available commercially for decades—Lutron, for instance, focused on "lighting control" and window shades before including remotely locked doors. Smartphones and wi-fi have redefined the possibilities for automation. Lights, thermostats, doors, and cars can be controlled through apps using built-in software or a system of augmentations to your home's original infrastructure. None of it is cheap, but as a guide, here are the four most comprehensive home automation apps.
(Warning: simply buying an app won't enable you to control parts of your home, each of these apps is accompanied by hardware and/or software that must be installed alongside the app.)
Control4My Home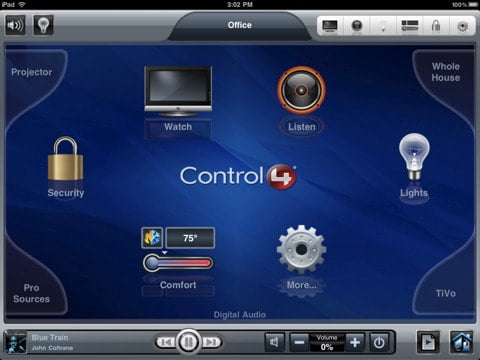 With the power of Google at their command—a "home automation" search targets them almost exclusively—Control4 is the most promising of all automation apps. It works through Director 1.7 (or higher) and with it, users can control their lights and HVAC system as well as other audio and visual devices. This enables consumers to enjoy multi-room music (playing different tunes in different areas of the home) and lock their doors remotely as well. It's 3G compatible, so you don't even need Wi-Fi to have ultimate power.
SYSTEM REQUIREMENTS: Control4 System running 1.7.4 or above. A device driver and license from Control4.

4+ Rating on iTunes

Free to download
You can find this app here:  Control 4My Home
HomeWorks (Lutron Electronics)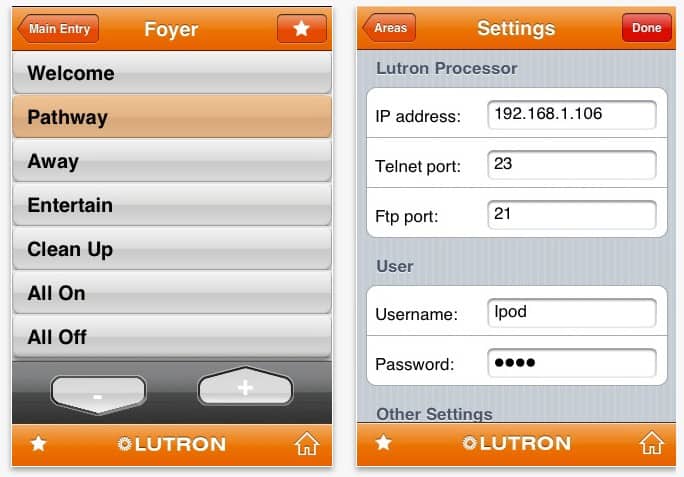 Lutron created the dimmer light switch, which is basically the earliest success in electrical home automation. From that moment on, they led the lighting industry, which bled into controlling outside light (through window shades) and eventually grew into the remote-control home. Now phones can replace their flimsy remotes and users can enjoy the superior interface Lutron designed for this free app. Homeworks is light-specific, but their $20 Home Control + system offers a thinned-out, Control4-type automation network that runs on its own system.
This application works with Lutron's HomeWorks system and requires setup by a qualified HomeWorks installer.
Rated 4+ on iTunes
Free App
Find this app here: Home Control +
Haiku Home Automation (for HAI)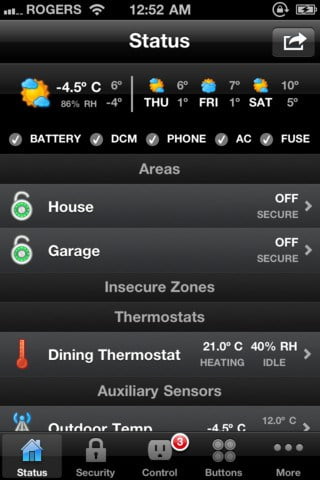 In addition to typical automation offerings, it will display temperature and humidity levels, allowing users to improve the energy efficiency in their home. Haiku also has a Status Tab that provides a summary of the alarms, thermostat, and other sensors in the home. The Security Tab organizes your home by areas, allowing you to see the zones and their status. The icon at the bottom of the screen shows any insecure areas. In addition to security, this app also lets you control your climate, by setting the temperature and humidity controls.
Green is good, and aren't haiku's all about nature?
System Requirements: Haiku supports all recent Ethernet-enabled HAI home automation and security controllers, including: Lumina, Lumina Pro, OmniPro II and Omni IIe. Controller firmware 3.0 or later is required.
4+ iTunes rating
Price: $49.99
You can find this app here: Haiku Home Automation (for HAI)
HSTouch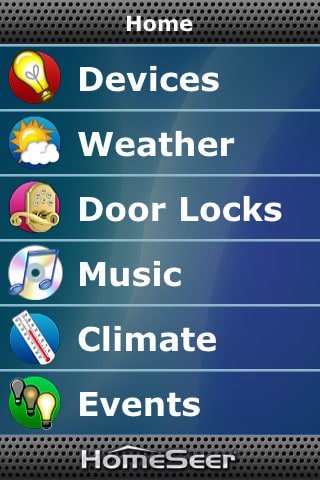 The HSTouch works together with the Homeseer automation system. They offer standard automation fare, but have made their interface customizable to the extent that users can create their own graphics and buttons within the app. It also includes an RSS browser that can display news, weather, stock quotes, or sports scores. That way, you can keep playing XBOX in optimum lighting conditions and stay current on world affairs without having to flip on CNN.
If we sidestep concerns about your family being systematically killed off by HAL, home automation is the new American Dream. The two-car garage won't cut it anymore unless you can open and close it from Yakutsk, Siberia; and getting up to close the blinds when you start a movie is so passé. So pick up any one of these automation systems and we'll all be one step closer to achieving Skynet.
System Requirements: HomeSeer HS2™, HSPRO™, HomeTroller™ or PRO-100™ systems with HSTouch server enabled.
4+ iTunes rating
Free App
You can find this app here: HSTouch