Did you recently buy a GoPro camera for your travel vlog? Are you ready to hit the mountains soon and record your amazing journey to share it on your Instagram? Then you need something more than just your GoPro. Up your GoPro game with a plethora of the best GoPro accessories that are available in the market to take your recording experience to the next level. These accessories will help you make the most out of your GoPro by giving you more filming options and adding your audio into the video. So let's get right into it!
Why GoPro Accessories?
GoPro's accessories are the perfect way to tweak how you use your GoPro camera. You can keep your camera more stable and videos steady with a handheld grip. Your video quality could be improved immensely, and your audio will remain crisp and clear as you go. We have articulated 10 GoPro accessories that will make your filming experience fun and easy.
Best GoPro Accessories
No matter where you are or what you're doing, the Wasabi Power Battery and Dual Charger will keep your GoPro completely charged. Its lithium-ion battery pack has a rating of 3.85 volts and 1,220 mAh, and its charging station has ports for both USB-C and micro-USB connectivity.
It will not function with the previous GoPro, but its chip will be completely compatible with future firmware upgrades. You no longer will have to worry about running out of battery while filming.
Compatible with: Hero7 Black, Hero6 Black, Hero7 Black
The GoPro Handler is a floating hand grip that may be used in water for all aquatic sports and games. It will give far more steady film than having to hold and operate a camera by hand, and you can utilize its quick-release base to swap between mounts based on your specific shooting requirements.
You also don't have to worry about losing it in the water; if a strong wave knocks you under, the GoPro Handler will rise to the surface with its brilliant orange hue. It will be an extremely helpful tool for a wide range of aquatic sports.
Compatible with: All the GoPro models
The AmazonBasics Carrying GoPro Case is an absolute must-have for GoPro fans. It enables you to store, organize, and travel two cameras as well as all of their accessories, such as batteries, memory cards, mounts, etc.
The mesh net may be used for anything that doesn't fit into the other compartments; slots in the foam cushioning will retain your most critical items in place. This is the carrying case for you if you want a simple method to transport all of your goods from one location to another.
Compatible with: All the GoPro models
While it's been possible to add professional accessories to GoPro cameras for some time (and there are a couple on this list), the Media Mod is GoPro's latest attempt to bring that type of thing in-house. This Media Mod, which has been resized for the bigger chassis on the Hero9 Black, is intended to be a one-stop-shop for improving the production value of films recorded with the Hero 9.
It has a built-in directional microphone as well as a 3.5 mm mic port, two cold-shoe attachments for connecting other devices such as lighting, and an HDMI output for monitoring and playback.
Compatible with: GoPro Hero9 Black only
The Fotopro UFO2 Set Tripod is one of the lightest tripods on the market, weighing only 0.61 pounds. It's tiny and compact enough to fit into the side section of a handbag or shoulder bag.
Despite its small size, this GoPro tripod is flexible and adaptable with a 360° swivel head, so don't be fooled by its look.
Compatible with: All the current GoPro models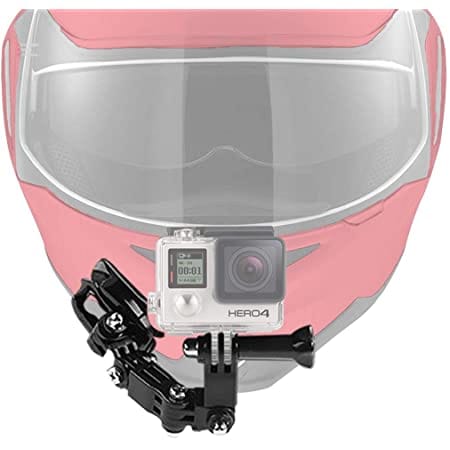 This GoPro helmet mount is a must for all the bikers who are out in the wild. This amazing helmet includes these items in every order: Helmet chin mount, J-hook mount, Two flat mounts, Wrench, safety tether, and two curved mounts. All-in-all it has everything you'll need for an awesome adventure!
Compatible with: All current GoPro models
Choose the Chimera Camera GoPro Car Mount if you need a heavy-duty mount that will not fracture under the pressure of high wind speeds.
It's composed of a heavy aluminium alloy rather than plastic, and it can be mounted to your car's hood, door, or frame to give a fantastic action video of your next road trip. It also has a plethora of adjustable wheels and knobs to ensure the ideal shot every time.
Compatible with: All the current GoPro models
For all of your personal stuff, this GoPro backpack mount has 16 liters of lined, cushioned, and waterproof storage space. What distinguishes it from other backpacks is that it was intended to be compatible with GoPro cameras.
Its camera pockets can accommodate up to five GoPros at once, and it has integrated chest and shoulder mounts so you can video your journey while carrying the bag. It's never been easier to capture film without using your hands!
Compatible with: All current GoPro models
These were some of the few best GoPro accessories, of course, there are a plethora of accessories out there that you can pair with your GoPro depending upon your needs and suitability. Feel free to explore more and make the best out of your adventure!